I may get
paid
for ads or purchases made through links in this post.
Make your own Qdoba at home tonight with this easy Copycat Crockpot Qdoba Chicken Recipe!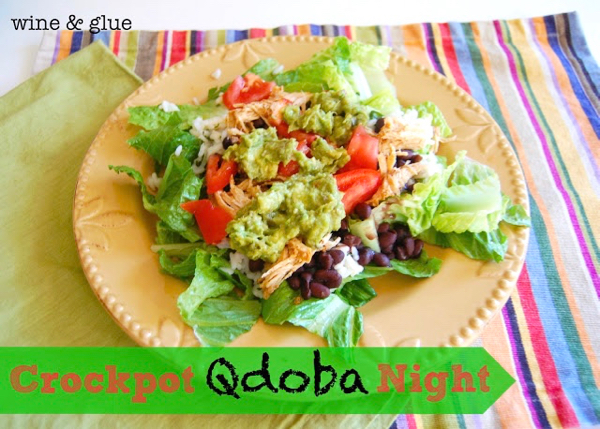 Following is another Easy Crockpot Recipe and
guest post by Lisa at Wine & Glue: a Copycat Crockpot Qdoba Chicken Recipe… enjoy!!
Hey Frugal Girls readers!  Looking for an easy and delicious meal that is also nutritious and can accommodate the needs of picky family members?  Look no further!
Anytime, really annnnnnytime, someone asks me for an easy meal to make for their family, my answer is: Crockpot Qdoba Night using this easy Copycat Crockpot Qdoba Chicken Recipe!
This super easy and delicious meal came to me about 700 years ago before Nathan and I had kids.  We had a Qdoba addiction.  And like a lot of meals that you can eat out, it nagged at me that it was something I could easily make at home!  Easily.
So I dug deep in my cabinets and dragged out that crockpot that I had thrown on my registry, you know, because it seemed like something a good wife and mom should have.  I had yet to make anything with it.  Is anyone else catching on to the irony that Little Suzy Homemaker Wannabe was using the crockpot to make a replica of take out . . . ?
Related:
Copycat Crockpot Qdoba Chicken Recipe
Into the crockpot went three simple things: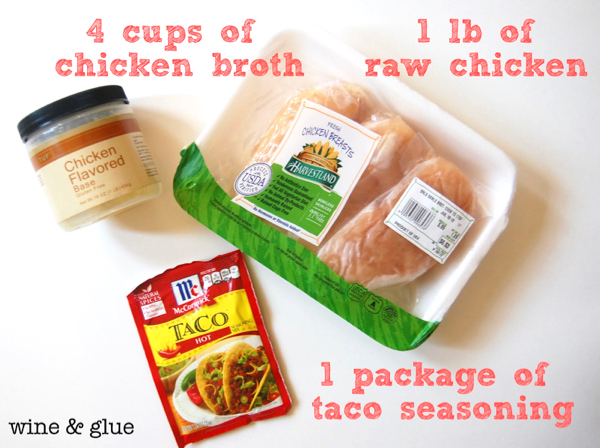 You can use chicken you've had in your freezer by throwing it in and setting the crockpot on low for 8 hours.  Otherwise, put fresh chicken in for 4 hours.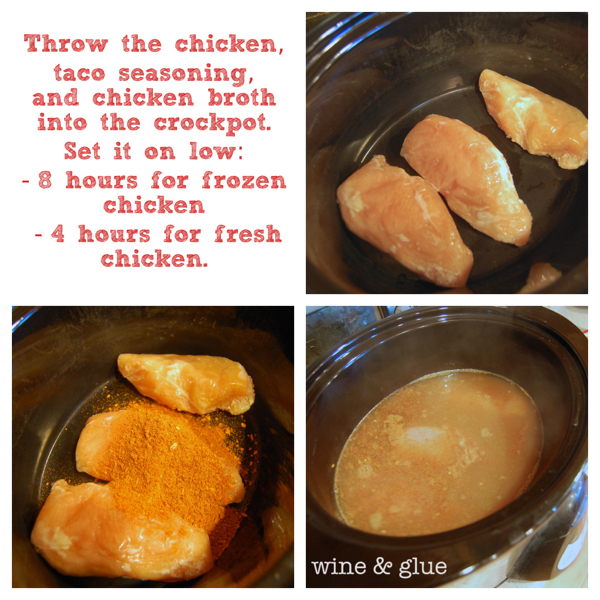 Once evening rolls around and it is time for dinner, just pull your chicken apart with a fork and serve it up.  It is tender and very delicious.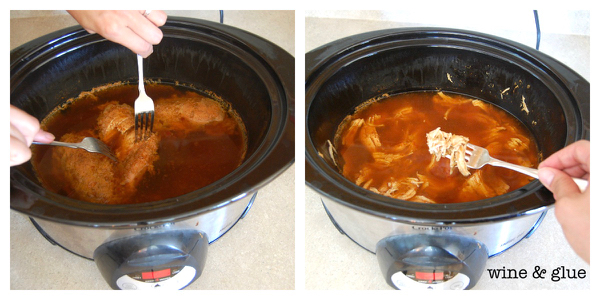 Dinner's almost done, and I've barely done anything!  A win for Little Suzy Homemaker Wannabe!
Now, all that is left is whatever you want to go with your chicken.
I looooooove Qdoba's lime cilantro rice.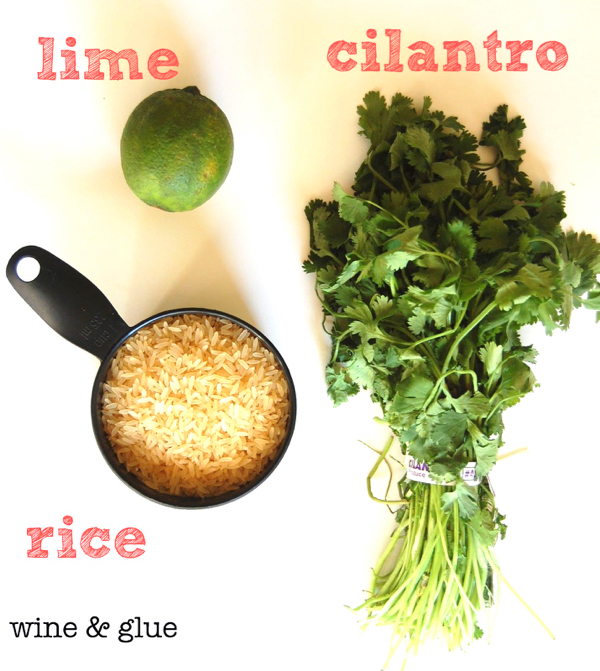 And all it is is cooked rice, mixed with the juice of one lime, and a small handful of chopped cilantro.  If you want it a little less flavorful, add a little less lime and cilantro.
I'm also a big fan of guacamole, but . . . I'm lazy.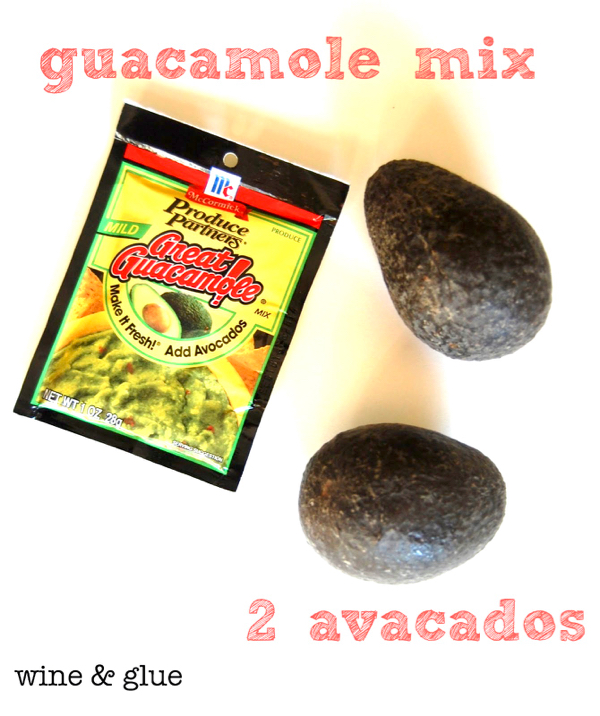 The guacamole mix makes you delicious guacamole in like two minutes.  Yay!
Then just heat up a can of beans, cut up some lettuce, throw on some cherry tomatoes, add some salsa, and you have a delicious and extremely easy to make taco salad.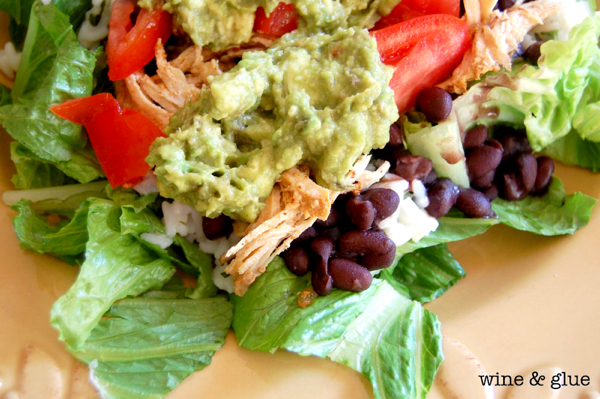 One of my favorite parts about this meal is that each family member can have it exactly as they want it. Nathan isn't so keen on things that are green and leafy, but he loves Qdoba's nachos, and this dish with some sour cream and chips is a close second to actually eating there.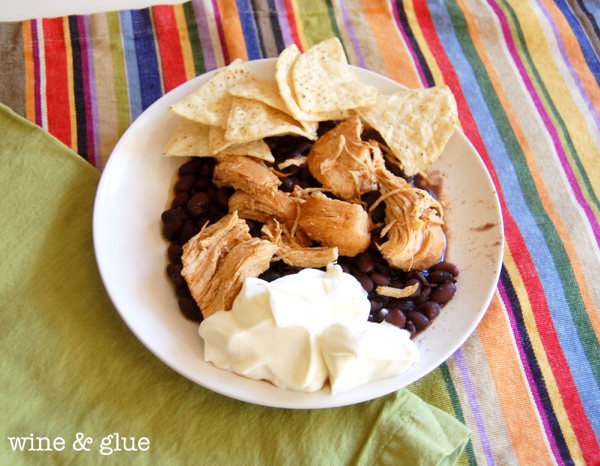 Even Gavin likes to get in on the nacho action.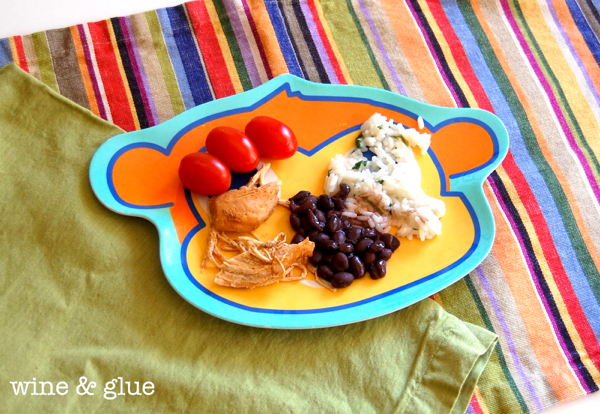 And Quinn?  Well . . . Quinn's favorite food is beans.  And rice and cherry tomatoes are a tie for second  . . . so this meal pretty much is a dream come true for her.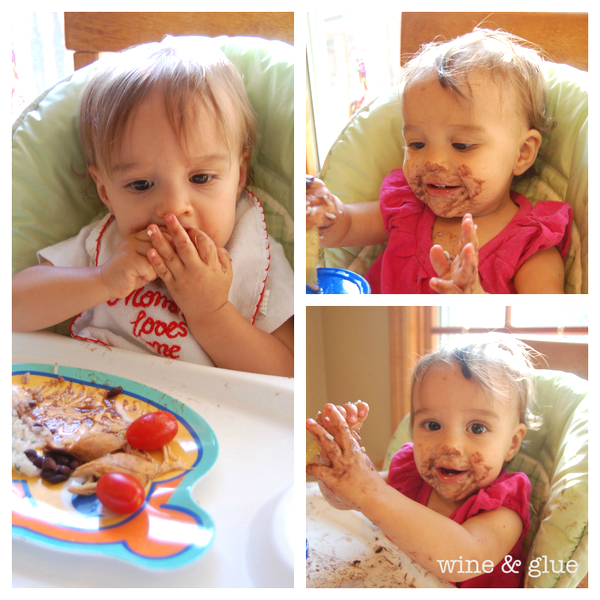 I hope you add this to your weekly rotation and your family loves it!  If you are looking for other take out knock offs from Little Suzy Homemaker Wannabe, check out these Taco Bell Quesadillas!
Lisa is a stay at home mom to two little monkeys and wannabe seamstress, chef, baker, and party planner.  Visit her blog Wine & Glue for other easy kid friendly meals, like Pesto Focaccia Sandwich and follow along on Facebook.
So are you on the hunt for more Easy Mexican Dinner Recipes to make this week?
I've got some crazy good ideas I know you're gonna love…
It's got all the flavors of a true fiesta celebration packed into one decadent entree!  Are you ready for a little flavor invasion??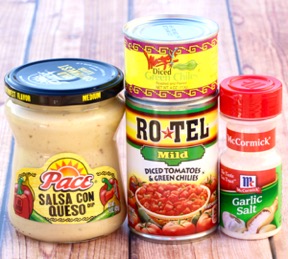 The Homemade Fajita Seasoning adds the flavor your chicken dinner has been craving.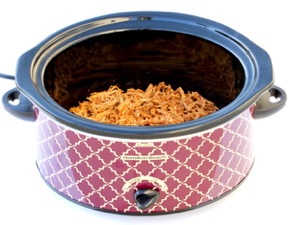 Make your Taco Tuesday dinner oh so delicious with this easy homemade Crockpot Beef Tacos Recipe!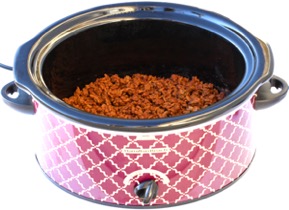 You only need to find 8 ingredients to serve up these authentic beef enchiladas!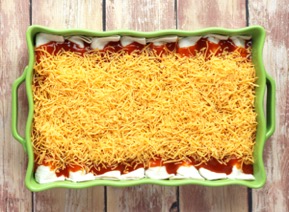 With the help of a Rotisserie Chicken, this delicious dinner comes together in a snap!  It's definitely a family favorite at my home, and leftovers are rare!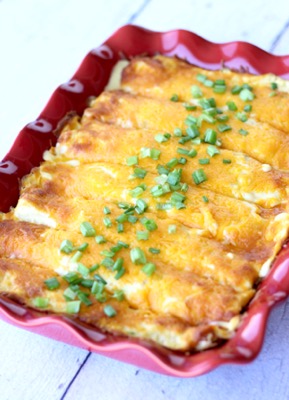 Let your slow cooker do the work tonight when you make this creamy red delicious Crockpot Enchilada Chicken Recipe!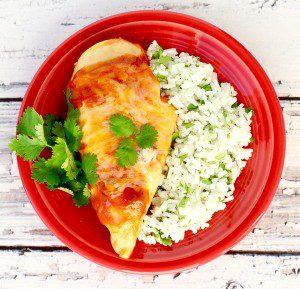 This easy Skillet Chicken Fajitas recipe is packed with fresh flavor and is sure to satisfy those hungry tummies!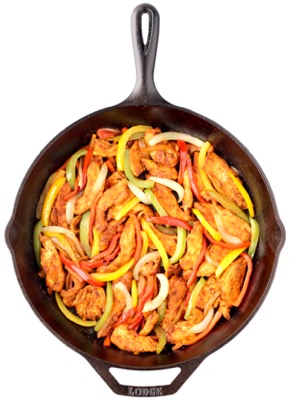 You're going to love this Crockpot Green Chile Chicken Recipe… it's so easy to make, and tastes delicious in tacos and burritos!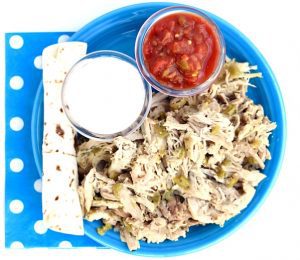 You can serve it as whole chicken breasts, or shredded on your tacos, burritos or taco salads!  Plus, it's so easy to make.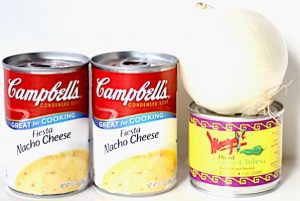 All you'll need are these 4 ingredients to get this Crockpot Chicken Salsa with Cream Cheese started.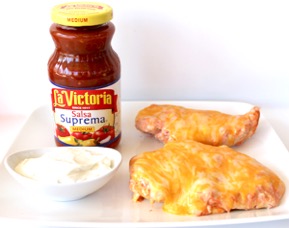 The combination of the honey BBQ sauce with a hint of chipotle pepper, and the peach preserves is totally irresistible!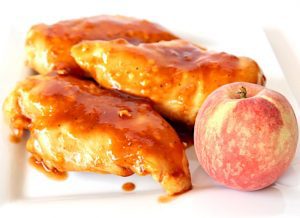 This garlic infused chipotle whole chicken is smothered in a spicy chipotle rub that delivers a burst of amazing flavor with each bite.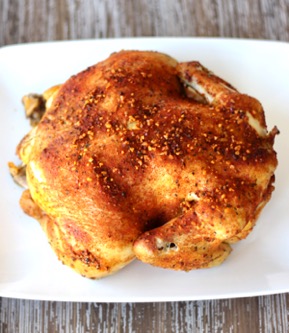 There's really no wrong way to enjoy this beef skillet queso recipe.  You can work into it slowly… or you can go all out and inhale every last bit!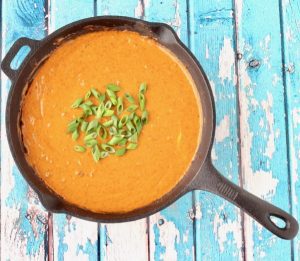 Serve up some salsa deliciousness with one of these amazing Easy Salsa Recipes!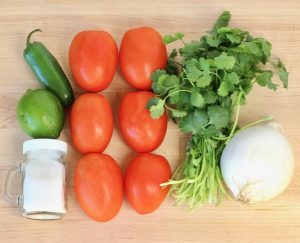 Add some flavor to your dinners this week with these yummy Mexican Slow Cooker Recipes!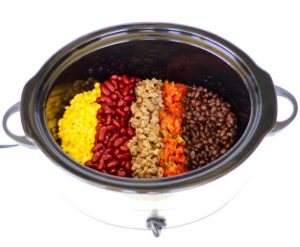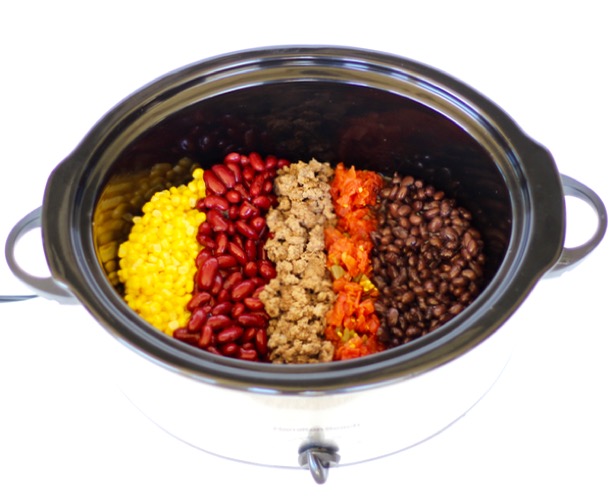 These recipes are designed to make cooking your favorite Mexican Recipes easier than ever!!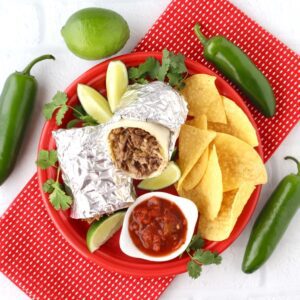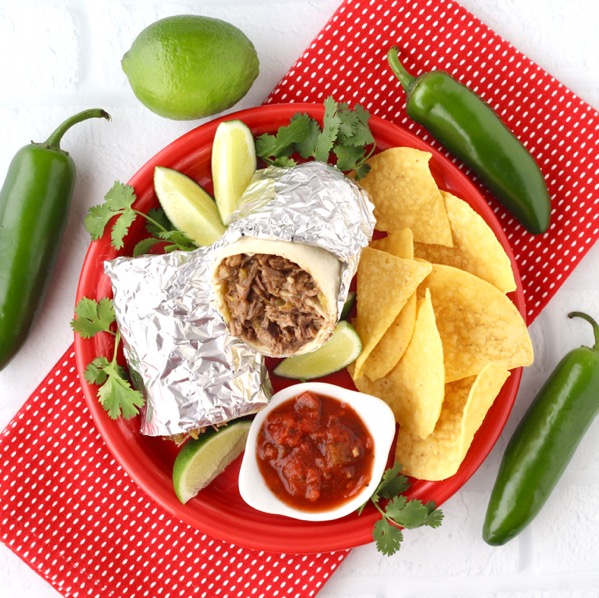 On the hunt for some Easy Crockpot Recipes your family will love?  These cozy dinners and slow cooker desserts are perfect for busy nights!

Grocery Money Saving Tips:
Want to know how to cut your grocery bill in half?  Keep more cash in your wallet with these easy money saving tricks!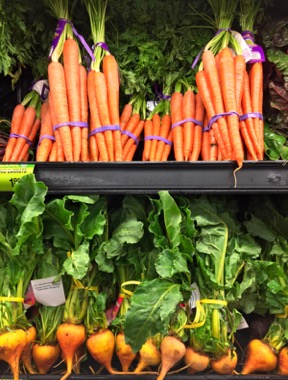 Don't miss out!  Get all the latest fun new Frugal Girls Recipes, Tips + more right here…

So have you tried this Copycat Crockpot Qdoba Chicken Recipe yet?
Leave a comment and share…