Making this easy Blueberry Pie Recipe from scratch is the very best way to enjoy a berry pie, and you'll love how it takes hardly any effort to prepare!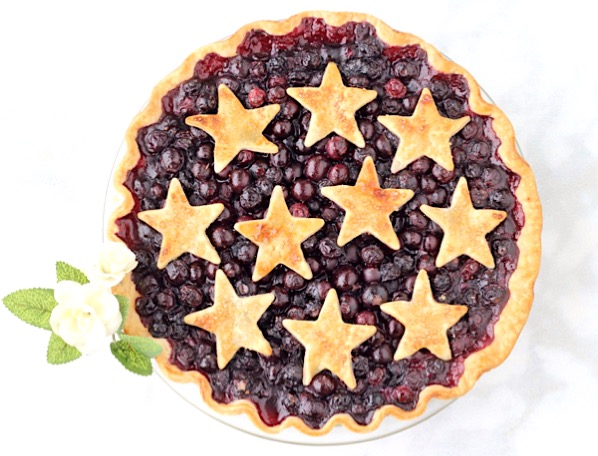 Enjoying a slice of homemade blueberry pie made with fresh blueberries simply can't be beat.  Trust me… a slice of this Easy Blueberry Pie Recipe from Scratch is the perfect way to end a beautiful day.  In fact this pie is so yummy, you might even be tempted to help someone else finish their slice!  Just sayin'. 🙂
So if you're looking for another super Easy Pie Recipe to make this Summer, making this homemade blueberry pie with fresh blueberries is the way to go!
And just trust me on the secret ingredient ~ Tapioca Flour!  If you don't have some, make sure to grab some from the baking aisle of your grocery store.  I've made Blueberry pies with regular flour and with cornstarch, and they always end up too soupy.  The tapioca flour is your magical secret ingredient that will get your pie filling to bind up and solidify perfectly!  It works like a charm!
So are you ready to get baking?  Just follow my easy step-by-step instructions below.
You'll be surprised how easy it is to make this sweet pie with homemade blueberry pie filling!  Here's what you'll need…