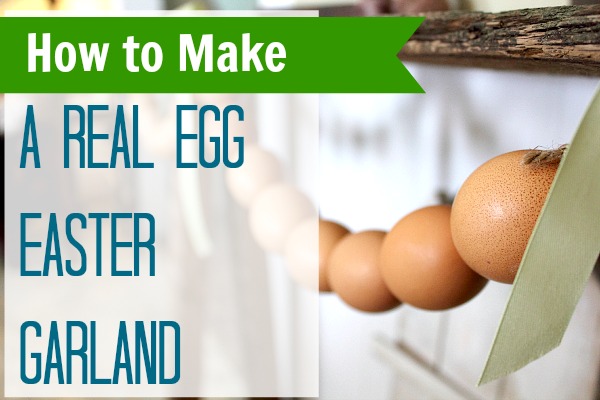 Following is a fun Easter Craft and guest post by
Courtenay at The Creek Line House… enjoy!!
Hello hello, everyone! I'm Courtenay from
The Creek Line House
and I'm so thankful to Heidi for letting me stop by and share a little crafty, Springy fun with you all today: 
How to Make an Easter Egg Garland with REAL eggs
!!
Today I'm going to show you how to make this easy natural egg garland. It really is a stunner and I think it's definitely my favorite Easter craft of the year so far!
The first thing you'll need to do is blow out enough eggs to cover the length that you'll be making your garland. For this little one I made to go across my fantel (fake mantel!), I used 16 eggs.
Once you've got your eggs all set, you'll probably need to make the holes on each end a little bigger, just for ease of stringing. You can easily do this using a push pin.
(Thank you to my daughter for letting me photograph her dirty fingernails while she helped me!)
Next, grab some twine or ribbon and start stringing! I used natural jute twine, but anything will work.
Tie a loop or a knot at one end to keep your eggs from falling off.
You can see I made my holes quite large. It really doesn't matter at all. Once the eggs are all side-by-side, the holes are hidden completely! If you're still having a hard time getting the twine through, try grabbing it with tweezers and pulling it through the hole. It worked for me!
This is a great Easter decoration. It looks so nice paired with pretty things like satin ribbon or even rougher natural things like reclaimed wood and jute.
It's also a fabulous family project!
It takes a lot of lung power to blow out all those eggs! It's great to be able to take turns.
When you're done, you'll have a beautiful garland that you'll be able to keep and reuse for many years to come!
Come on over and see me any time at The Creek Line House where you'll find me blogging all about easy-peasy farmhouse decorating and homekeeping! If you'd like to come visit me on Facebook, Twitter, or Pinterest also, that would be just swell!