Enjoy a little strawberry bliss when you make this Easy Homemade Strawberry Lemonade Recipe!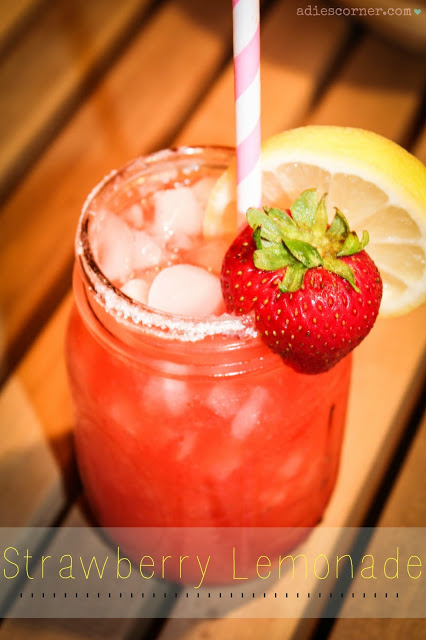 Following is a delicious Easy Homemade Strawberry Lemonade Recipe
and guest post by Lisa at Adie and Aden… enjoy!!
This Easy Homemade Strawberry Lemonade Recipe is the perfect way to cool down on a hot day!  Just 4 ingredients, and you've got some serious strawberry bliss!  Are you ready to make your own delicious homemade version??
Homemade Strawberry Lemonade Recipe
Easy Homemade Strawberry Lemonade Recipe!
Enjoy a little strawberry bliss when you make this Easy Homemade Strawberry Lemonade Recipe!
Ingredients
1

cup

Water

1

cup

Sugar

1

pint

fresh Strawberries

1

cup

fresh Lemon Juice

this equaled close to 8 lemons

4

cups

cold water

this will vary depending on your taste
Instructions
Make a simple syrup by combining the sugar with 1 cup of water in a saucepan. Place over medium heat and heat until the sugar in completely dissolved; swirl the pan occasionally. Let cool.

Once the simple syrup has cooled, puree strawberries in a blender with ½ cup water.

In a large pitcher, combine strawberry puree, simple syrup and lemon juice.

Add 4-6 cups of cold water.

The amount of water you use will depend on your taste, so add as little or as much as you want to achieve your perfect sweet/tart balance.

To add sugar on the rim all you do is wet the rim and dip in a pile of sugar. So easy and tastes good too.

Serve over ice. If desired, garnish with fresh strawberries and lemon slices. I do it because it looks super stinking cute!
Hi I'm Lisa and I am a stay at home EVERYTHING! I am originally from Tucson, Arizona and somehow got too lucky and ended up in Utah with the best Guy I get to call mine; everyone else calls him Eric.
Our sweet, funny, sassy, independent, happy and beautiful almost one year old who keeps us on our toes is Miss Adeline! I am so blessed to get the privilege to stay home with my sweet Adie to watch her grow and discover life.
I love to shop, drink Dr. Pepper, create, absolutely love anything PINK, the beach, love dresses and wedges, but most of all I love LOVE love being with Eric and Adie; it surely doesn't get better than that.
I started Adie and Aden to give cute Mommies ideas for their sweet little girls. I always get attention from what Adie wears so we thought we would share.
Adie's Corner is to give ideas, add a little fancy to your wardrobe with a to die for headband; to show the must haves for any girl and anything PINK we think you seriously have to have! We hope you enjoy your time here and look forward to our time together! xoxo
You'll love liking us! There's more to come, just around the "corner"!  Join me on my Blog: Adie and Aden, Facebook, Pinterest, or Twitter!
Craving more Delicious Lemonade Recipes??  Get inspired below…