I may get
paid
for ads or purchases made through links in this post.
This sweet Bunny Napkin Fold with Egg will INSTANTLY elevate your Easter brunch and dinner tables!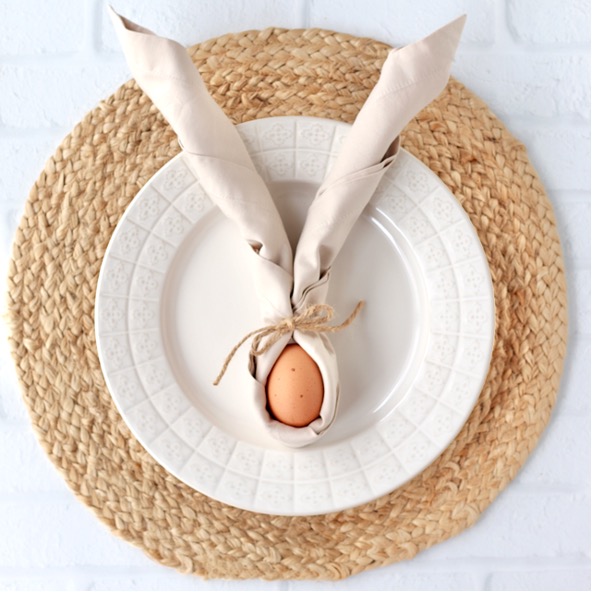 Are you looking for the cutest way to add some Easter flair to your table? This Bunny Napkin Fold with Egg is adorable, simple to create, and always a hit with family and friends!
When it comes to entertaining, Napkin Folding is such an easy way to add a touch of elegance to any gathering! These folded napkins will instantly upgrade the look of your entire Easter table.
That's why this Bunny Ear Napkin Fold is a must-have at any Easter Brunch, Lunch and of course… Easter Dinner!
The best part is… it only takes about 60 seconds to fold each one! Seriously, who new it was SO easy to fold a precious little Rabbit Napkin?
So go ahead and have some fun making these adorable Bunny Napkins for yourself. Just follow these easy step-by-step instructions for DIY Bunny Napkin Folding…
Bunny Napkin Fold with Egg
Related:
How Do You Make an Easter Bunny Napkin?
It's actually so simple! You'll just need a cloth napkin, hard boiled egg, and twine or ribbon!
How Do You Fold a Bunny Napkin?
It's actually so simple! Watch the video below for a quick tutorial…
What You'll Need for the Napkin Bunny Fold:
20×20 inch (51x51cm) cloth napkin
Pro Napkin Folding Tips:
For stiffer napkins, iron and starch prior to folding
100% cotton napkins are my top pick when folding
Smaller sizes will work, but 20×20 inch (51x51cm) will make for nice, long bunny ears
Lay napkin out flat, then fold in half into a triangle shape (1 corner to opposite corner)
Turn the napkin so the long straight side is facing you, and the point is facing away.
Fold straight side up 1″ towards the pointed side to make a fold.
Then continue to fold 1″ folds until you have a long narrow piece, and there is no material left to fold.
Bend two ends upwards, to form the bunny's ears.
Place a hard boiled egg in the bottom of the fold.
Tie a bow around the napkin right at the top of the egg, using narrow ribbon or twine, and you're done!
Place on your plate for the CUTEST Easter table setting!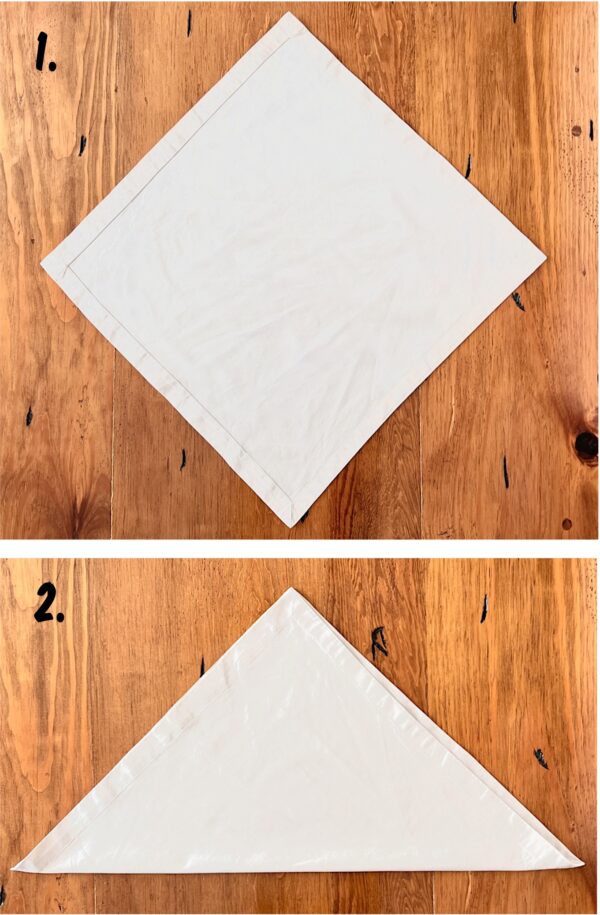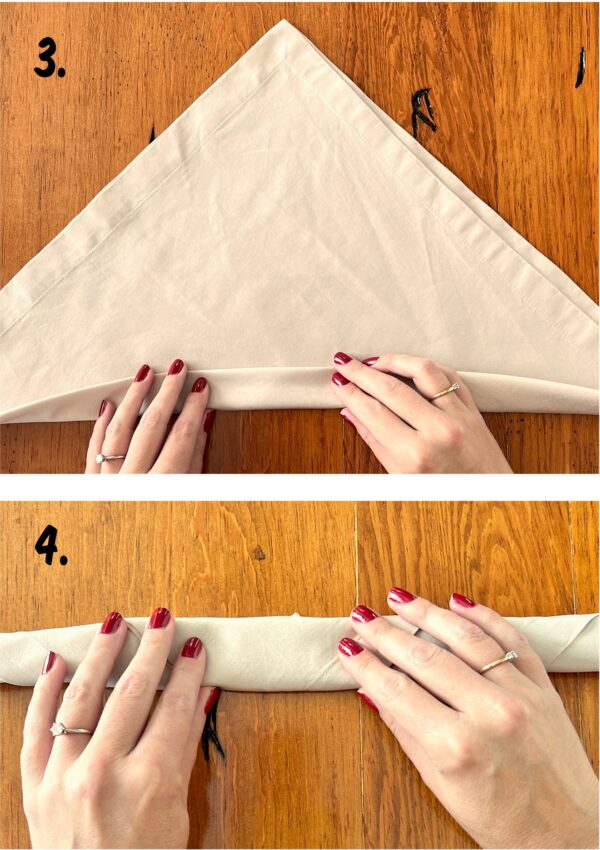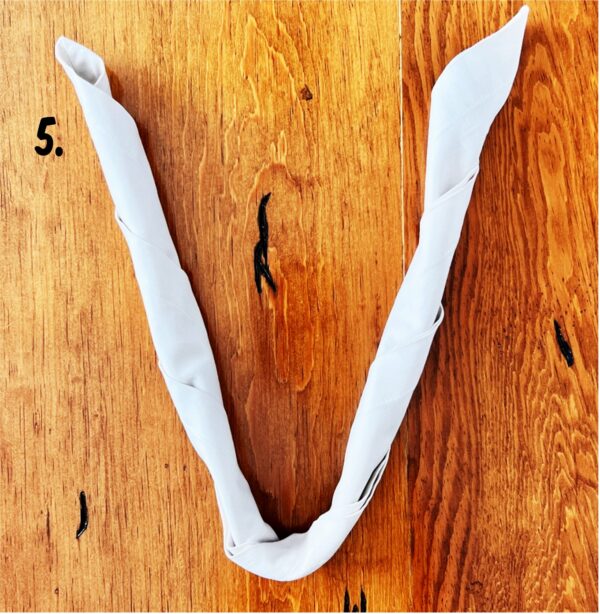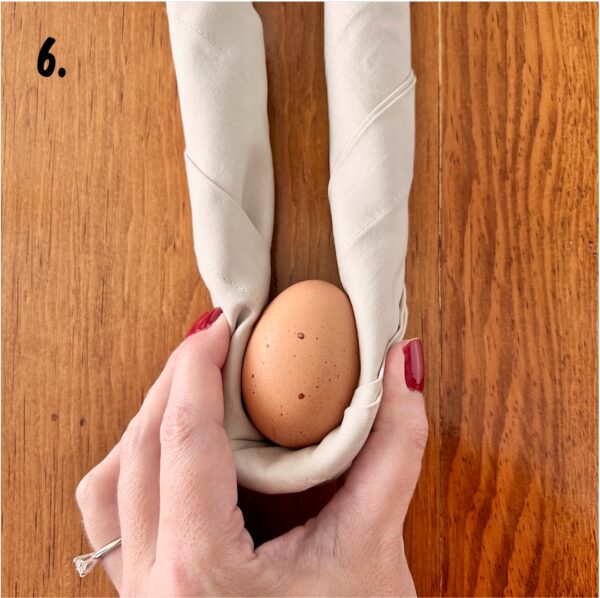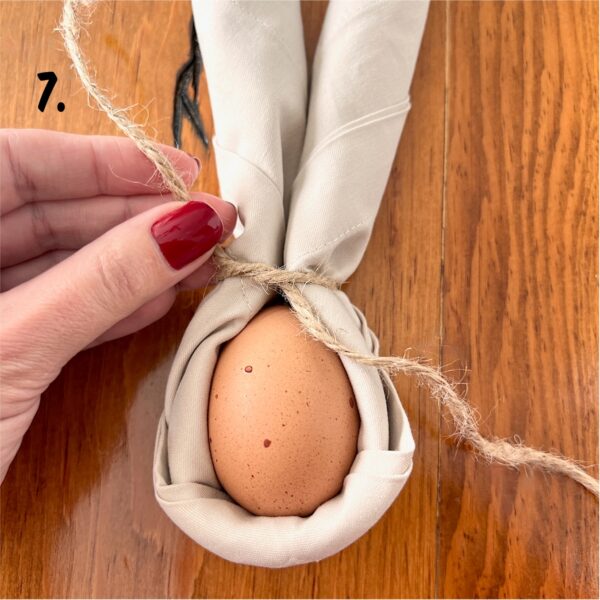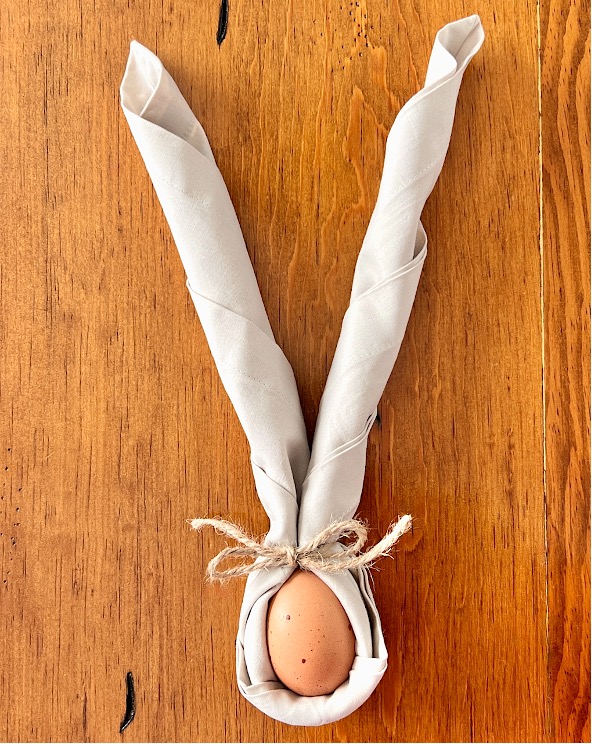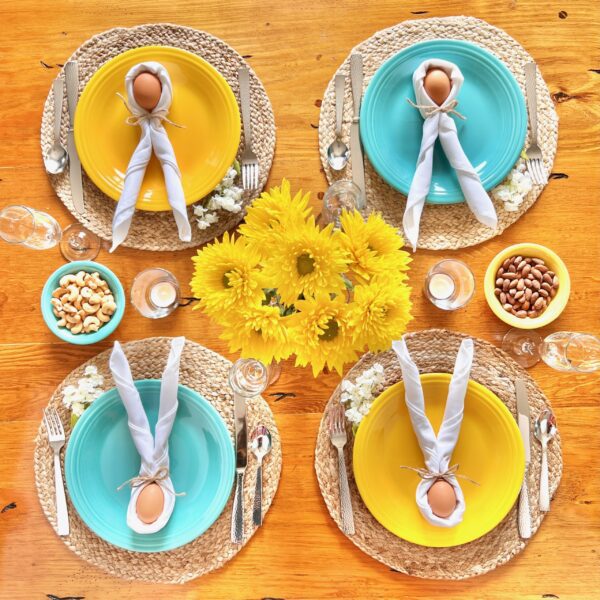 What Your Frugal Friends Are Saying:
One reader writes: "This is darling and so easy!"
Kim writes: "So cute for Easter dinner!"
Lisa writes: "My favorite Easter napkin fold."
Now that you know how to create this beautiful Bunny Napkin fold for yourself, elevate your Easter celebrations with even more Fun Crafts and totally fabulously Frugal Easter Ideas.
This year, have even more fun when you try some of these creative Easter ideas…
Today I'm going to show you how to make a gorgeous, natural egg garland!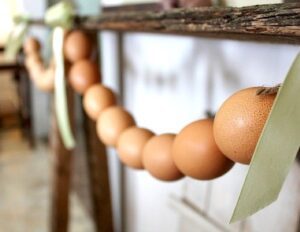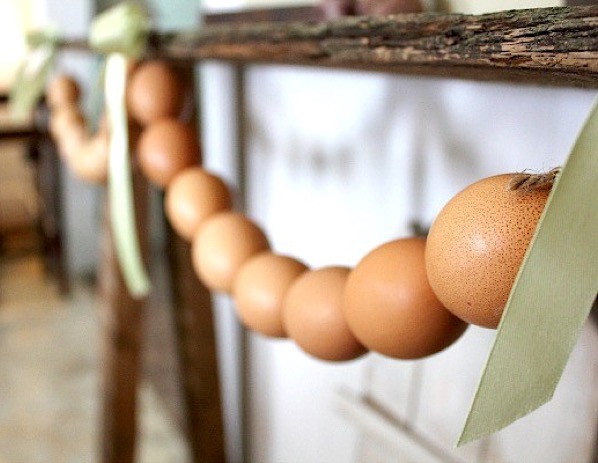 I went to the local Salvation Army Resale Store and the Goodwill Resale Shop to find what I needed…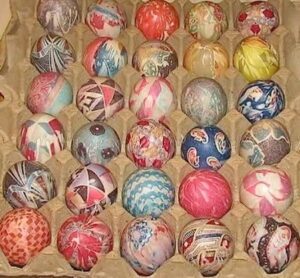 Need to freshen up your front door for Spring? You can make this DIY Hydrangea Wreath for Front Door in just 5 minutes!!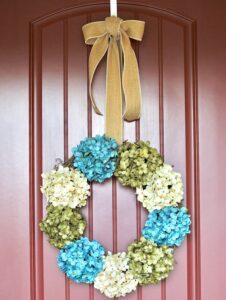 Whether for the kiddos… or the adults, you are going to want to check out this BIG List of Fun Easter Crafts!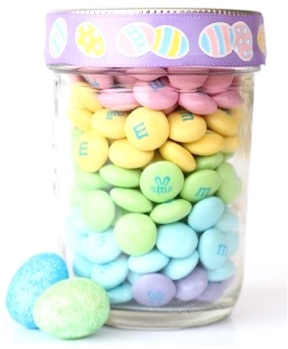 Get inspired to make your Easter extra tasty this year with this HUGE List of Easy Easter Recipes!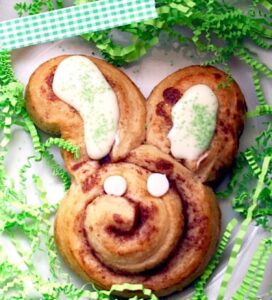 These Easter Crockpot recipes are simple, amazing, and sure to make your holiday extra special this year!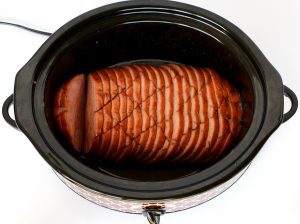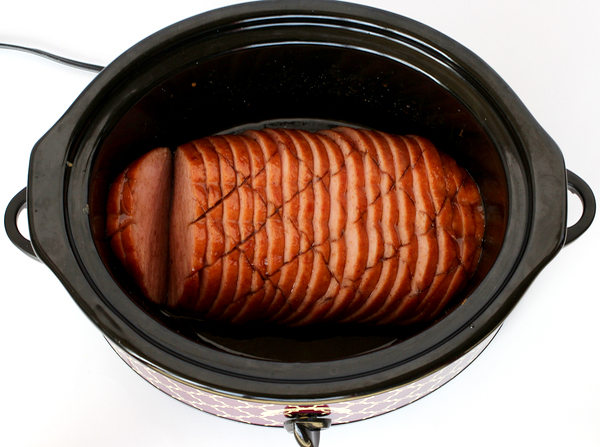 More Fabulous Crafting Inspiration:
When it comes to setting a beautiful table, nothing takes your dining room to the next level like pretty napkin folds!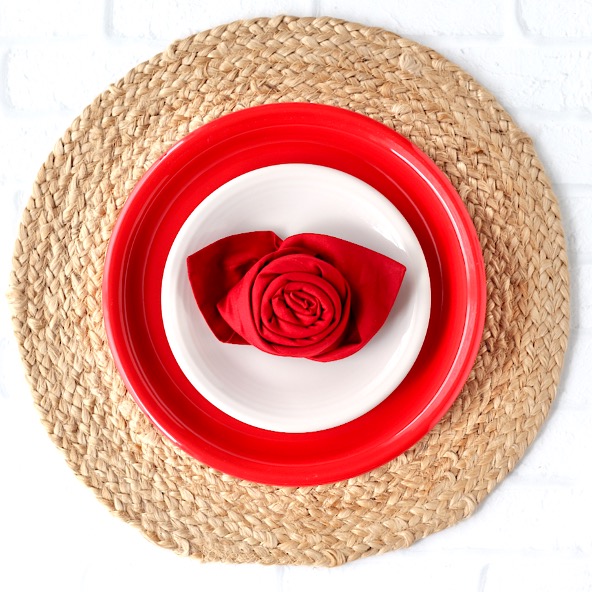 Are you ready to tackle your next crafting project?  Before you do, check out these EASY tricks and learn How to Save Money on Craft Supplies!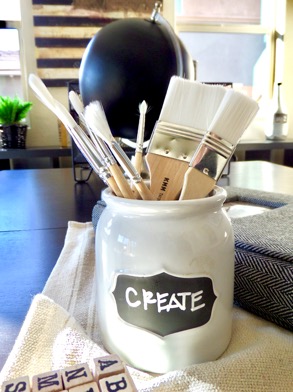 Feeling crafty??  Get inspired with these easy and fun crafts to do at home all year long!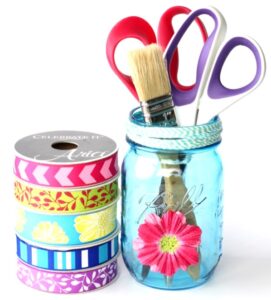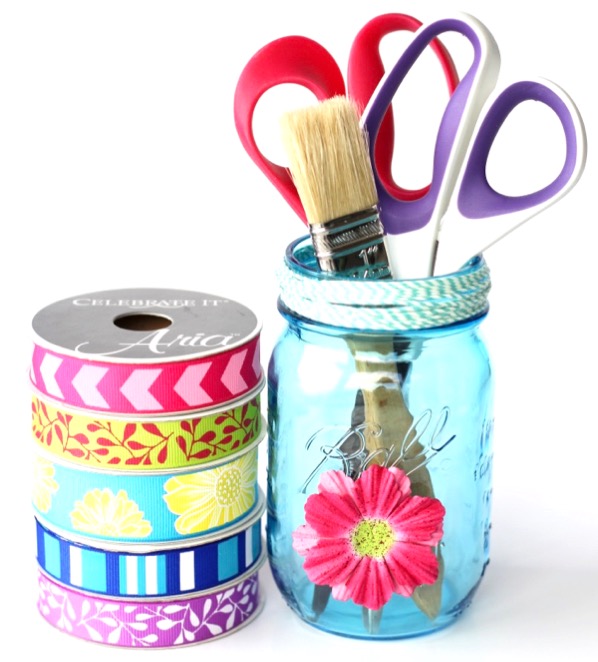 Don't miss out!  Get all the latest fun new Frugal Girls Crafts, Recipes, Tips + more right here…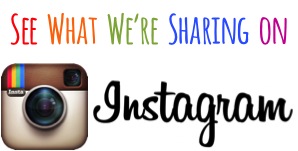 So have YOU tried the Easter Bunny Napkin Fold with Egg yet?
Leave a comment & share!