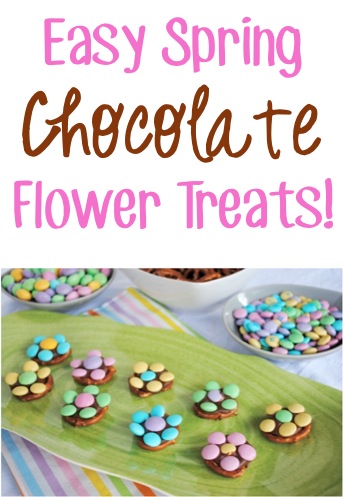 Following is an Easy Spring Treats Recipe
and guest post by Aimee at Shugary Sweets ~ enjoy!
Hello Frugal Girls! How about an easy, budget friendly Easter or Spring treat that even your kids can help create! I'm sure you've all seen Easy Spring Treats, pretzels with chocolate and M&M's, this is exactly the same. Only I used extra M&M's to create a flower pattern. You can change up your flavors of chocolate and candies too! For most of my flowers I used small pretzel twists with a milk chocolate Hershey kiss, a white chocolate M&M in the center and milk chocolate M&M's as the petals. Most of the flavored M&M's are a little larger, which look very cool as the center of the flower. But you can also use a small one if you choose! You can also use different flavors of kisses too…coconut would be delicious. But the white cookies and cream would be very pretty (and tasty). No limit to your creativity here!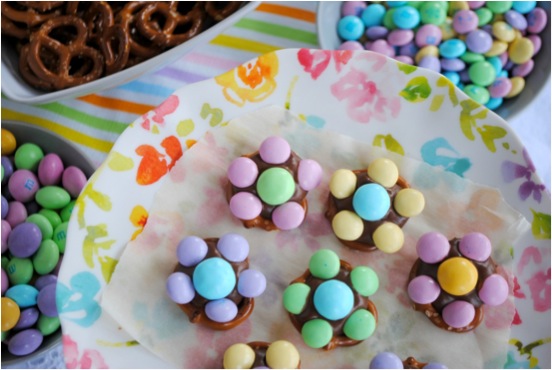 Easy Spring Chocolate Flower Treats!
Ingredients
50 mini pretzel twists
50 Hershey kisses (your choice in flavor)
50 large M&M (flavored or peanut work best)
250 milk chocolate M&M's
Instructions
Preheat oven to 200 degrees.
Cut a piece of parchment paper to fit on a large baking sheet.
Arrange pretzels on parchment paper.
Unwrap Hershey kisses and place one on top of each pretzel.
Put baking sheet in preheated oven and bake for about 5 minutes.
Remove from oven and immediately press large M&M in center of Hershey kiss.
Arrange 5 smaller ones around the edges to look like petals of a flower.
Repeat until finished.
Allow to set on counter or refrigerate for 30 minutes.
Store in covered container in refrigerator so chocolate doesn't melt. Enjoy!
Aimee, a wife and mother of 4 children, is the author of Shugary Sweets (www.shugarysweets.com). She blogs, bakes and spends her free time reading or on the sidelines of children's sports and activities!
Be sure to also join Aimee on
Facebook
and
Pinterest
!
See Also: