I may get
paid
for ads or purchases made through links in this post.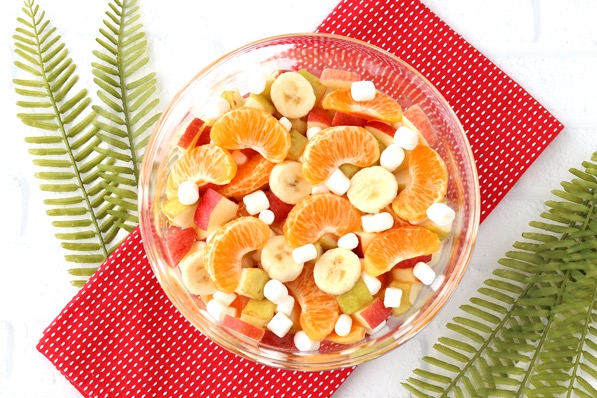 A BIG thank you to Noble Citrus for sponsoring today's post and Easy Fruit Salad Recipe!

Brighten up your menu this week with this Easy Fruit Salad Recipe with Marshmallows! Whether you're looking for a fun and fresh dinner side, or are just wondering what to serve up at your next party, this Tangerine Fruit Salad is IT!
In addition to fresh apples, pears, and bananas, the Noble Juicy Crunch tangerines add such an outrageously delicious punch of flavor! Trust me… you won't believe how fast this easy fruit salad will disappear!
Just cut up your fruit, mix up your sweet citrus dressing, allow the flavors to marinate while chilling in the refrigerator, then ENJOY!
So are you ready to make something deliciously irresistible tonight? Here's what you'll need to make your own sweet, fresh fruit salad…
Easy Fruit Salad Recipe with Marshmallows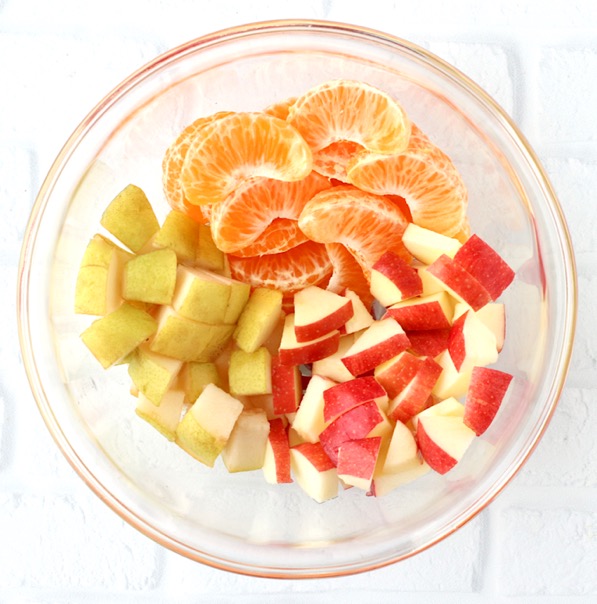 How Do You Make a Simple Fruit Salad?
It's actually so easy to make a delicious fresh fruit salad! You'll just…
Make and Chill your fruit salad dressing
Wash and Cut fruit
Stir dressing into salad
Chill fruit salad in refrigerator
Add sliced bananas and mini marshmallows just before serving, and stir one more time.
See? I told you it was EASY!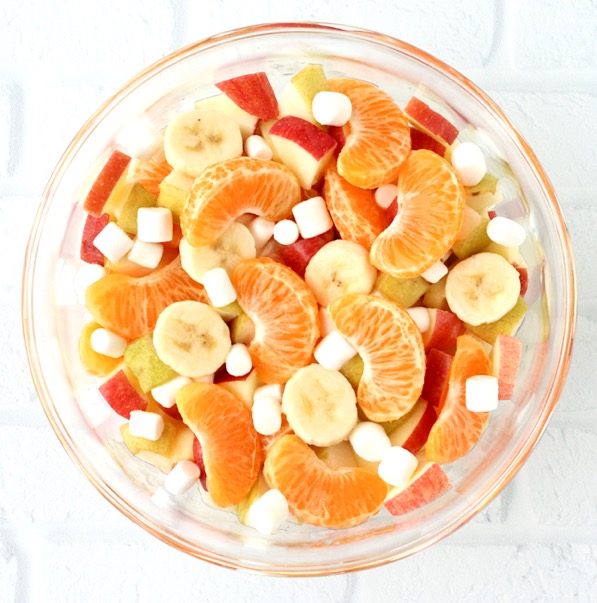 What is a Fruit Salad Made Of?
There are several different fruits you can use when making a fresh fruit salad, but here is my favorite flavor combination…
Noble Juicy Crunch Tangerines
Gala Apples
Pears
Bananas
Sweet Citrus Dressing
Mini Marshmallows
Easy Fruit Salad Recipe with Marshmallows
Brighten up your menu this week with this Easy Fruit Salad Recipe with Marshmallows!
Ingredients
2

tbsp.

Water

2

tbsp.

Granulated Sugar

1

tsp.

Lemon Juice

2

tbsp.

Orange Juice

2

Noble Juicy Crunch Tangerines

2

Gala Apples

2

Pears

1

Banana

1 1/2

cups

Mini Marshmallows
Instructions
To make the citrus dressing, bring water and sugar to a boil over medium-high heat, stirring constantly.

Once water begins to boil, immediately reduce heat to low, and pour in orange juice and lemon juice. Allow to simmer for a couple of minutes, then transfer citrus dressing to the refrigerator to cool.

While your citrus dressing is cooling in the refrigerator, peel and separate tangerines, core and cut your pears, and core and cut your apples.

Add tangerines, pears, and apples to medium bowl, and pour citrus dressing over fruit. Stir with wooden spoon, then cover with plastic wrap and place in refrigerator for 2+ hours so flavors can marinate together.

When ready to serve, remove fruit salad from refrigerator, add sliced banana and mini marshmallows, gently stir again, and ENJOY!
So wasn't that easy? Nothing beats a delicious fresh fruit salad! I'm giving you a fair warning though… it will disappear FAST! 🙂
Where Do The Best Tangerines Come From?
When it comes to tangerines, I've personally found that the grove fresh Juicy Crunch Tangerines from Noble Citrus top the charts!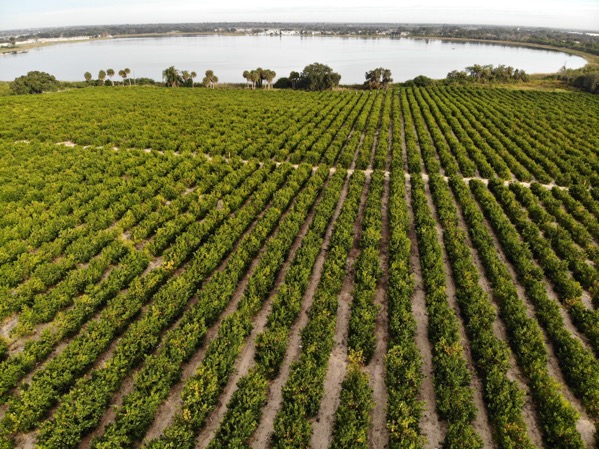 So what's so special about Noble Juicy Crunch tangerines? Well… not only are they ridiculously juicy, but they are truly the sweetest tangerine I've ever tasted! Trust me… you'll be seeing the light at the end of the Winter tunnel with every crunchy, juicy bite! In technical terms… Noble Juicy Crunch has the highest Brix (natural sugar solids measure) of any full-size tangerine: 17 Brix vs. 10 – 12 in most other high end tangerines.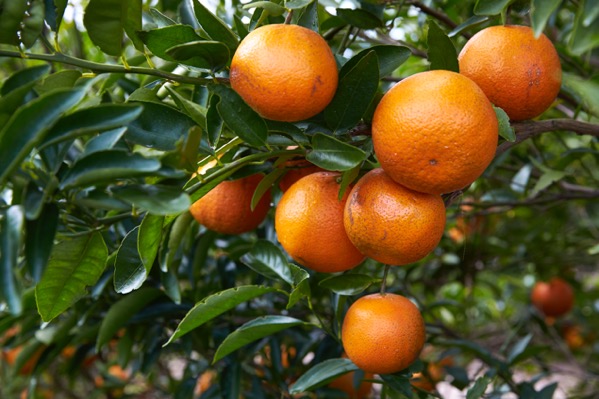 I also love that they come from a family farm started back in 1926 in sunny Florida. After a four decade breeding program, 1,600 seedling grafts, waiting five more years for each tree to mature and become a full fruit-bearing tree, the Noble Juicy Crunch tangerine was born and has become the crown jewel of the farm.
It took patience and a lot of time to develop these easy-to-peel tangerines bursting with flavor. When you take your first bite you'll know why they were so worth the wait!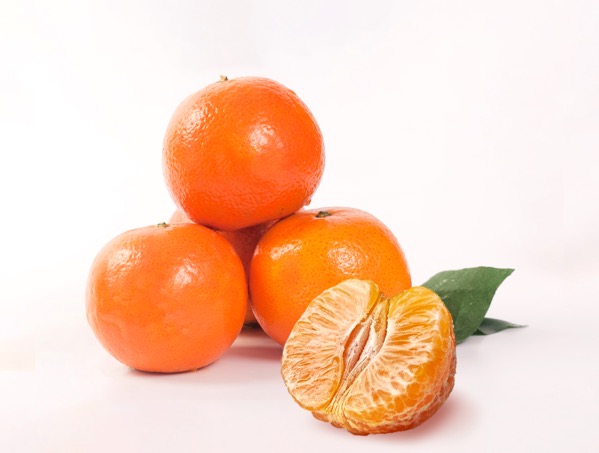 Noble Citrus is all about old fashioned quality, and generation after generation has carried on their delicious traditions while also developing incredible new varieties, so you know they're going to be good!
Learn more and find out where you can buy your Juicy Crunch tangerines here at Noble Citrus.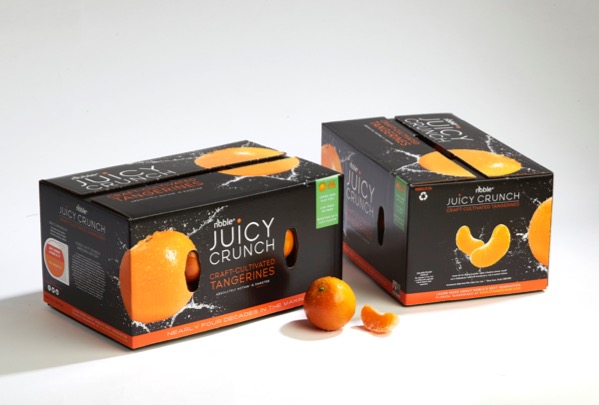 So have you tried this Easy Fruit Salad Recipe with Marshmallows yet?
Leave a comment & share!