Satisfy those snack attacks with this Homemade Cracker Jack Popcorn Recipe!  It's just like the real thing!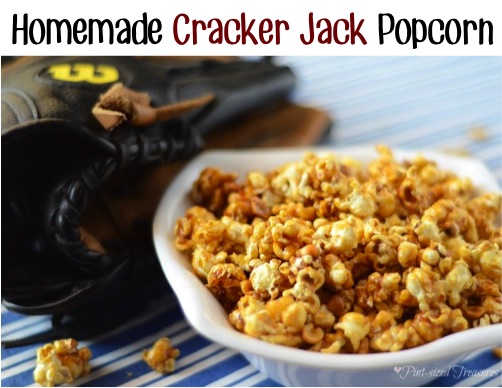 Following is a delicious Homemade Cracker Jack Popcorn Recipe and guest post
by Alison at Pint Sized Treasures… enjoy!!
Childhood memories of red and white boxes filled with crunchy, sweet popcorn and peanuts flood your memory bank when you hear the name "Cracker Jack". Don't forget the added bonus of a mystery surprise toy inside the box. Now you can pass on these nostalgic memories with your kiddos using this recipe that tastes even better than Cracker Jack!
Homemade Cracker Jack Popcorn Recipe
Homemade Cracker Jack Popcorn Recipe
Ingredients
2½ cups white sugar
6 tablespoons butter
3 tablespoons pancake syrup
1 cup shelled peanuts, unsalted
½ tsp. salt
16 cups popped popcorn, unpopped seeds removed
Instructions
In small saucepan, combine salt, sugar and butter.
Cook on medium-high heat and stir constantly for approx. 5 minutes.
Then, add pancake syrup and continue to cook.
If sugar begins to burn, turn down heat and add some cooking oil or additional butter.
Keep stirring and cooking until mixture becomes sticky and caramelized; approximately 15 minutes.
Once it has reached the caramel state, remove from heat and stir in peanuts.
Let mixture stand for about 5 minutes.
Then, pour over popped popcorn and mix thoroughly. Enjoy!
Yum
"Alison is a mom to six kids, missionary in Cambodia, freelance writer and blogs at PintSizedTreasures.com. You can follow her on Twitter, Pinterest and Google+
Be sure to also check out this Milk Dud Popcorn and Homemade Microwave Popcorn Recipe!

Peppermint Popcorn Bark Recipe
Have you ever made Homemade Cracker Jack Popcorn before?
Or do you have fun childhood memories from munching on Cracker Jacks?
Leave a comment & share!