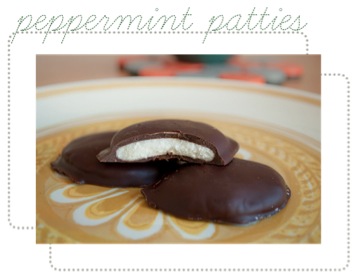 Following is a delicious Peppermint Patties Recipe and
guest post by Carly at Createlive ~ enjoy!
I honestly love York Peppermint Patties. They are my honest-to-gosh favorite candy. When I made York Peppermint Patty Cupcakes, I thought I'd worn out my ability to work with them — simply because, let's face it, they're so good that they can't possibly be replicated by my human hands
(I'm convinced the real York Peppermint Patties are made by the elves from Santa's workshop that were so talented, they got promoted).
I later realized that, not only were York Peppermint Patties my favorite candy, they were also a favorite of my best friend and boyfriend. How could I
not
take a crack at it?! All in all, these things are pretty darn delicious.
What's up, Santa's elves? Game on.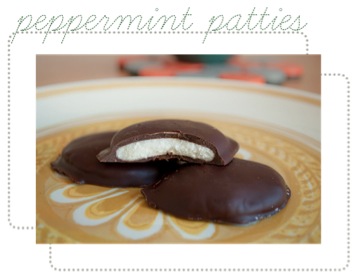 Peppermint Patties Recipe!
Ingredients
2 cups powdered sugar
1 tablespoon softened butter
¼ teaspoon peppermint extract (if you have to use mint extract, that will work, but the flavor is changed — mint extract combines peppermint and spearmint, so be ready for that)
2 tablespoons evaporated milk
1 bag bittersweet chocolate chips
Instructions
Combine first 4 ingredients (all but chocolate chips) in a mixing bowl and mix well, until softened.
Use a small ice cream scoop to roll into small, 1 inch balls. Place balls on a baking sheet lined with parchment paper.
Put in fridge for 30 minutes (or freezer for 15).
Remove from freezer and use the back of a spatula (or your hand, if you must!) to flatten the balls into patties. Put back in the fridge/freezer for 30 (or 15) minutes.
Melt chocolate chips. In a bowl large enough to dip the patties, put the chocolate chips in the microwave for 90 seconds. Remove from the microwave and stir, then put back in the microwave for 15 seconds and stir again. If there are still hard chips, or the chocolate is getting too thick, add ½ tablespoon of vegetable oil and continue stirring.
Remove patties from fridge/freezer and use 2 spoons to place patties in the chocolate, one at a time. Submerge the peppermint patty and cover with chocolate, then use one spoon to lift the patty and the other spoon to slide it off, onto a parchment-lined baking sheet.
Refrigerate for 1 hour, then serve!
Carly is a young blogger living in Chicago who loves mason jars, healthy cupcakes, oxymorons, and workout music! Check her out on Facebook and Pinterest!