Add a little love to your day with these adorable Valentine Jello Cookies!

Following is a fun Valentine Jello Cookies Recipe and
guest post by Angela at Angela's Adventures… enjoy!!
         Valentine Jello Cookies
This year, I've been extra excited about Valentine's Day. I think my view of the holiday has changed. Instead of seeing it as one day where we're expected to celebrate the people we love, I'm seeing it as a season of choosing to celebrate the people we love.
Around our house, we have a few Valentine's decorations up and for the next few weeks, I'm planning on intentionally focusing in on showering my children with a little extra love, encouraging them to show love towards others and of course, trying to be more intentional about showing my husband love.
Yesterday, the kids and I made a batch of these Valentine Jello Cookies. A batch of these cookies is on the smaller side, perfect for a few snacks with your kids and a couple days worth of sneaking into your hubby's lunch box.
 Valentine Jello Cookies
Valentine Jello Cookies
Ingredients
1¾ cup flour
1 tsp. baking soda
1 6oz package Jello mix (any flavor you like)
¾ cup butter, softened
½ cup sugar
1 egg
1 tsp vanilla
Instructions
In a small bowl, combine the flour, baking soda and Jello mix and then set aside. In a medium sized bowl, beat butter and sugar together until creamy. Beat in the egg and the vanilla. Gradually blend in flour mixture.
Chill dough for at least a half hour and then roll out with floured rolling pin, on a generously floured surface. Dough will be on the sticky side so, adding extra flour might be necessary.
Cut the dough with cookie cutters and then place cookies on an un-greased cookie sheet.
Bake in a pre-heated 400 degree oven for 5-7 minutes, or until edges barely brown. Cool on baking sheets for 2 minutes and then transfer to wire rack to completely cool.
Yum
♥ Angela
Angela's Adventures is written by Angela, a stay at home mom of two little ones (and another one on the way)! Angela loves writing about daily life with her little ones, her crafting and cooking adventures. Creating tasty recipes and making her home beautiful, without spending much money is a passion of hers. To read more of Angela's Adventures, please visit her blog at http://www.angelastrand.com/. You can also find her on Pinterest!

Looking for even more easy and crazy delicious Cookie Recipes? Check out these fun cookies below!
Add a little romance to your day with this fun Valentine's Day M&M Cake Mix Cookies Recipe!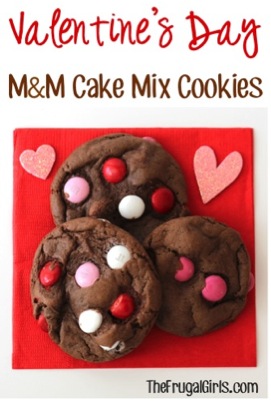 Some days call for something pretty and pink and sweet.  This Valentine's Day Cookies Recipe is the perfect solution!
Satisfy those cookie cravings with this 4-ingredient Strawberry Cake Mix Cookie Recipe!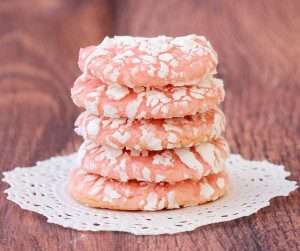 Satisfy those cookie monster cravings with this Lemon Cake Mix Cookies Recipe!  It's lip-smackin' delicious!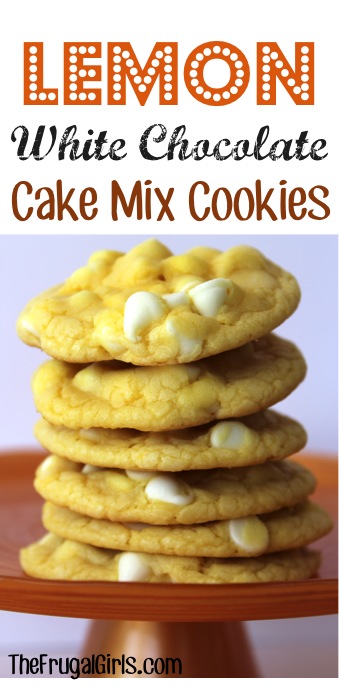 On the hunt for the perfect easy little cookie for your Holiday Dessert, Office Party, or Cookie Exchange?  You'll LOVE this Easy Peanut Butter Kiss Cookies Recipe… they're so simple to make, addictive and delicious!
A cookie doesn't need to be complicated to be ridiculously delicious!  You'll love this easy Snickers Cookie Recipe! Did I mention just 2 ingredients?