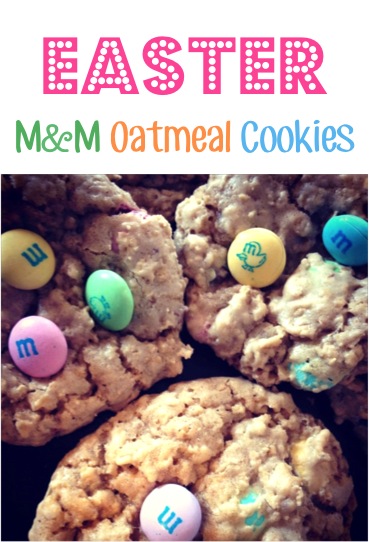 Following is a delicious Oatmeal M&M Cookie Recipe and guest
post from The Brady Girls at Cookin' Food… enjoy!!
Hi, we're the Brady Girls over at
Cookin' Food
! A big thanks to Frugal Girls for letting us guest post today! We are a mother, daughter, and sister team who want to share with you our love of good times like cookin' up great food and embarking on new adventures! Here's an awesome cookie recipe to use up all of that Easter candy!  These oatmeal cookies are sure to please everyone, so make a batch right now! Want to bring your neighbors out of winter hibernation? Pass a plate of these their way! This recipe makes a heap of cookies so bake some now and freeze some dough for later. These cookies are sure to create a
Good Time!
Oatmeal M&M Cookie Recipe
Ingredients
1½ Cup Butter (softened)
2 Cup Brown Sugar
1 Cup Sugar
3 Eggs
3 Tbs. Milk
2 tsp. Pure Vanilla
½ tsp. Pure Almond Extract
6½ Cups Quick oats
2½ Cups Flour
1¼ tsp. Baking Soda
1 tsp. Salt
3 Cups M&M's
Instructions
Preheat oven to 350 degrees.
In a large mixing bowl cream the butter and sugars until smooth. Add in the milk, the extracts and the eggs, beat until well mixed.
In a separate bowl measure out all of the dry ingredients except the M&M's (last step), stir together the dry ingredients then slowly add them to the wet mixture.
Once you've combined everything else, then add in the M&M's. Stir well. Drop by rounded tablespoons onto a lightly sprayed pan. Bake one sheet at a time for 11-13 minutes.
Notes
Make sure you spray your cookie sheet or these may stick. You can also freeze the cookie dough for another time, try freezing it in ice cube trays for cookie size balls you take straight from your freezer and bake in the oven -no thawing necessary!
Yum
Be sure to follow us on our Blog, Facebook, Pinterest, or Twitter!