Get ready to make your own guilt-free DIY Healthy Granola Recipe!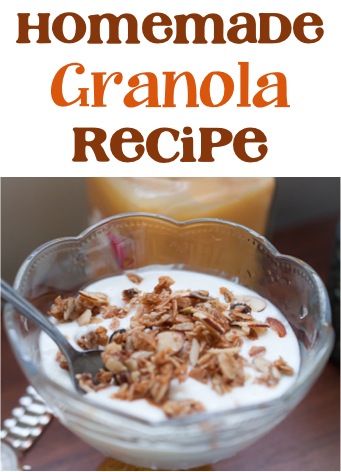 Following is a delicious DIY Healthy Granola Recipe and
guest post by Carly ~ enjoy!
Granola sounds healthy. But sometimes, it's not. In fact, some store bought granola products can cost you around 600 calories per cup! Not to mention that small amounts of pre-made granola can be quite costly.
Instead, try making your own Homemade DIY Healthy Granola Recipe.  Feel free to sprinkle it on yogurt, frozen yogurt, cereal, pudding, and ice cream!
DIY Healthy Granola Recipe
Homemade Granola Recipe
Ingredients
1 cup Dried Muesli (If you can't find Muesli, feel free to buy dried oatmeal, and just add in 1 tablespoon of raisins, if desired).
2 tbsp. Sliced Almonds (If you can't find sliced almonds, feel free to substitute whole almonds or any other nut)
1 tbsp. Light Brown Sugar
1 tbsp. Agave Nectar (I used honey-flavored Agave Nectar)
Instructions
Preheat the oven to 350.
Combine dried Muesli (or oats), Sliced Almonds, and Light Brown Sugar in a bowl. Toss/mix until well mixed.
Drizzle Agave Nectar on top. Use clean fingers to massage the Nectar into the mix, until the mixture begins to clump together. It should be a crumbly mixture.
Cover a cookie sheet with aluminum foil or parchment paper, then spray with Canola Oil (or any oil spray).
Drop the crumbly mixture onto the foil/parchment paper and spread out so that it forms one layer.
Bake for 15-20 minutes, or until the granola begins to harden.
Let the granola cool and dry for at least 30 minutes. Then, use with your recipes!
Carly loves mason jars, healthy cupcakes, oxymorons, and workout music! Check her out on Facebook and Pinterest!
Still hungry?  Check out more Delicious Breakfast Recipes below…