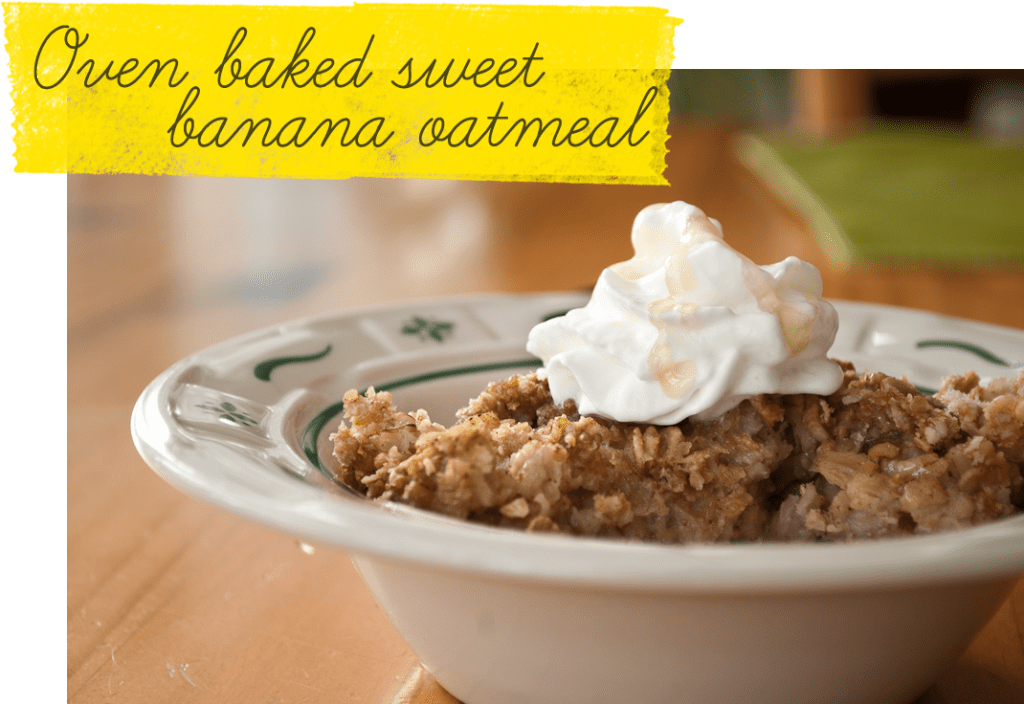 Following is a delicious Oatmeal Recipe and guest post by Carly at CreateliveBlog.com ~ enjoy!
There's something about bananas that are, at the same time, both delicious and fresh but also filling. I've used them in Skinny Monkey Pudding (Chunky Monkey Ice Cream's skinnier cousin),
Banana Nut Muffins with Peanut Butter Whip Frosting
(peanut butter and bananas should really start making children), and Low-Fat Frozen Banana Ice Cream, just to name a few. But those are all desserts. What about breakfast? After experimenting with
Healthy Breakfast Coffee Cake
, I realized how amazing it is to create a breakfast dish that doesn't require hours of morning prep time (after all, that's when you're still hooked up to the caffeine IV, right?!).  Inspired by
this delicious banana oatmeal breakfast
, I came up with a much tastier, much heartier, and much longer lasting recipe. By making a
Baked Banana Oatmeal
, you can serve it immediately or heat it up the next morning… In my house, we stretched it out for 3 or 4 days. And we ate every last bite! This recipe for oven-baked sweet banana oatmeal will impress everyone from your health-conscious sister to your sugar-craving kid.
Carly is a young blogger living in Chicago who loves mason jars, healthy cupcakes, oxymorons, and workout music! Check her out on Facebook, Pinterest, or visit her website!