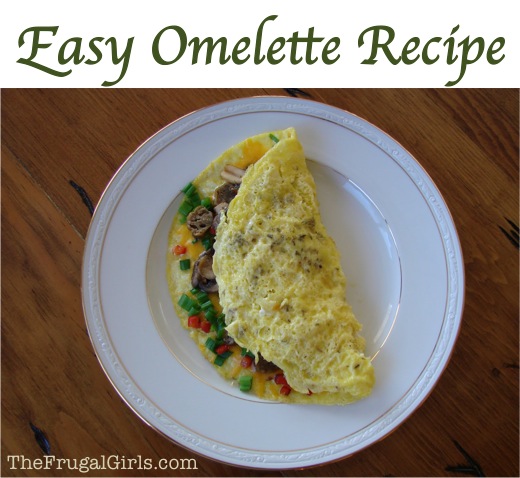 Omelettes can be incredibly easy to make… and healthy, too!  You'll love this Easy Guilt Free Omelette Recipe – simple and delish!
We enjoy them for Special Weekend Breakfasts, and sometimes as a low carb Dinner Option!
Who doesn't love Breakfast for Dinner?!?  Or shall we call it… Brinner? 🙂
I've been experimenting with ways to make them even healthier, and have put together a tasty combination of ingredients to make this Omelette Recipe… both Easy + Guilt-Free!

Easy Omelette Recipe
Ingredients
2 Eggs + 1 Egg White
2 tbsp. Non-Fat Milk
Dash of Garlic Powder
Dash of Crushed Rosemary Seasoning
¼ cup shredded cheddar cheese {I use sharp cheddar}
2 cooked Turkey Sausage Links, chopped
1 Green Onion, chopped
Red Bell Pepper, chopped
Mushrooms, sliced
Extra Virgin Olive Oil
Salt and Pepper, to taste
Instructions
Prepare fillings for omelette so they're ready and warm. Prepare turkey sausage per package instructions.
Sautée Mushrooms and Peppers in 1 tsp. Extra Virgin Olive Oil…
Keep fillings warm… we'll come back to them, but now it's time for the eggs!
Combine Eggs, Egg White, Rosemary and Milk in bowl.
Beat until pale yellow and light and fluffy…
Add 1 tsp. Extra Virgin Olive Oil to 8″ – 10″ non-stick skillet, and heat.Once skillet is hot, pour in egg mixture, and immediately turn heat to low.
Now, the secret to cooking an Omelette is to not rush it… just give it time. As omelette begins to set, lift an edge of the omelette with a spatula and tilt skillet so the runny portion can run underneath and begin to set. Repeat on opposite side.
Once omelette has set, place cheese on ½ {the half closest to skillet's handle}Add sautéed veggies, green onions, and turkey sausage on top of cheese.Gently shake skillet, then tilt away from you and allow Omelette to slide
Carefully fold over remaining half of Omelette with spatula, and gently slide onto plate and ENJOY!
Serve with Sour Cream and Salsa on the side
Yum
Still hungry?  Find more delicious
Breakfast & Brunch Recipes
below…