Take your french toast to the next level with this delicious Cheesy French Toast Recipe!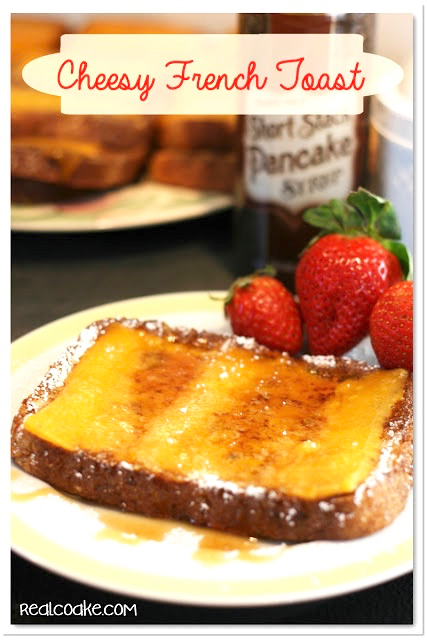 Following is a fun Cheesy French Toast Recipe and guest post by KC at The Real Thing with The Coake Family… enjoy!!  It's time to take your french toast to the next level with this savory french toast with melted cheese!
Cheesy French Toast Recipe
With Mother's Day quickly approaching, I've got a simple and yummy Mother's Day breakfast idea for you. This is a simple french toast recipe that we give just a little twist.
I grew up eating my french toast this way. My mom was really big on protein, especially in the morning. So, french toast got cheese on it in order to add some protein to the meal. I love it this way and swear by it. My husband has totally not gotten on board with this idea and even after 14 years of marriage. He still thinks it is weird, but he also isn't a cheese-a-holic like I am…so there is that. My girls love it with cheese as well. You will have to make it and decide for yourself what you think. Regardless, you can make this yummy french toast recipe and leave the cheese off if it does not appeal to you.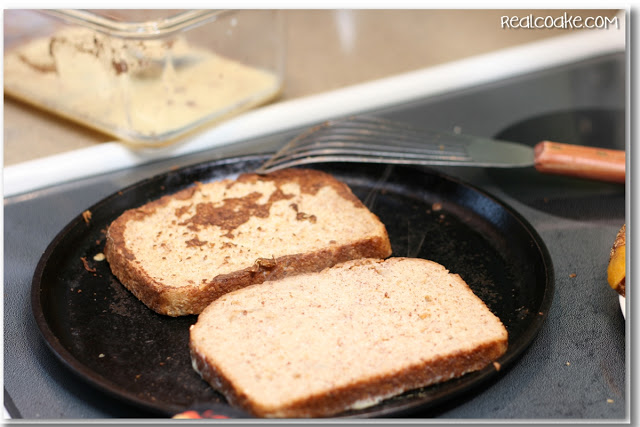 I've got a printable recipe for you at the bottom of this post. Once you have mixed up your egg mixture(I use eggs, milk, vanilla and cinnamon…yum!), soak the bread in the mixture. I only briefly soak my french toast as I like mine crisp, not soggy. I cook my french toast over medium low heat…I follow the low and slow motto. That way I get crisp but not burnt french toast.
Once your french toast is browned on one side of the bread, flip it over and add your cheese.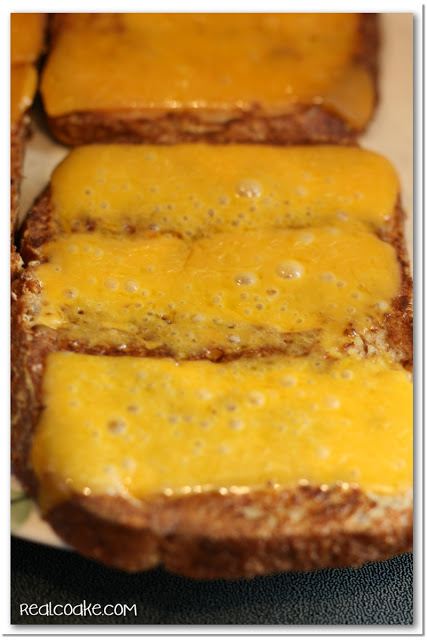 Cook until the bread is browned on the second side and the cheese is all bubbly, gooey and delicious! Can you tell I love cheese?!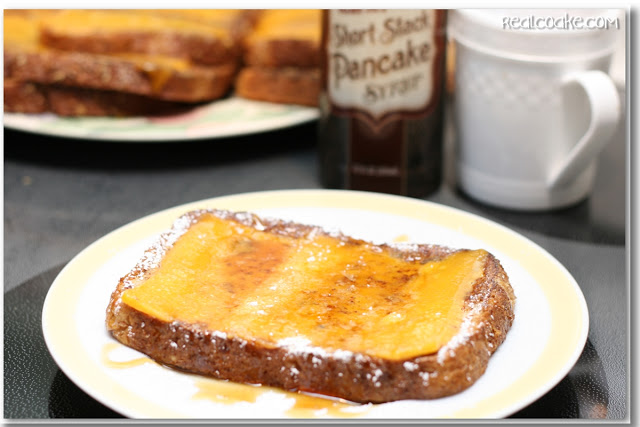 Serve your french toast with whatever toppings you like. I like mine with a tiny, tiny bit of butter, then powdered sugar and syrup. You could also add whipped cream or nuts. Fresh fruit makes a fantastic accompaniment to this french toast.
Oh so yummy! Perfect for a Mother's day breakfast or an any day breakfast. When I make our french toast, we usually have an extra slice or two. They get put in the freezer for an easy weekday breakfast. The kids love that!
Cheesy French Toast Recipe
Take your french toast to the next level with this delicious Cheesy French Toast Recipe! Your family will love this savory french toast with melted cheese!
Ingredients
8

Slices

Bread

3

Eggs

1

Cup

Milk

1/2

teaspoon

Ground Cinnamon

2

teaspoon

Vanilla

8

ounces

Cheddar Cheese
Instructions
Preheat pan on stove over Medium-Low heat.

Mix Eggs and Milk until well blended.

Add Vanilla and Cinnamon, and stir well.

Dip bread in egg mixture, coating both sides.

Cook in pan until browned on one side.

Flip bread over, add about 1 ounce of cheese, and cook until cheese is gooey and bubbly and second side of bread is browned.

Enjoy with your favorite toppings and fresh fruit. We enjoy powdered sugar, syrup, nuts, and/or whipped cream.
KC is a 41 year old stay at home mom of two cuties who are 11 and 6. She loves running, reading, scrapbooking, Starbucks, hiking, cooking, picnics, pretending to be crafty, and having fun with her family.She blogs at The Real Thing with the Coake Family about crafts, organizing, family fun, American Girl ideas, cooking, and all manner of fun things, while keeping it real, not magazine glossy.
Now that you're ready to make this Cheesy French Toast Recipe… load up on more Easy Breakfast Recipes here…