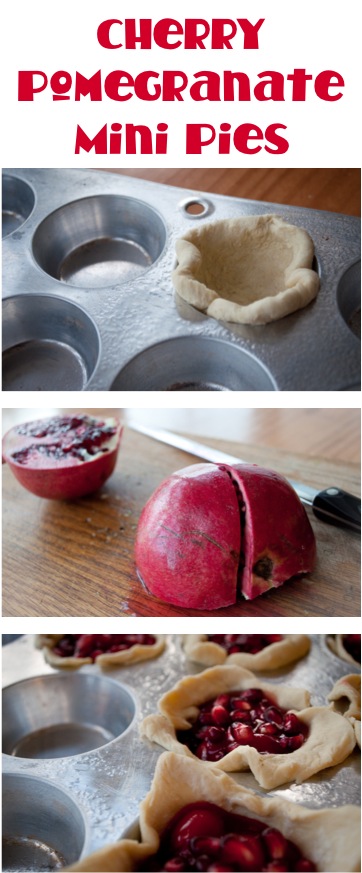 Following is a delicious Pie Recipe and guest
post by Carly at CreateliveBlog.com ~ enjoy!
This Cherry Pomegranate Mini Pies Recipe is incredible. Oh my. Well, here's the thing about holiday pies… they're big. They're sugary. They're calorie monsters. And yet, sometimes, all you want is a piece of freaking pie (for a big slice, check out this recipe for
healthy pumpkin pie
). Never fear, my friends. Now you can serve your guests (or yourself…) the perfect amount of pie. These individual pies have the perfect amount of crunchy crust while still being filled with sweet-yet-fresh cherries and pomegranate seeds. The perfect combination of tang and sweet. Word.
Cherry Pomegranate Mini Pies Recipe
Ingredients
1 sheet Pastry Dough
1 can Whole Cherries Cherry Pie Filling (Find one that is organic or read the ingredients list and choose a can that has cherries and water as the first two ingredients — not corn starch or sugar — makes a big difference!)
1 whole Pomegranate
Instructions
Take sheet of pastry dough out of the box and let it thaw for 40 minutes.
Break pomegranate seeds out of prison.Tip on opening Pomegranates: Cut pomegranate into four parts. Fill a large bowl ½ way with water and break apart the pomegranate under water. The seeds will sink while the white "brainey" parts and rind will float. Collect the seeds, drain them, and set aside. Be careful! Pomegranates stain!
Use a roller to make the sheet of dough thinner by rolling it toward the edges.
Cut the sheet into squares about 3 inches by 3 inches.
Place each square into a greased cupcake tin, making sure to fold it down into the bottom without ripping it.
Spoon cherry filling into each mini pie (there should be about 3-4 whole cherries in each, filling about ⅔ of the pastry dough crust).
Add a layer of pomegranate seeds on top of cherry pie filling.
Bake for 20-30 minutes, depending on how golden you prefer your crust!
Serve :)