Make your next Camping Trip a success with these Easy Camping Menu Tips!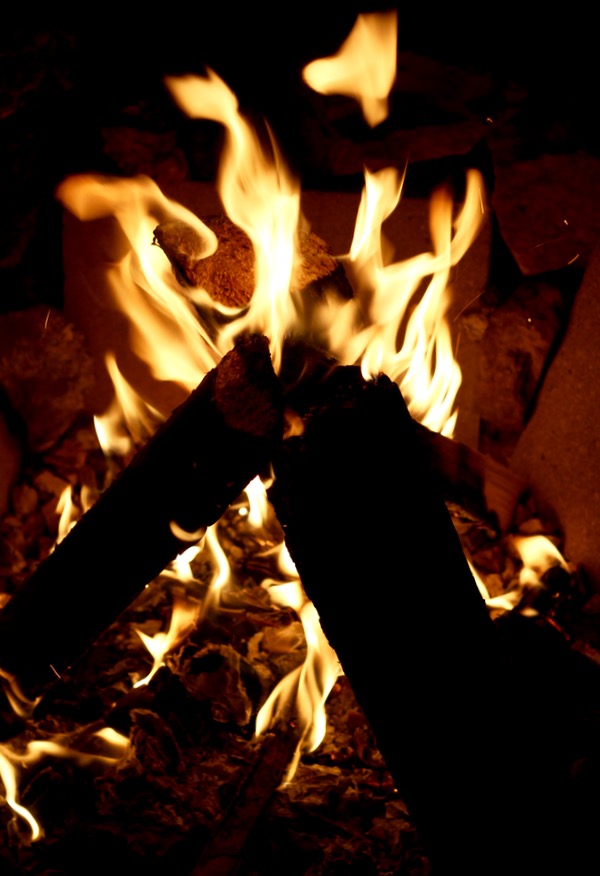 Planning a camping trip?? These family camping menu ideas are sure to fill your campout with delicious memories!   Check out this BIG List of Easy Camping Menu Tips, shared by your frugal friends right here on TheFrugalGirls.com… and on The Frugal Girls Facebook page!
One of the best parts of camping… is the Food!!  So load up on great Camping Food ideas with these Easy Camping Menu Tips before you head out!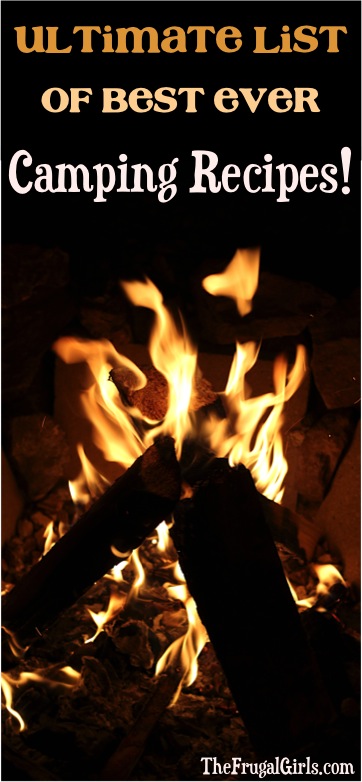 Easy Camping Menu Tips
Deanna said: "I like to make chili ahead of time, then you can heat it over the campfire.  It goes good on hot dogs, too!"
Nancy said: "Liquid eggs (in a carton) are great for breakfast (scrambled, omelet, or for french toast) and they are really easy to travel with!!"
Jenni said: "Pre-make breakfast burritos with bacon, cheese, potatoes, and whatever: wrap them in foil and keep in a plastic bag and throw them on the grill to heat. Delicious. Also take a can of chili (don't forget the opener) and tortilla chips with whatever else you want to make nachos on the grill"
Sarah said: "Corn on the cob, cooked on the grill. No picnic is complete with out it!"
Michelle said: "My family loves to camp! I usually prep everything in advance… such as chicken fajitas, marinade meats, make hamburger patties, etc. I then freeze it all, so we don't have to buy as much ice. We also like to make campfire pies!"
Julie said: "We love to make hobo packs! We line up a bunch of pieces of aluminum foil add chicken (or steak), bell peppers (or any veggies you like), onions, potatoes, salt and pepper, and then close the packs up. When sealing you have to make sure to fold tight on the ends several times. I am too frugal to spend extra money on aluminum foil bags at the store. It's much cheaper to make at home. Make sure to leave one end open. You then pour your favorite dressing inside (that's your marinade). So yummy and super neat to make with your kids. Ours love to open them and see what they made. My husband taught me this camping meal, yum!"
Sharleen said: "I freeze my meat before hand with a marinade and then cook over fire with potatoes baked in fire!"
Ultimate Smoked BBQ Rub Recipe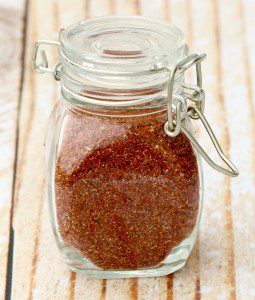 Robyn said: "When we camp, I have my ribs cooked and marinating in ziploc bags. Burgers are frozen patties in ziplocs. Same with hot dogs to roast with long forks. Mac and tater salad all in tupperware containers. Gallon jugs of water frozen to keep the coolers cold. Condiments in a small plastic shoe box with a lid. All meats pre-cooked and marinating like chicken, ribs, steaks. That's one giant cooler.  Another cooler holds the drinks. Eggs and bacon. We make mountain pies, which is canned fruit filling put on buttered bread in a cast iron pie maker we throw in the fire. LOTS of food goes with us, and we enjoy every minute."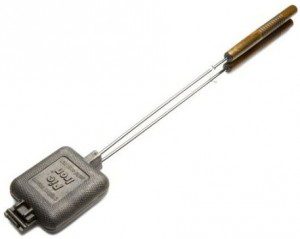 Katie said: "Take the biscuits in a can, and wrap one around a stick. Roast it over over the campfire until it's cooked, then roll it in melted butter, then in cinnamon sugar. Yum! We call them Roly Poly's!"
Jessica said: "Homemade ice cream made in a ziploc bag."
Jody said: "Kabobs: assemble and put in a storage container at home with marinade.  So yummy cooked on a camp fire."
Robbi said: "We pack Bisquick Pancake Mix (the one in the yellow jug that you just add water to). Of course we also pack the typical things too, like hot dogs, water, and now there are so many options to flavor water! Don't forget S'mores!!"
Dawn said: "You can cook peeps over a fire like roasting marshmallows = creme brulee s'mores!  The sugar makes a crispy crust!"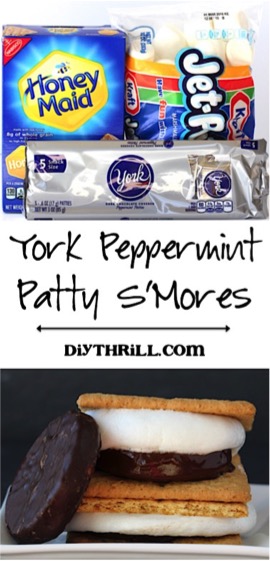 Angie said: "I cook all of our breakfast meats ahead of time. Bacon, sausage, etc. Then I precook all of our chicken (like BBQ Chicken). That way we can just heat it up and not worry about it being under-cooked. I bake biscuits before we go, because I haven't had the best of luck backing them in a dutch oven. Then I pre-cut all of the veggies for stew in the dutch oven."
Kim said: "We use the square campfire irons to make pizza sandwiches. Just like grilled cheese except with pepperoni and mozzarella cheese!"
Miranda said: "Chicken foil packets with potatoes, asparagus, onions, bell peppers, etc. And for dessert: banana boats (split down the top, stuffed with chocolate chips, marshmallows and whatever else, wrapped in foil and cooked until soft). So yummy!!"
Lori said: "Breakfast Mess is a must! I scramble eggs ahead and freeze in a ziploc, do the same with sausage, and then make gravy. In the morning we throw the eggs and sausage in a dutch oven with frozen hash browns and cheddar cheese, and heat it all up. Serve with gravy on top!"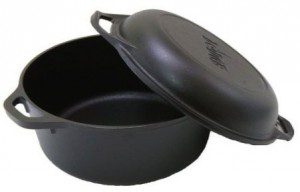 Janet said: "We do bag omelettes. Put one or two eggs in a plastic freezer bag. You can put any cooked meat (do ahead), veggies, and cheese. Mash together in the bag, take out as much air as you can, and drop bag in boiling water. We write our name on the bag since we all like different stuff."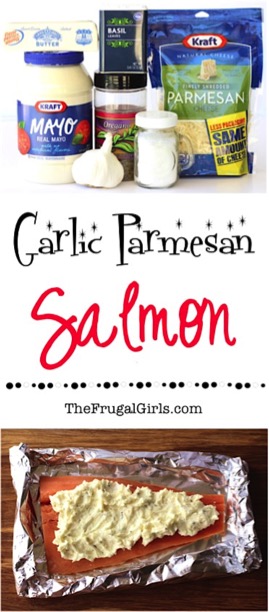 Jenna said: "We have done a taco night. It was so good. Then when kids are in bed, our late night snack is leftovers turned into nachos!!!"
Michelle said: "Banana smash: Leave banana peel on and cut lengthwise, but not all the way through. In the center of banana, put mini marshmallows, chocolate chips, and peanut butter chips. Wrap in foil and put over the fire until nice and warm. One of our kids' favorites…"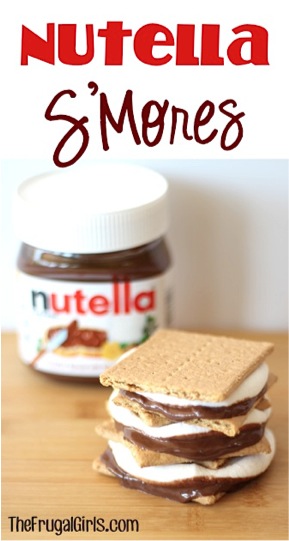 Nickie said: "We do several camping trip every summer, including a big 2 week camping trip every July. We pick a different state every year. Some of our favorite camping meals include walking tacos, we also do pizzas over the fire. I buy the tandoori crusts (I think that's the name) in the deli section of our store, then out our favorite toppings on. We always cook bacon over the fire for breakfast, and we do the omelette's in a bag for breakfast too. I usually bring my crockpot along and do lasagna in there for a night too. Another easy meal is chicken kabobs, and we do chicken BLT wraps with ranch dressing too, for dessert we do s'mores, but we make them with Reese's instead. And we do pie irons with bread & Nutella!!!"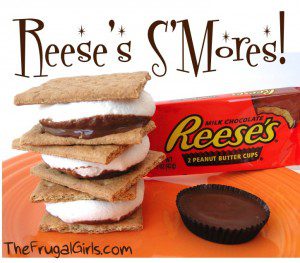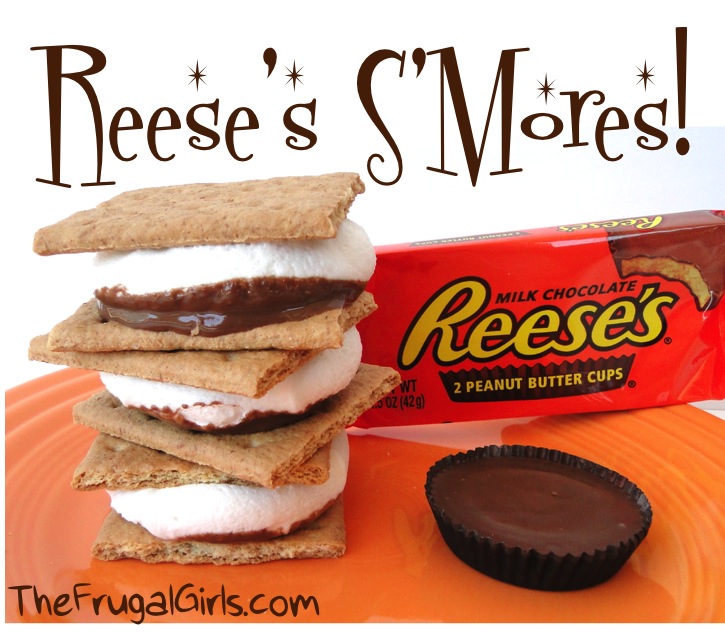 Jennifer said: "We take Brown-n-Serve sausage and a can of refrigerated biscuit dough. Semi-heat the sausage on a stick, then wrap it in the biscuit, and continue cooking until the biscuit is baked. We also take a camping kettle to heat water over the fire and take along hot cocoa mix and instant coffee. Place some foil over the fireplace grate, then you can use pita bread with some canned pizza sauce and shredded cheese to make individual pizzas. We also make burritos at home, wrap them in foil and freeze. Then re-heat in the camp fire!"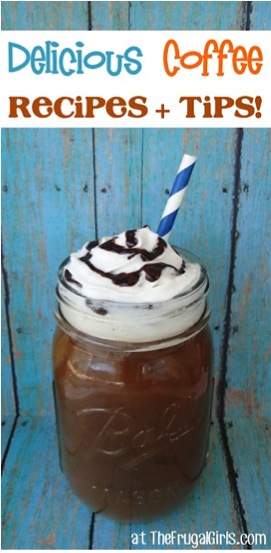 Laura said: "We go camping with 3 other families, which turns out to be 13 people. About half of us are vegetarian, so we end up doing a lot of vegetarian meals while we're camping. It makes prep work so much easier because we don't have to worry about under cooking meats or having it go bad before we can fix it. We like to do a lot of "make your own" type things too, like gyros, quesadillas and campfire pizzas."
Julie said:  "I don't have a name for my favorite campfire breakfast, but here's how you make it: Cut off the top 1/3 of an orange and save it. Scrape out the pulp from both sections, being careful not to break the peel. Stick a piece of refrigerated cinnamon roll dough inside, put the orange peel sections back together and wrap the whole thing in foil. Stick it in the coals for 10-15 minutes or until the dough has completely cooked. So yummy!"
Best Homemade BBQ Burger Recipe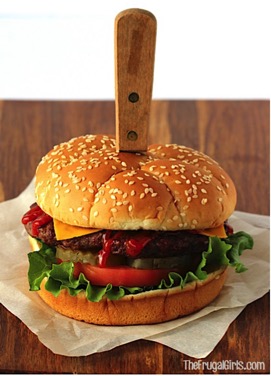 Jennifer said: "My hubby always makes Gunk for breakfast in a cast iron pot on the fire. It's eggs, diced potatoes, ham, sausage, bacon, onions, peppers and cheese. We eat them in tortillas with salsa, guacamole and sour cream. Everyone loves it. We also make mountain pies on the campfire."
Dee said: "We make sausage and eggs in a cast iron skillet over the campfire. Breakfast is the best!"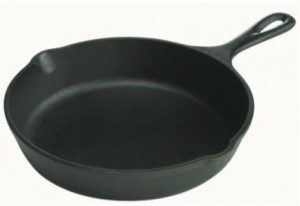 Kathy said: "I camp for the summer but special treats are dobies! They are long 1″ dowels with the end wrapped in tinfoil & then tightly wrap a croissant around the tinfoiled end & cook over the fire till lightly browned. When done, carefully pull off the end of the dowel & in the hole you can put pudding, pie filling, taco fillings, etc….. the possibilities are endless & so delicious!"
Marilyn said: "Make ahead breakfast burritos, freeze individually wrapped in foil. Then put on grill over camp fire. Yummy!"
Krystal said: "Combine apple, marshmallow & cinnamon in foil, then cook over fire.  It comes out like apple pie filling!!!"
S'Mores Cake Mix Cookies Recipe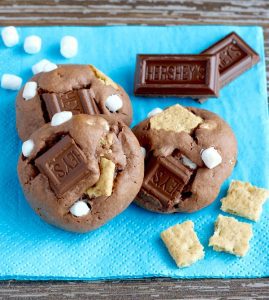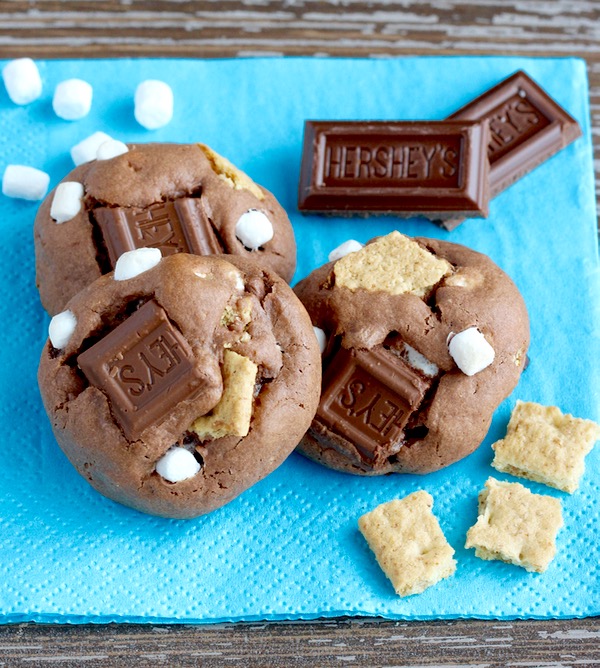 Jordyn said: "A big thing of homemade chili is a must!  Pre-cut easy-to-eat fruits.  Anything pre-made at home is good, then all you have to do is warm it up!"
Melissa said: "Walking tacos: taco salad poured into a bag of sun chips.  Biscuits fried to make "dad's donuts" by dipping them in cinnamon & sugar or powdered sugar. S'MORES!!!!"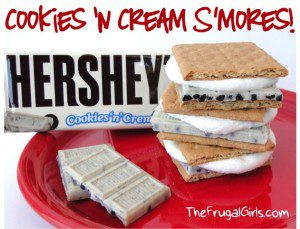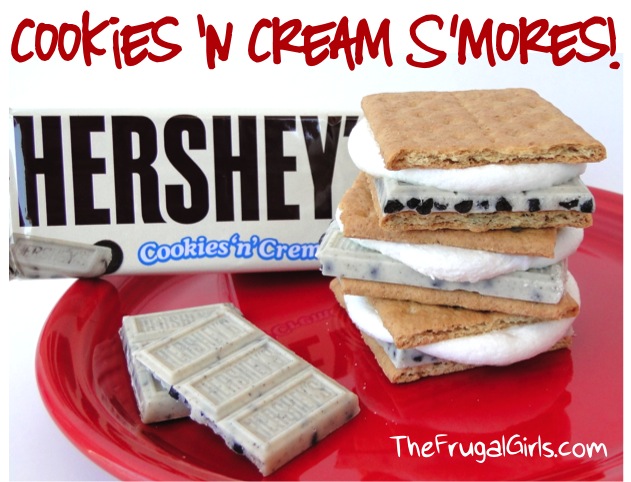 Becky said: "We do the biscuit donuts too, we call them camper donuts. We grill them, dip in melted butter, and then dip in cinnamon and sugar!"
Elisa said: "I used to work at a Girl Scout camp and we were required to do several cook-outs a week. Some of our favorites were:
Banana Boats –> (cut a long V out of your banana and fill with yummies like peanut butter, mini marshmallows, chocolate chips, etc. wrap it up in tin foil and set it by the coals. delicious dessert!)
Pizza Sandwiches –>  (the cook stiffed us on french bread so we made-do with regular bread. just butter the bottom side and then add all your fav, pizza toppings. cook on foil on grill over the fire. use two pieces and smash them into a sandwich when they're ready)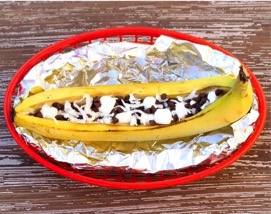 Soup & Dumplings –>  (a dutch oven with tomato soup in it. make the bisquik biscuits and drop them in the soup. delicious dumplings and soup. shred some cheese on top and YUM)
Two other neat tricks: (1) Wrap some potatoes in foil and let them cook at the coals. They'll be perfect to dice up the next morning and add to any hearty omelet. (2) If you have kids with you, there's a great way to get them up in the morning!! Bring some string and tie bagels/doughnuts, fruit, juice boxes to branches, just within their reach. Tell them they're monkeys in a jungle and they'll have to go grab all their breakfast food themselves, just like monkeys!! Always a fun wake up and it lets them choose what they would like to eat."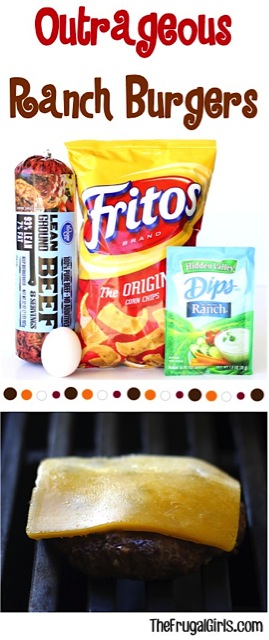 Cheryl said: "I cook potatoes in the microwave before and then put them in tin foil. Just throw them on a grill and warm them up. Or chop up in the morning for fried potatoes."
Shawna said: "Just started camping last summer and we LOVE it! One fun food we did with the kids was to take sugar cones, fill them with sweets like chocolate chips, mini mallows and coconut or any combo of your favorites. Wrap them completely in foil and throw on the fire to warm all the yummies inside – just a few minutes. It was so fun and delicious! I can't wait to try new favor combos this year!"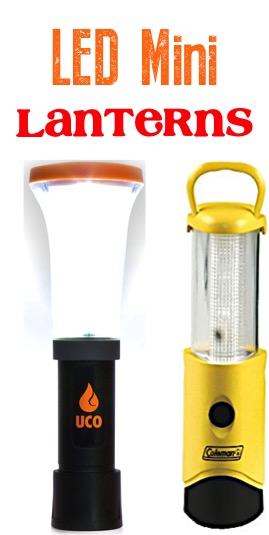 Casey said: "We love to make omelets in a bag! Every gets their own ziploc bag to make their own personalized omelet. Put a couple eggs, some shredded cheese and whatever else you want (ham, olives, green onions, etc) into the ziploc bag. Seal, squish everything together to mix and put whole bag in a pot of boiling water. Wait a minute or 2, use tongs to pull out of water, re-squish and put back into the water for another couple of minutes. Remove, open bag and dump onto your plate to enjoy!"

Camping with an RV?  Check out these delicious Summer Crockpot Recipes!
More Camping Tips: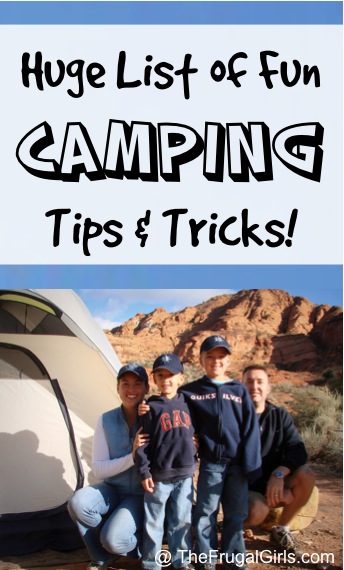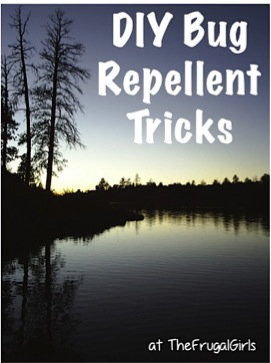 Don't miss out!  Find more Fun Recipe Inspiration with The Frugal Girls right here: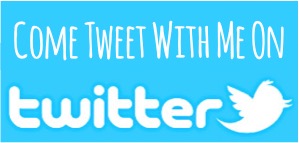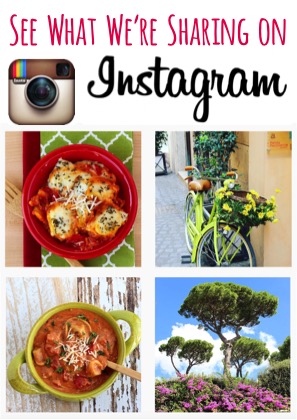 So… what are some of your favorite camping menu tips or food prep tricks?
Leave a comment & share!