Enjoy an American classic single serve style with this fun Homemade Apple Pie in a Cup Recipe!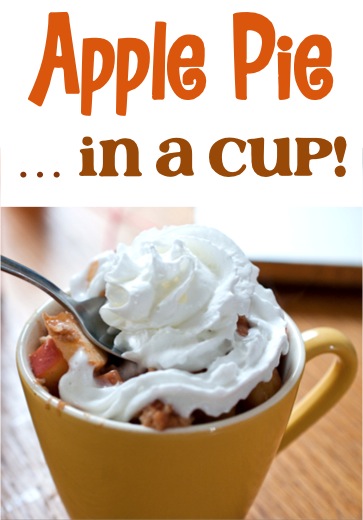 Following is a delicious Apple Pie in a Cup Recipe and guest
post by Carly at CreateliveBlog.com ~ enjoy!
I believe in dessert.  And I say that in a totally philosophical way and I mean it. I don't care how calorie-conscious you are, we are humans and we deserve a little bit of pure sweetness in our lives!  That said, I will admit to being one who often skips desserts at restaurants.
Why? Because I have no idea what they put in there! How much butter? How much sugar? Is the crust purely graham crackers, butter, and fat? Sometimes, it just ain't worth it, my friends. Not for a whole piece, at least. But, just as I believe in dessert, I believe we all deserve a whole piece. And we deserve to eat it without feeling guilty.
Did I mention Homemade Apple Pie in a Cup? it's breakfast and dessert!
Homemade Apple Pie in a Cup
Apple Pie in a Cup!
Ingredients
3 Apples
1 tbsp White Wine Vinegar
½ cup Oats (Bob's Rolled Oats)
1 tbsp water
2 tsp Cinnamon
2 tbsp Truvia/Stevia/Sugar/Splenda*
Whipped Cream
Instructions
Preheat oven to 350.
Chop Apples into small pieces, about half an inch thick. Place in a medium sized bowl and add White Wine Vinegar, Cinnamon, and Truvia (or sugar sub.), then toss.
Add oats and water, then mix well.
Bake for 30 minutes, then remove from oven and transfer to mugs. Top with Whipped Cream.
Carly is a young blogger living in Chicago who loves mason jars, healthy cupcakes, oxymorons, and workout music! Check her out on Facebook, Pinterest, or visit her website!
Craving more delicious Apple Recipes?  Get inspired below…