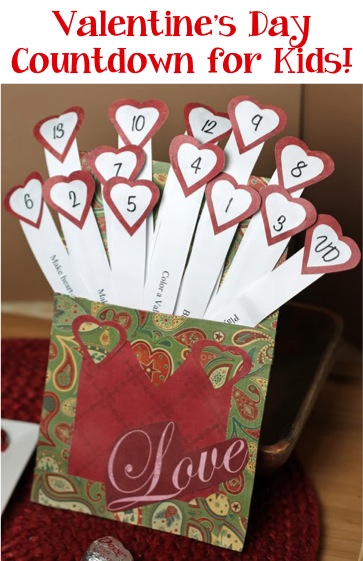 This Valentie's Day Craft and guest post comes from
my sweet friend, Katie Tevis… enjoy!!
I wanted to teach Bradley about Valentine's Day and celebrate in a fun way.
I am not a crafty person.
  However, as my mother once told me, sometimes we do things that make us uncomfortable because it's good for our kids. c-: So I was inspired by Martha Stewart to make a
simple and frugal Valentine's Day Countdown
.
I bought three sheets of scrapbook paper, plus I used some supplies I already had on hand, like my computer/printer, scissors, and glue. That's it!
I made a pocket on the front of a piece of scrapbook paper and printed out strips of paper that had ideas for each day of the countdown. I glued a heart at the top of each strip of paper, along with a number. Then I decorated the front of the pocket with a few hearts and pretty writing. Each day, Bradley can pull out an activity from the pocket.
Here are my ideas:
February 2 – Treasure hunt! Search for candy hearts around the house.
February 4 – Read Winnie the Pooh's Valentine from the library.


February 5 – Eat a heart-shaped piece of Dove dark chocolate. I might already have this on hand. c-;
February 7 – Drink hot chocolate with heart-shaped marshmallows.
Carrie has a great video on how to make homemade marshmallows. Use a heart cookie cutter to make them a little more festive.
February 8 – Watch Be My Valentine, Charlie Brown from the library.
February 9 – Make heart-shaped eggs and toast for breakfast with strawberries.
Or make Heart-Shaped Pancakes. Tip: You can use a condiment bottle to make different shapes. Just thin the batter a bit with milk.
February 10 – Sing a Valentine's Day song, like "Just for You."
BONUS IDEAS: You can also make a list of why you love your children, take them on a winter picnic, or write a silly Valentine's Day poem together. Be sure to include lots of snuggles and kisses throughout!
Katie is a mom to Bradley, licensed RN, and lover of all things domestic.  
See Also: