I may get
paid
for ads or purchases made through links in this post.
Once you learn How to Make Painted Mason Jar Pencil Holders, you'll never look at that boring #2 Pencil the same way again!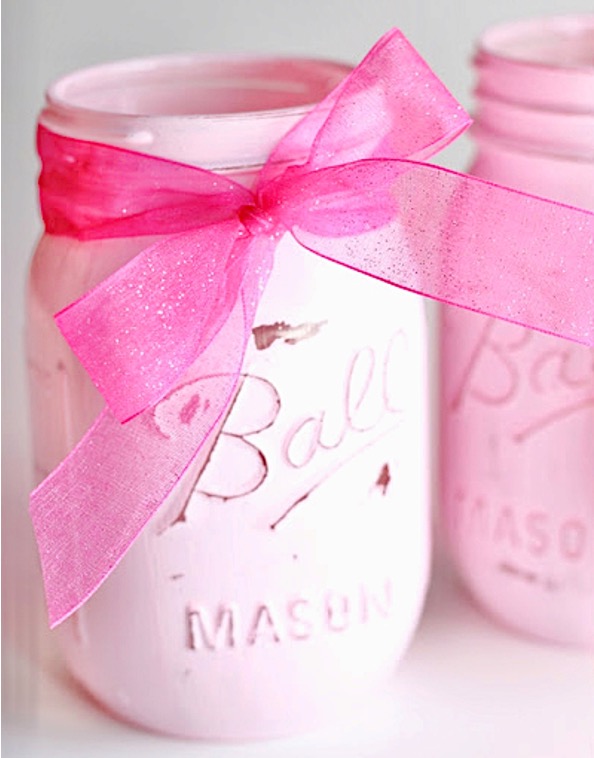 Following is a fun Mason Jar Craft and guest post by KC at The Real Thing with The Coake Family… enjoy!!
Mason Jar Pencil Holders
It's that time of year….Back to School time. It is also still summer where I live. For me, that means it is time to re-organize, spruce up, and get ready for the next school year.
This year, I decided I wanted some cute touches in our school area.  I made this mason jar craft to make cute mason jar pencil holders. Want to make your own?
They are easy to make and I'll show you how.
How to Make Painted Mason Jars – Supplies Needed:
Mason Jar(s)
Rubbing Alcohol
Chalk Paint
Sandpaper (I used 150 grit)
Sealant (I used Mod Podge Satin)
Optional: Embellishments such as ribbon and flower.
How to Paint Mason Jars: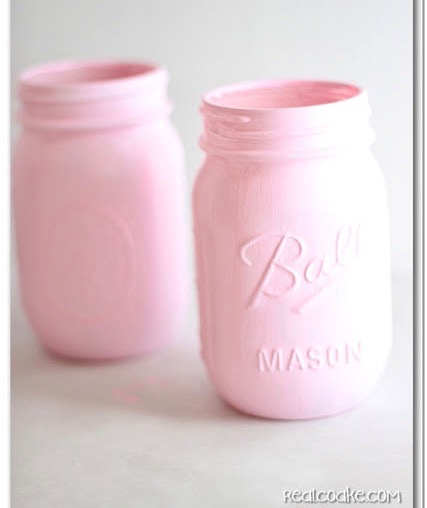 I found this fantastic tutorial on How to Paint Mason Jars from Mason Jar Love. It is easy to do. Start by cleaning your jars with rubbing alcohol.
Then wash them in soapy water. Make sure they are completely dry before you begin painting.
Use chalk paint from the craft store in any color you like. Paint the first coat and wait at least 15 minutes or until it is totally dry and not tacky to the touch.
Paint a second coat when your first coat is totally dry. Let the 2nd coat dry overnight.
How to Distress Painted Mason Jars: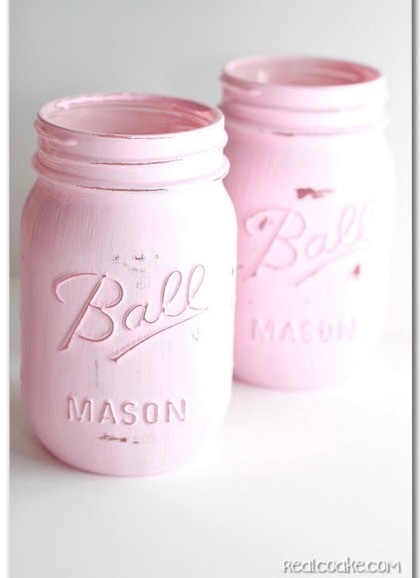 After drying overnight, it is time to distress you jars (if you like this look). Use 150 (or you can use 120, 100, or even a nail file) grit sandpaper and rough up the areas you want distressed.
Your jars need to be sealed. I don't like to use spray paint or spray sealant because they are very hard on the environment.
You know what you can use instead? Mod Podge! Love it! I use Mod Podge Satin. You can use any Mod Podge or sealer you like.
For the Mod Podge you apply it just like the paint.  Apply the first coat and wait at least 15 minutes until the Mod Podge is totally dry. Then apply the second coat and wait until it is completely dry.
How to Decorate Mason Jars:
Now you get to embellish your jars. I added this cute burlap flower I found at Michael's to one jar.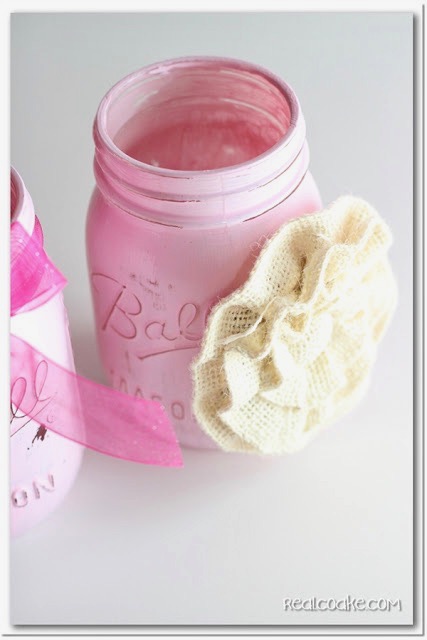 I added a simple sparkly pink ribbon to the other jar.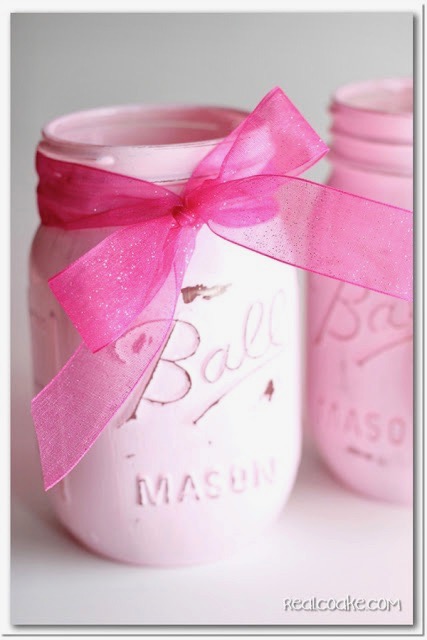 The jars sit in my newly organized school area. They match the bulletin board that I added a little fun to this summer as well.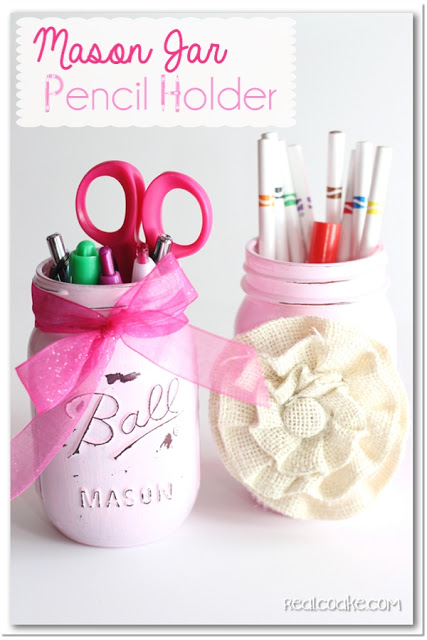 I'm so happy with how this mason jar craft turned out. I know it will add some fun and some color to our school area and I will enjoy looking at them in the school year to come.   What is your favorite use for a mason jar? There are so many fun uses!
KC is a stay at home mom of two cuties who are 11 and 6. She loves running, reading, scrapbooking, Starbucks, hiking, cooking, picnics, being crafty, and having fun with her family.  She blogs at The Real Thing with the Coake Family about crafts, organizing, family fun, American Girl ideas, cooking, and all manner of fun things, while keeping it real, not magazine glossy.  You can follow along on Twitter, Facebook, or Pinterest.
Want even more easy tips for helping you declutter and get organized right now??  Here are more ideas I know you'll love…
Nothing beats coming home to an organized home!  Put these Home Organizing Tips and Tricks to use and you'll love the results!

Make your space count with these Creative Storage Solutions for Small Homes!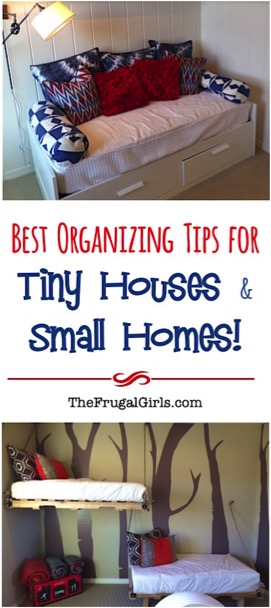 Get prepared for your next Garage Sale with these 31 Easy Garage Sale Tips!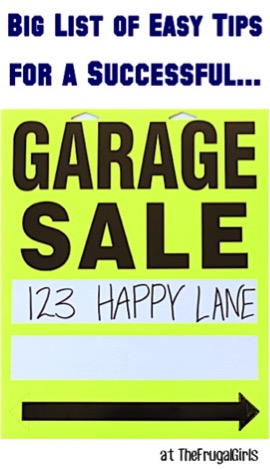 Find even more ways to Save Money Around The House with these fun tips!

Frugal Girls LOVE great deals!  Before you shop, check out these Insider Tips + Shopping Hacks that will save you so much money at your favorite stores!!