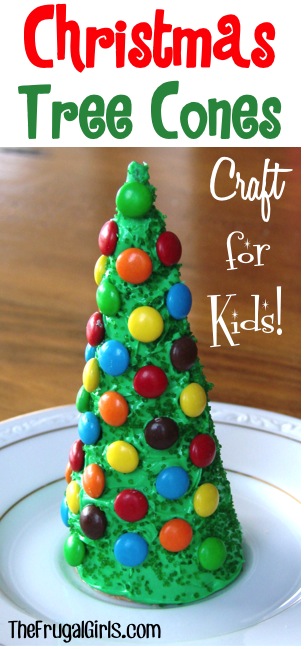 Go grab the kiddos ~ I've got a fun Christmas craft… check out this fun craft for How to Make Christmas Tree Cones Craft for Kids!
These make great little additions to your gingerbread houses and villages, and they just happen to taste pretty sweet, too!
What You'll Need…
Sugar Cones
White Frosting
Green Food Coloring
Mini M&M's and other sprinkles, etc. for decorations
Use the green food coloring to tint the frosting…
Spread the frosting on the cone…
Add sprinkles, mini M&M's or anything else yummy you'd like to use to decorate your tree. Taste test all the yummy goodies as needed…
Set out as a fun decoration…
or… gobble it up, and enjoy!
Now… if you've already made a Gingerbread house, these might make fun decorations to add to the Gingerbread house yard!
Don't miss out!  Get all the latest Frugal Girls Crafts, Money  Saving Tips, Recipes + more right here…