I may get
paid
for ads or purchases made through links in this post.
These quick and easy DIY Hot Cocoa Gift Bags make the sweetest little gift around the holidays for neighbors, coworkers, teachers, and friends!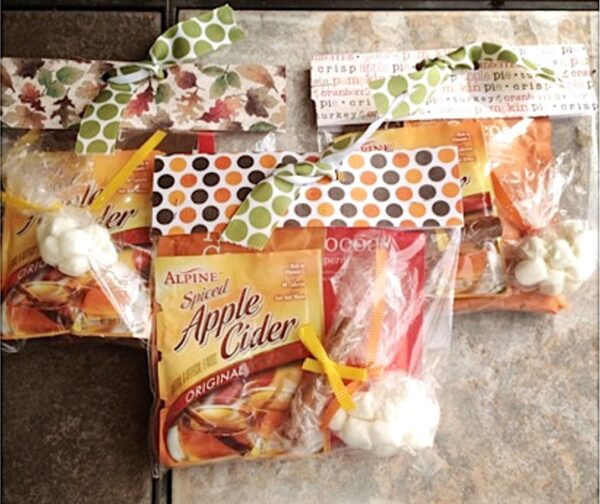 Following is a fun gift idea and guest post
by Kathy at Pinner Takes All… enjoy!!
I needed to make teacher appreciation gifts for the child care workers that help with my mom's group. There are 11 of them and I needed it to be cute yet affordable- something I could make easily in bulk.
I also wanted it with a fall theme, so I came up with a DIY gift that I thought covered all the bases with these DIY Hot Cocoa Gift Bags.
These DIY Hot Cocoa Gift Bags would also be affordable and great for bulk holiday gift giving such as teacher appreciation gifts or friend gift exchanges!
Hot Cocoa Gift Bags
Related: 75 Homemade Christmas Gift Ideas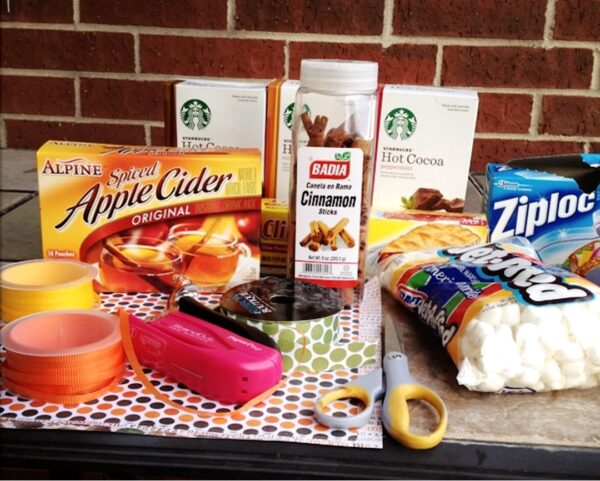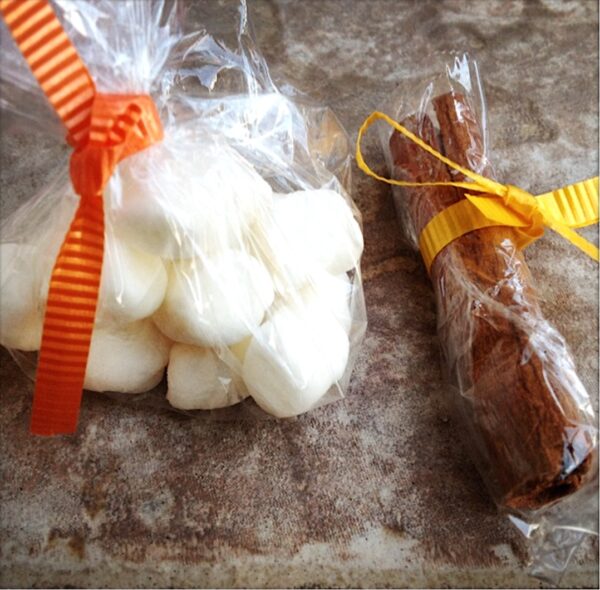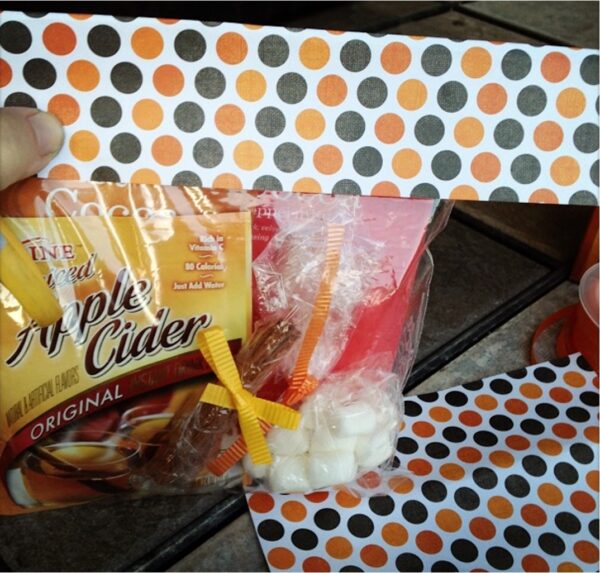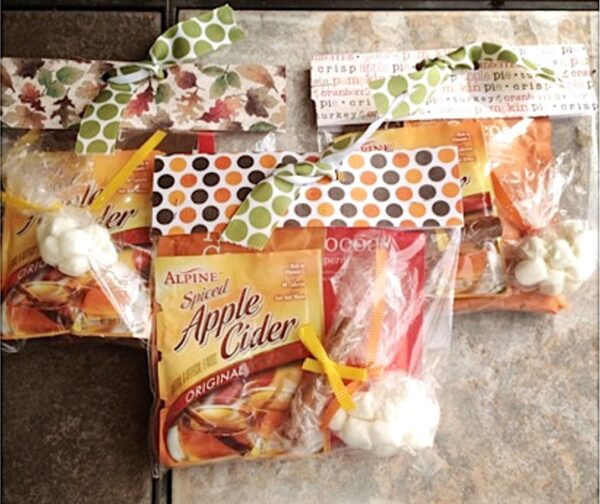 Supplies Needed for DIY Hot Cocoa Gift Bags:
Ziploc bags (I went a little cheaper than Mason jars.)
Box of cider
Boxes of cocoa (I used Starbucks Salted Caramel, Double Chocolate, and Peppermint because they were on sale but you can use Swiss Miss or store brand.)
Mini Marshmallows
Box of Cinnamon Sticks
Pretty Scrapbook Paper
Stapler
Hole Punch
Ribbon to tie bags
Saran Wrap
Smaller Ribbon to tie Cinnamon Sticks & Marshmallows
How to Make Hot Cocoa Gift Bags:
1. Put in the desired amount of cocoa and cider. I used 3 pouches but you could put 2 and the bag wouldn't look empty.
2. Take 1 cinnamon stick and enough plastic wrap to go around cinnamon stick 1 or 2 times. Wrap the cinnamon stick in the plastic wrap. I tied it with a bow (yes, I know it's cling wrap and no bow is necessary haha!) to dress it up. I wrapped the cinnamon sticks so that the absorbent marshmallows didn't taste like the cinnamon.
3. I wrapped a handful of marshmallows in plastic wrap to go with the cocoa and tied them with a bow as well. I did not want the marshmallows rolling around in the bag and thought it would be neater with the little bags.
4. I sealed the bags and went to work on the topper. On Pinterest I saw that you could really dress up a Ziploc bag for DIY gifts with just a little scrapbook paper and ribbon. So I bought 3 patterns of scrapbook paper in fall prints. Then I lined the edge of the bag up with the bottom edge of the paper and placed the top 2 inches of the Ziploc bag onto the bottom of the paper so that it could be folded over.
5. I then measured up another 2 inches above the top of the Ziploc bag so that I could make a cut and fold the paper over. Then I cut the paper two inches above the bag and then just a bit past the edge of the bag on the side. I had misjudged the first two attempts as being too short so thought it was easier to trim and correct.
6. Once the topper for the bag was cut to the right size I discreetly stapled it in two places.
7. To finish up the top of the gift bag I decided to dress it up with ribbon. I chose a fun green and white polka dot ribbon. I punched 2 small holes about an inch apart in the top of the bag and threaded the ribbon through the 2 holes from the back and tied it.
My bows are pretty sad looking so I left it in a simple tie. The total cost for the supplies was $1 for the paper, the ribbons, Ziploc bags, and Seran wrap I had on hand, $6 for the cider and cocoa, $1 for the marshmallows, and $3 for the cinnamon sticks.
The 11 gift bags I made came out to $1 per gift, but I had enough left for another. It was an extremely easy and cost effective DIY Hot Cocoa Gift Bags and would work great for teacher appreciation as we used them, stocking stuffers, or a gift exchange with friends.
They can also be turned into holiday themed gifts by changing out the paper and ribbons and adding peppermints. They turned out really cute and even better when doing bulk gift giving…affordable.
Kathy Penney is a proud SAHM to 2 little stairsteppers. She is a former bean counter turned crafter and chef and full time diaper changer. Fifteen years of corporate America was not as challenging or rewarding as her journey and gift of motherhood.
She is a lover of life and laughter and a perpetual Pollyanna and concert junkie. With some help from Pinterest she is cooking easy comfort food and doing easy DIY crafts! She is trying to pass on some tips and can do attitude through her blog, Pinner Takes All.

Here are more Christmas Crafts and Christmas Gift Ideas I know you'll love…
This easy trick will INSTANTLY add an elegant touch to your gift bag!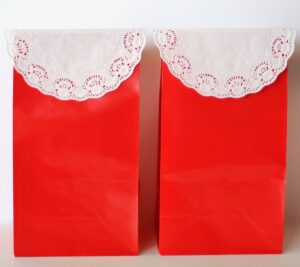 With these easy Homemade Christmas Gift Ideas, you'll always have enough time to give that perfect homemade gift!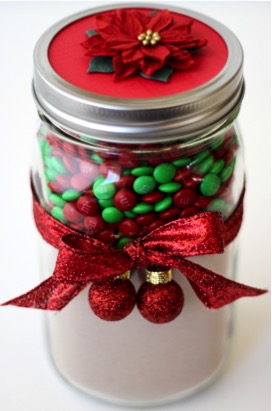 Load up on inspiration with this HUGE List of Unique Gifts in a Jar Recipes!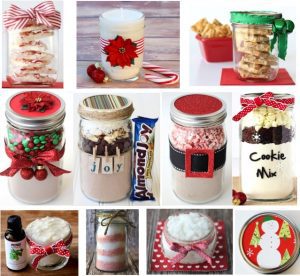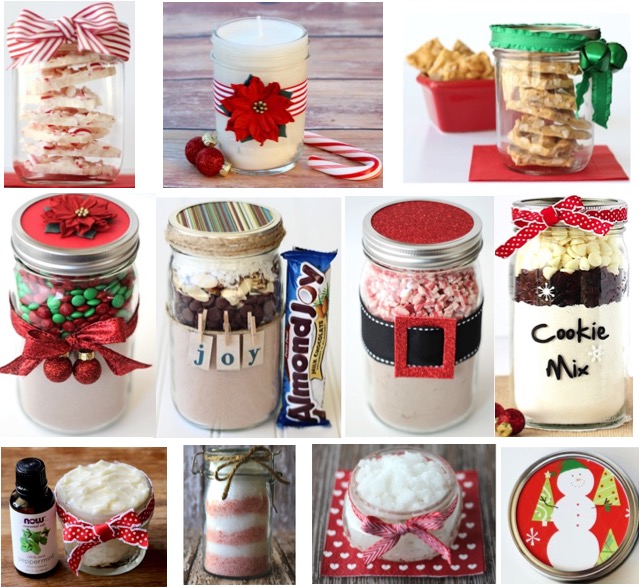 Got the itch to craft? Do you absolutely love Christmas?? If you're feeling crafty, get inspired with this BIG List of Fun and Easy Christmas Crafts!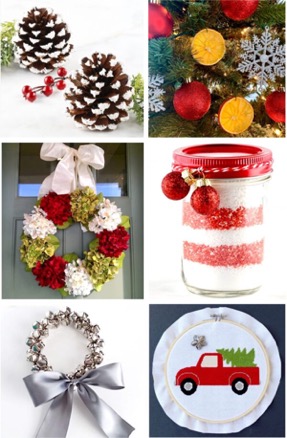 Score frugal gift ideas for the Kiddos, Teens, Dad, Grandma, Grandpa, Co Workers and more!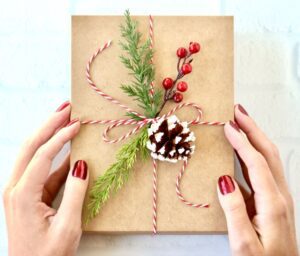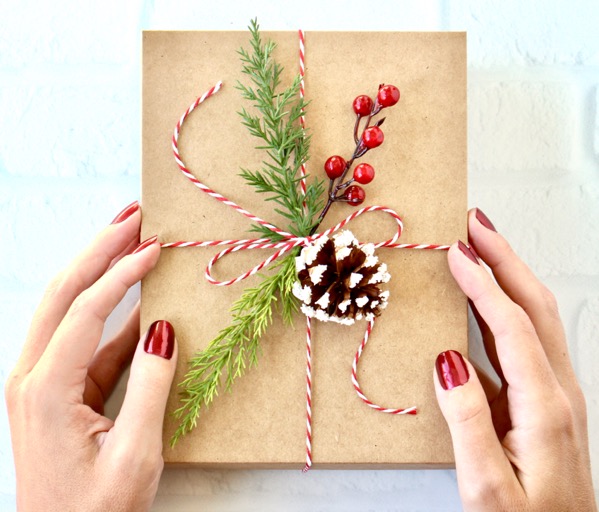 So have you made these Hot Cocoa Gift Bags for yourself?
Leave a comment and share…