Get ready for a flood of coconut oil inspiration with these Creative Coconut Oil Uses!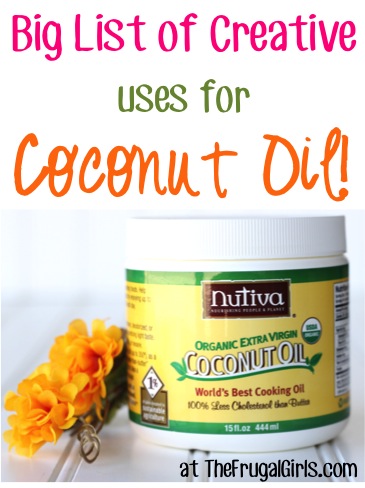 Looking for some creative ways to use Coconut Oil?
Check out this BIG List of Creative Coconut Oil Uses, shared by your frugal friends…
Related: 
Creative Coconut Oil Uses
Danielle said: "Dr. Oz recommends coconut oil.  Also, it is really good to cook with at high temps, unlike other oils, including olive oil."
Teresa said: "My Dr. said coconut oil was better for you, because it metabolizes better.  But use it to replace other fat sources, not just add to your diet."
Karen said: "As a massage therapist, I use it as a massage oil."
Yolanda said: "Coconut oil has a low melting point, I think its 76 degrees.  If you want it to be a solid, just put in the fridge."
Mary said: "Our dogs love it on treats!"
Kara said:  "We use it in our home movie theater style popcorn maker.  It burns cleaner than other oils and the popcorn tastes awesome."
Megan said:  "I love it on toast!  I use it instead of butter!"
Shea said: "I use it in baking pretty much anywhere I'd otherwise use shortening or butter, as well as the occasional a batch of "magic shell".  It's also great on bouts of psoriasis."
Tara said:  "I melt it with some chocolate to make Homemade Magic Shell topping for my ice cream.  I also use it to make deodorant!  So versatile!"
Marty said:  "I make Homemade Magic Shell; 1 1/4 cup chocolate chips + 1/2 cup coconut oil.  Melt together carefully, and stir til smooth. Wayyyy better that the commercial stuff!"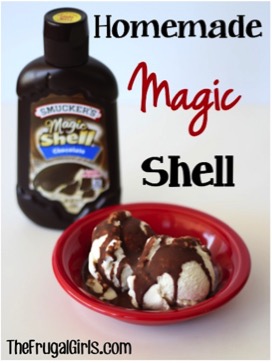 Amy said:  "My fav coconut oil recipe is; 1 TBSP of cocoa powder; 1 TBSP of raw honey; and 1TBSP of Coconut oil.  Mix together, put in fridge, when hard slice! It's the best home made dark chocolate I've ever had and if you don't cool it, it's more like a mousse.  Also, if you want it to taste darker add less honey.  I love that I can adjust this recipe to be anything I want it to taste like!"
Tina said:  "Chocolate Fudge – 1 cup Coconut Oil; 1/2 – 1 cup 100% cocoa; 1/3 – 2/3 cup honey; 1 tsp vanilla.  Options include: 1/2 cup peanut butter, 1/2 cup nuts, coconut flakes, 1/2 -1 cup oatmeal or 7 grain flakes. 
You can adjust the recipe to your liking!  Melt half the coconut oil on low, then put all the ingredients in the blender, before storing the contents in a container in the fridge.  WONDERFUL healthy snack that satisfies the chocolate cravings!"
Josie said:  "I use it to make our coconut waffles. :)"
Genia said:  "I love cooking popcorn in it! Mmmm.  It's great for making anything that calls for shortening, or as a good replacement for vegetable oil when you melt it. Brownies or chocolate no-bake cookies are super yummy."
Cindee said:  "I use it in chocolate chip oatmeal cookies.  I love the coconut flavor in it!"
Molly said: "I make a "candy" bar with Coconut Oil, Dark Cocoa Powder, Stevia, Chia Seeds, Dried Cranberries, and Sunflower Seeds.  Melt the oil, mix with everything else to taste.  Let it harden a little, then spread fairly thin on a lined baking sheet. Freeze. We leave this in the freezer and break off bits to eat.  I don't measure any of it, just mix til it is honey-like and freeze.  I know I don't make more than about 1/2 to 2/3 cup of oil up at a time."
Tracy said:  "I just started making my own granola… and I used coconut oil.  It was so yummy!"
Lori said:  "Love it in my homemade vanilla almond granola and in waffles."
Mary said:  "I use coconut oil in my bread recipes instead of butter or oil. Makes my bread even yummier!"
Peggy said:  "Just yesterday I got brave and substituted coconut oil for the butter in my banana bread recipe.  It might possibly be the best tasting banana bread I've ever made!  Looking for ways to incorporate coconut oil into our lives… so many good health benefits!!"
Tanya said:  "I grease my bread pan and coat the top of the bread dough with it. Seriously delicious! My girls thought it tasted like sweet Hawaiian bread :)"
Meg said:  "Love using this when I make stir fry!  It makes the veggies taste oh so gooooood!!"
Elissa said:  "I fry foods with it…. french fries, chicken, wings, chips, etc."
Rebecca said:  "I put coconut oil in my son's cereal when he was a baby to add calories and fat!  He has CF and needs his food packed with calories and fat!  Using coconut oil can also help with losing weight and it is great for you!  You can even put it in smoothies!"
Jessie said:  "Use coconut oil as an overnight facial moisturizer."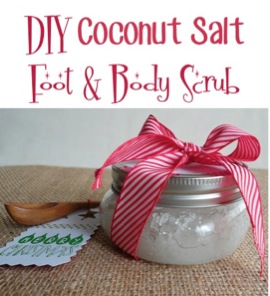 Sew It Girl said:  "I use coconut oil as my facial moisturizer every morning and night!  I used to use a bunch of "anti-aging" products and ditched them all this past summer and only use straight coconut oil.  I also LOVE to use the coconut oil on my popcorn… YUM… To clarify… I keep one container in the bathroom and one in the kitchen.. LOL :D"
Sue said: "I'm 47 and I've used some expensive products to combat wrinkles, but this stuff is the best moisturizer I've ever used."
Mya said: "I use it for a moisturizer! I  put it all over my whole body.  My skin feels amazing after using it.  My husband also uses it for a massage oil." 

Pam said: "Wash my face with it and it's never looked better. Once a week I add baking soda to exfoliate."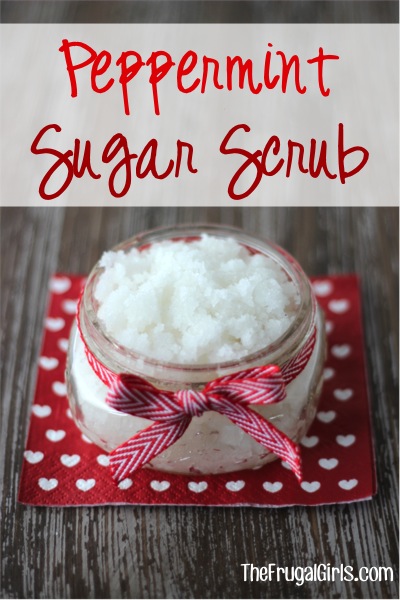 Deborah said: "Teeth whitener… after brushing and flossing swish 20 minutes …..DO NOT SPIT in sink, spit in paper towel and throw in trash."
Julie said:  "I use it as a moisturizer on my face, chapstick, lotion and my newest find is during a cold, when your nose is raw from tissues, it soothes the raw painful "cold" nose."
Alyssa said:  "Moisturizer! I pretty much slather myself in this stuff!"
Shelly said:  "Chapstick, lotion, cradle cap, conditioner and cooking too!"
Michelle said:  "I use it as hair conditioner!"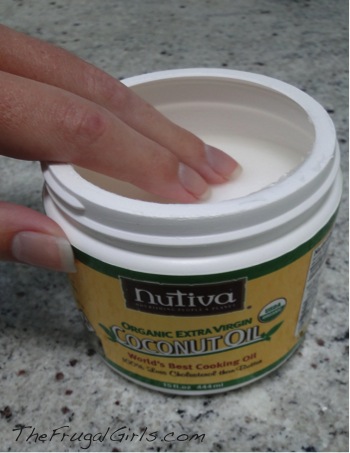 Andrea said:  "I use it every night on my hair as a leave-in conditioner.  Nice and shiny and it smells good!"
Safiya said:  "As a hair moisturizer and deep conditioner — it is the bomb!!!"
Leslie said:  "Coconut oil is really good as a deep conditioning treatment for people with dry hair.  You can put it on your hair dry, then sit under the dryer, or put a hot towel on your head before you shampoo it out."
Chimey said:  "Warm it up and use it on your hair and scalp.  Then massage thoroughly before wrapping a warm soaked towel (water squeezed out) around your whole head till it cools down… Repeat a few more times and then shampoo and rinse like you normally do.  You will be amazed how beautiful, shiny and healthy your hair will look. :))"
Peg said:  "My daughter uses it to make lotion bars, using a few additional ingredients.  This works as lotion in a bar, and is so healthy for your skin."
Jennifer said: "Under eye cream"
Belinda said:  "Remove eye makeup."

Heather said:  "You can use it to make homemade deodorant."
Jennifer said: "Use with baking powder for deodorant."
Missy said:  "I use this for my eczema and within a few days the rash is almost gone.  Immediately, though, the itch stops!  After daily use, the rash is completely gone within a week or two… like you never had a rash!!  I was to the doctor several times for this and finally went to our local herbal shop.  They recommended coconut oil because it's an antibacterial, antifungal, antimicrobial and antiviral!!!  This is truly God's miracle to many ailments.  It also helps with metabolism and is much better for you than other oils. 
This stuff is amazing on toast 🙂  We do cook with it as well. The flavor is so light that it gives your food a creamy flavor and takes on the flavor of whatever you're cooking… not overpowering at all."
Sharon said:  "Healing acne!  I have painful cystic adult onset acne and have tried everything for the past several years… natural, chemical… none of it worked as well as coconut oil."
Patti said:  "Put coconut oil on a cold sore (canker sore) and it will quickly heal!"
Danielle said:  "I melt it down in the microwave, then add sugar and let it set.  Now you have yourself and amazing coconut sugar scrub!"
Staci said:  "I use it for smoothing rough feet."
Shanon said:  "I use it for treating diaper rash."
Delilah said: "Use it on my kids for diaper ointment, cradle cap and moisturizer."
Mikayla said: "I use it as a cloth diaper-safe rash cream."
Sophie said:  "I put a tbsp in with my homemade diaper wipes.  It has made a huge difference with diaper rash."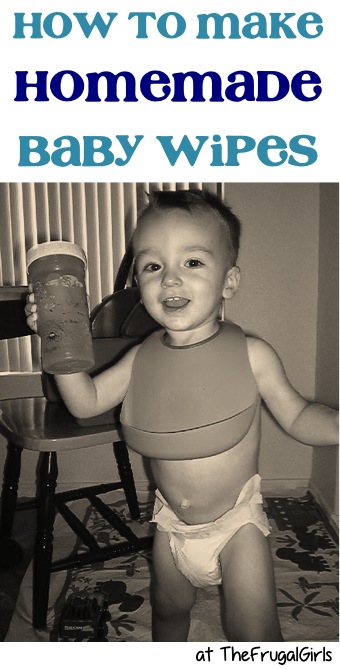 Krissy said:  "I use it to treat diaper rash on my girl, who used to get yeast infections frequently.  Since the switch to using coconut oil, not even one infection.  I have a separate container in kitchen, too.  We use it all the time."
Alicia said: "I used it to soothe my baby's cradle cap.  Let it soak in for 5 minutes then shampoo out.  Dry scaly skin is gone!"
Emily said:  "It is a LIFE SAVER for breastfeeding moms.  Put on nipples before and after every feeding to avoid thrush and cracked nipples. Such amazing stuff— and naturally antifungal.  Brilliant."
Summer said:  "As gross as this might be to say, we have had serious issues with head lice in our school district. My kids got lice, and I FREAKED! A friend told me to get shampoo with coconut oil in it and this would prevent the kids from getting lice. I… didn't think it would work, but after treating the kids and house twice and spending $150, I was willing to try anything! I had a hard time finding a shampoo with real coconut oil in it, so I got some coconut oil and put it in their shampoo. Not only have the kids not gotten head lice again, but their hair is soft and shiny. I put it my shampoo now as well!  It sure beats treating my kids with chemicals repeatedly to get rid of those gross "critters" (that's what my son calls them)."
Caitlyn said: "As an anti fungal to treat ringworm.  2 months of treating with prescription and OTC anti fungal creams, and it was just getting worse. My mother in law suggested coconut oil and it was gone in two weeks."
Karen said:  "I use coconut oil on my horse's tail.  It makes it silky, shiny, and smooth.  Tangle free is the way I like him to be."
Robin said:  "It's even sold in pet boutiques to help dogs feet, especially in winter with all the salt."
Melissa said:  "Use it as spider repellent."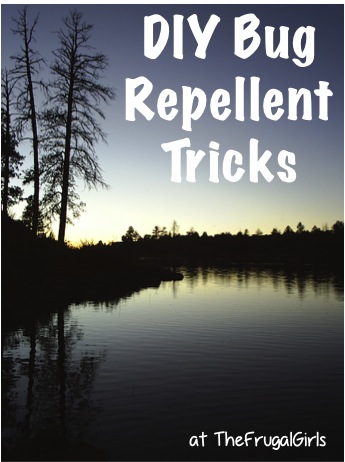 Angela said: "I use coconut oil to clean my belly button."
Eli said: "I've been using it on my stretch marks for a week and I'm already seeing small results."
Lindsey said:  "Love coconut oil! I use it for my face moisturizer, lip balm, on sunburns, hot oil hair treatment, on my cuticles, feet, and I cook with it!  Oh ya, and for my daughter's diaper rash."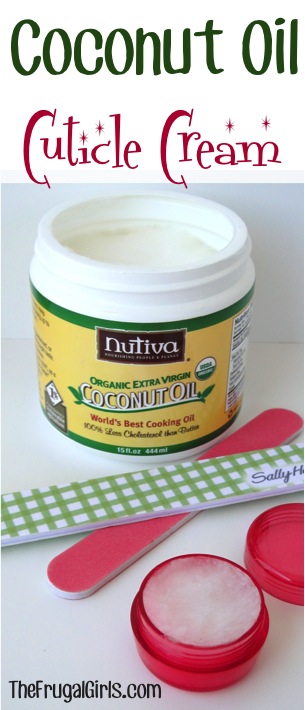 Lonna said: "I am reading Mary Newport's book, "Alzheimer's Disease, What if there was a cure?"  Read this to find out the brain benefits of coconut oil. I f you have a loved one with this or another brain based disease, you must read this."
Mikie said:  "I put it in my coffee, bake with it, fry with it, rub it in my skin… the uses are endless."
Amy said:  "It's probably the best oil for you to consume.  Consider it a yummy supplement and eat as much as possible.  Fry only with coconut oil.  Bake with it instead of butter for almost identical effects, but better nutrition.  Do a treatment on your hair with it (then wash out), put it on your skin, remove makeup… just about anything you can think of. :)"
I have even more creative DIY tips and crafts I know you'll love.  Check out these fun hacks…
Load up on some frugal inspiration with these easy At Home Facials and Mask Recipes!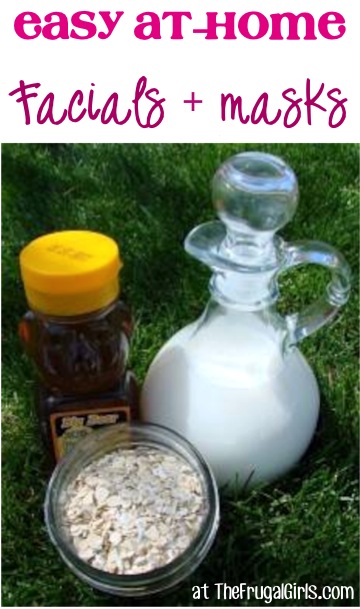 Get ready to give your feet some royal spa treatment with these creative Foot Scrub and Soak Recipes for Home!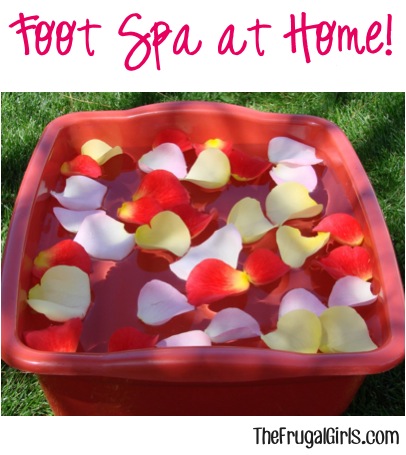 Get inspired to save money with these creative ways to save on beauty treatments!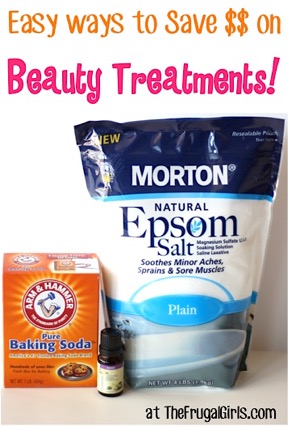 Get ready for some more fun and creative gift ideas with these Gifts in a Jar ideas!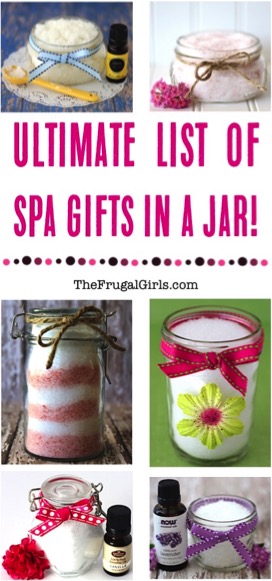 Get ready for some seriously sweet Frugal Fashionista Deals and Tips to save you more money!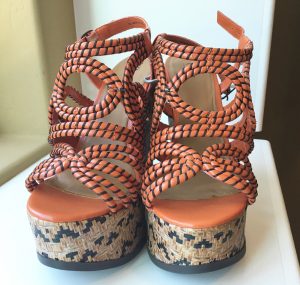 Now that you've scored some seriously Creative Coconut Oil Uses, don't miss out!  Get all the latest fun new Frugal Girls Tips, Recipes + more right here…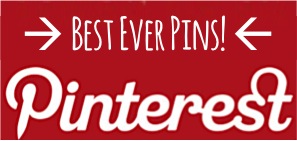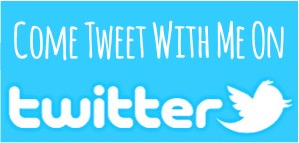 What are YOUR favorite Creative Coconut Oil Uses?
Leave a comment & share!