The perfect party appetizers are those that are ridiculously simple to make… and outrageously delicious!  Oh, and they usually involve a Crockpot, too!
Both you and your guests will LOVE this Easy Crockpot BBQ Ranch Meatballs Recipe!
The BBQ and Ranch flavors mix together to create the most delicious sauce for your meatballs, and you'll watch them vanish before your eyes!  They're the perfect addition to your gatherings with friends and game day parties!
Go grab your Crockpot and let's get started!
Ultimate Crockpot BBQ Ranch Meatballs Recipe!
Prep time:
Cook time:
Total time:
Instructions
Combine BBQ Sauce and dry Ranch Dressing, then stir well.
Add frozen meatballs to Crockpot, cover with sauce mixture, then place lid on crockpot.
Heat on HIGH for approx. 2 hours, stirring occasionally. Let simmer on 'LOW' or 'WARM' setting once done. ENJOY!
Yum

Craving more Meatballs??  Get inspired below…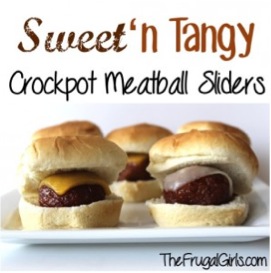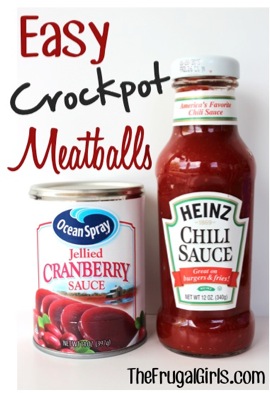 Thanks for supporting The Frugal Girls!