Making a Whole Chicken in the slow cooker has never been easier than with this Crockpot Ranch Onion Whole Chicken Recipe!


Packed with flavor, this easy chicken recipe is perfect for any day of the week!
Have you ever wondered how to cook a whole chicken in the Crockpot??  Take the complicated out of dinner, then add in some extra delicious yumminess!
That is exactly what you'll get with this easy Crockpot Ranch Onion Whole Chicken Recipe!  It's the perfect savory star for your next dinner or holiday party!
Are you ready to feed the whole gang without all the effort?
For He satisfies the thirsty and fills the hungry with good things.  Psalm 107:9


 
Crockpot Ranch Onion Whole Chicken Recipe
Crockpot Ranch Onion Whole Chicken Recipe!
Prep time:
Cook time:
Total time:
Ingredients
Whole Chicken, approx. 4 – 5 pounds
1 Lipton Recipe Secrets Onion Soup – 1 oz. packet
1 Hidden Valley Ranch Mix packet (1 oz.) or 3 Tbsp Buttermilk Ranch Dressing Mix
3 Garlic Cloves, crushed, then peeled
1 Tsp. Paprika
Instructions
Add dry ingredients to small bowl and mix together for rub.
Rinse chicken, remove innards and pat dry with paper towels.
Generously add rub to inside and outside of chicken.
Place three peeled garlic cloves inside of chicken.
Place chicken in resealable bag overnight to marinate. (optional)
Carefully place chicken into 6 - 7 quart Crockpot.
Cook on HIGH for 4 hours or LOW for 8 hours, or until done.
Use meat thermometer in thick portion of breast to verify if chicken is done at 165 degrees. Enjoy!!
Yum
And if you need a giggle, take a break and watch this…
On the hunt for more Crockpot Whole Chicken Recipes? Get inspired below…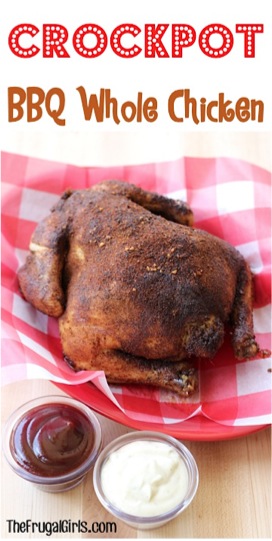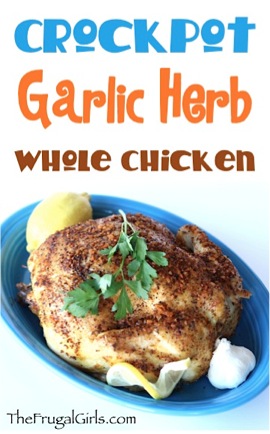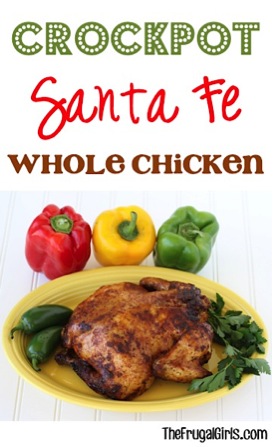 Thanks for supporting The Frugal Girls!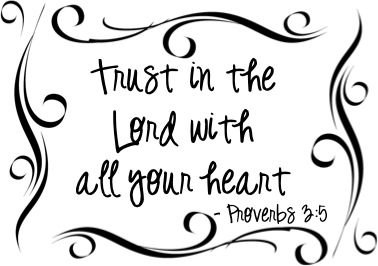 Don't miss out!  Catch all the latest fun Frugal Girls Recipes, Tips + more…