Have fun devouring chocolate without all the guilt when you make this easy Crockpot Devils Food Cake Recipe!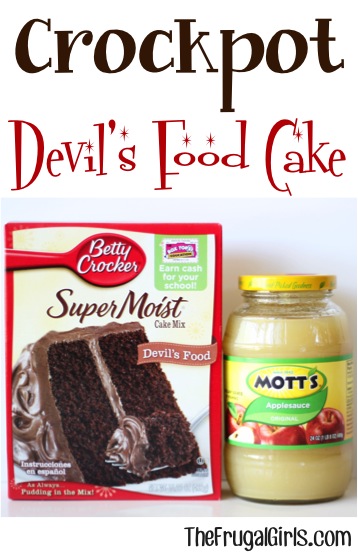 Who says dessert needs to be complicated?  Go grab your Crockpot… it's time for some Crockpot Devils Food Cake!
Have your chocolate fix served hot from the slow cooker… and this is going to be so much fun!  Bring on the chocolate, yum!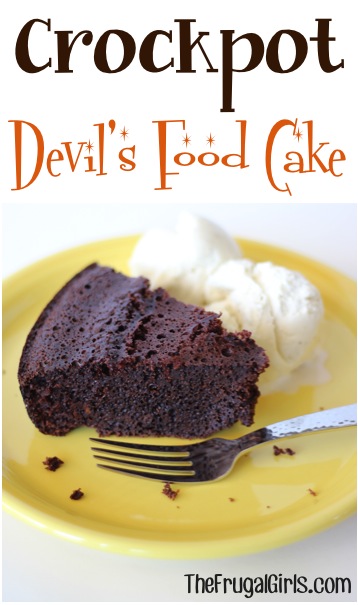 Crockpot Devils Food Cake
Crockpot Devil's Food Cake Recipe!
Prep time:
Cook time:
Total time:
Ingredients
1 box Betty Crocker Devil's Food Cake Mix
½ cup Applesauce
1⅓ cup Water
3 Eggs
Instructions
Beat all ingredients together for 1 minute with mixer.
Spray inside of Crockpot with Pam Cooking Spray.
Pour mixture into Crockpot and cover.
Cook on high for 1.5 – 2 hours, or until done.
Once the cake was done, I just carefully cut pieces directly out from the Crockpot.
Feel free to add some of your favorite frosting, too! Serve with ice cream… and ENJOY!!
Yum
Then… check out more
Delicious Dessert Recipes
below…
If you're a Choc-o-holic, and proud to admit it… get ready for the dessert of the decade: Crockpot Hot Fudge Cake!
Here's a delicious Chocolate Chip Cream Cheese Cupcakes Recipe that comes from my Grandma… her name was Gertrude. How sweet is that?!?  We called her Grandma Trudy, and let me tell you… you're going to love this recipe!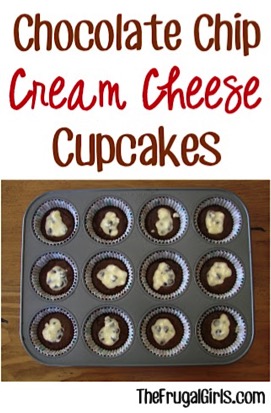 Nothing beats a simple Crockpot Dessert… and this easy Crockpot Red Velvet Cake is just perfect for a festive Christmas, Valentine's Day, or 4th of July treat!

Who said you can't enjoy a delicious piece of Cake straight from the Crockpot??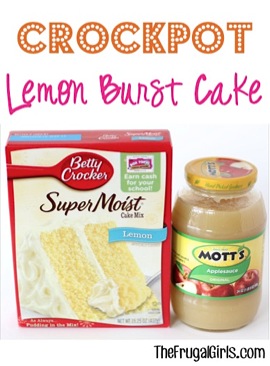 Cheer up your dinner with a tasty grand finale: Crockpot Cherry Chip Cake!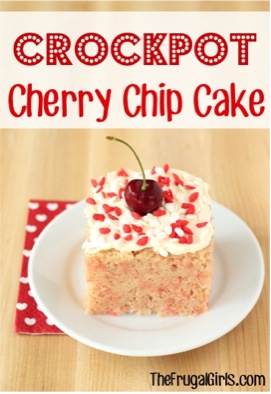 Making this Crockpot Carrot Cake Recipe is so yummy and easy, it almost seems scandalous!
Add the chocolate bomb to your upcoming parties with this delicious and Easy Crockpot Chocolate Sauce Recipe!  This Chocolate Sauce makes the perfect chocolatey dip or ice cream topping.
Craving even more delicious Crock Pot Dessert Recipes?  There is something about making dessert in the Crockpot that seems just a little bit scandalous.  Like… is that cheating? 😉  Scandalous or not, you are going to LOVE these easy Crockpot Dessert Recipes!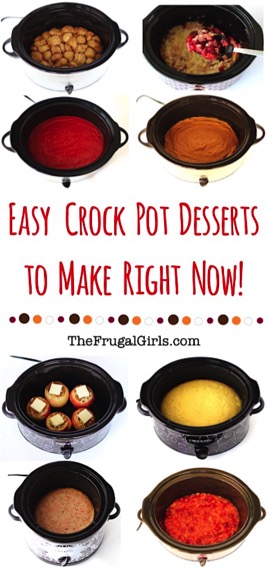 Need a new Crock Pot? Get a deal for yourself with these Crock Pots on Sale!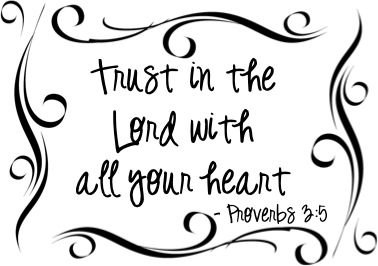 Don't miss out!  Get all the latest fun new Frugal Girls Recipes, Tips + more right here…