If you've got a Snickers craving, you'll love this yummy Homemade Snickers Bar Recipe!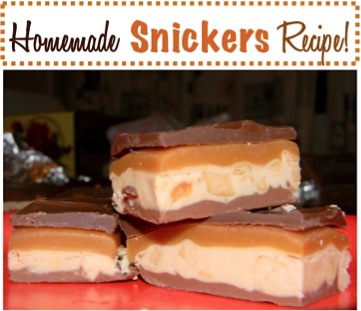 Following is a Homemade Snickers Bar Recipe and guest post by Veronica at CookingMorningNooNight… enjoy!!
I love this Homemade Snickers Bar Recipe. Snickers commercials crack me up! "Here! Have a snickers! You get whiny when you're hungry".  Really?  When I'm hungry, I want a big plate of pancakes and sausage or a juicy burger…  but you expect to give me a snickers and say "oh my gosh THANK you, don't expect me to eat until supper time after this one"?
…But do expect me to pick every single snickers out of my kids trick-or-treat bag. I shame spiral…
Anyways, these are amazing and worth the time and effort. I could sit here trying to convince you to do so but honestly, you get a little whiny when you're hungry.
Homemade Snickers Bar Recipe
Bottom Chocolate Layer:
1 1/4 cups milk chocolate chips
1/4 cup peanut butter
Thoroughly grease your 13×9 baking pan. I covered the bottom and sides with aluminum foil then greased with cooking spray which allowed for them to easily come loose from the pan.
Melt together ingredients in the microwave or a saucepan. If you go with the microwave start at a minute, then stir, and continue for 15 seconds until completely melted. Spread evenly into your baking dish and let cool and harden completely.
Nougat Layer:
1/4 cup melted unsalted butter
1 cup granulated sugar
1/4 cup evaporated milk
1 1/2 cups marshmallow fluff
1/4 cup peanut butter
1 1/2 cups salted peanuts, roughly chopped
1 tsp vanilla extract
Melt butter in a saucepan over medium heat. Add in sugar and evaporated milk, stirring until dissolved. Bring to a boil and let it cook for 5 minutes longer, stirring often. Add in the marshmallow fluff, peanut butter and vanilla stirring until smooth and completely incorporated. Turn off the heat and fold in peanuts then pour over the chocolate layer working quickly as not to melt the chocolate and let both layers cool completely.
Caramel Layer:
1-14 ounce bag of caramels
1/4 cup of heavy whipping cream
Combine ingredients in a microwave safe bowl and microwave on high in 30 second increments (stirring in-between) until completely melted. Pour over the nougat layer and let cool.
Top Chocolate Layer:
2/3 cup milk chocolate chips
2/3 cup semi sweet chocolate chips
1/4 cup peanut butter
Melt ingredients in either saucepan or microwave then pour over the caramel layer and spread even. Let cool and harden completely.
Refrigerate the bars for at least one hour before serving, then cut as desired. I cut the pan into 7  by 4, resulting in 28 bars. Realize as they come to room temperature the bars will get soft if you like a harder texture refrigerate again after cutting!
Yum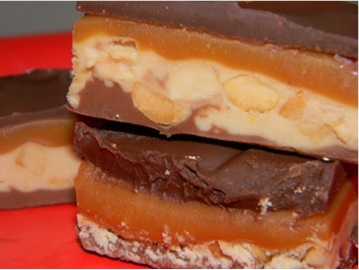 If you are any type of candy fanatic, scratch that, CHOCOLATE fanatic, these are for you!
Veronica blogs at CookingMorningNooNight.blogspot.com! She has 2 beautiful boys who are her world, and a supportive husband who motivates her every day! She's a self taught chef and loves to be experimental in the kitchen. She also loves to motivate other people to get in the kitchen and cook for the ones they love!
You can never have enough homemade candy recipes, so load up on some serious fun and candy addiction with these yummy recipes to try!