I may get
paid
for ads or purchases made through links in this post.
If you love bacon, you'll really love these tasty Easy Bacon Recipes!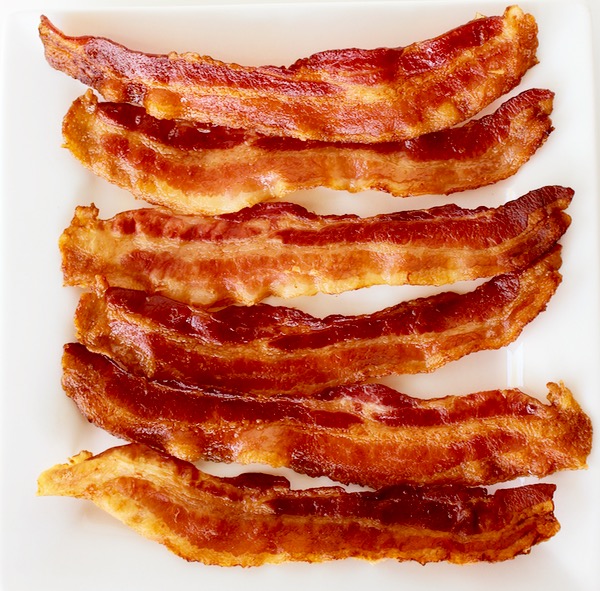 Do you find yourself dreaming about Bacon??
We all know that Bacon makes everything better, so grab that Bacon and start indulging those taste buds with this BIG List of Easy Bacon Recipes!
There's nothing better than a crispy piece of bacon served with your favorite… ANYTHING!  Are you ready for some major bacon bliss?  It's about to happen!!
Related:
Easy Bacon Recipes ::
This Perfect Crispy Bacon in Oven Trick is life changing… and works like a charm!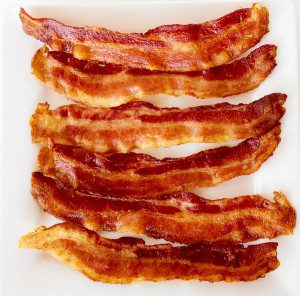 This Crockpot Bacon Wrapped Smokies Recipe is an absolutely delicious and mouth-watering appetizer!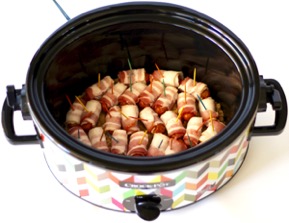 This Crockpot BBQ Bacon Ranch Chicken Recipe packs in so much flavor, it was like a little party was happening right on my dinner plate!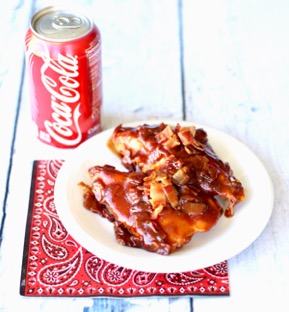 Trust me, this slow cooker bacon cheese dip is the thick and creamy and loaded bacon dream dip you've been looking for.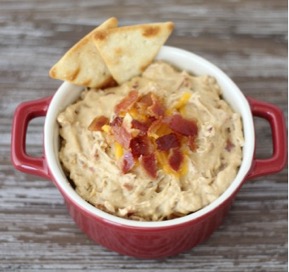 Get yourself a little crazy bacon goodness wrapped around a yummy hot dog!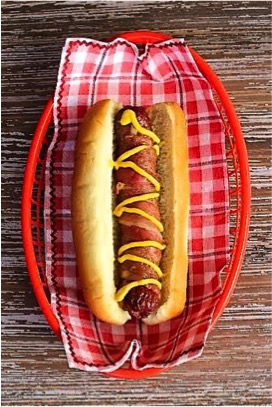 What makes your Bacon even better?  Maple Syrup and Brown Sugar!!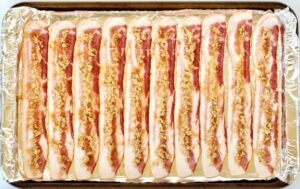 This easy Deviled Egg Recipe with Bacon is topped with heavenly bits of real crispy bacon to create the perfect appetizer for any time of year!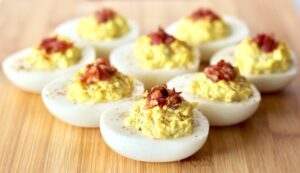 These potatoes define decadent potatoes!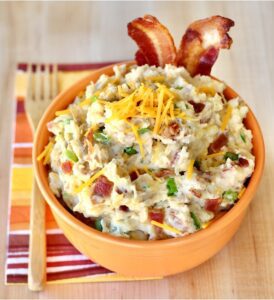 These are perfect for any Holiday or Party!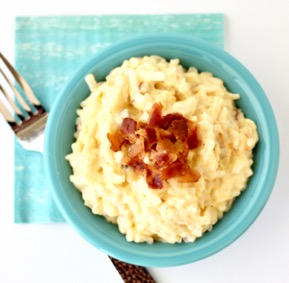 Get ready to become a weekend household celebrity when you make this delicious Breakfast Bacon and Egg Casserole Recipe!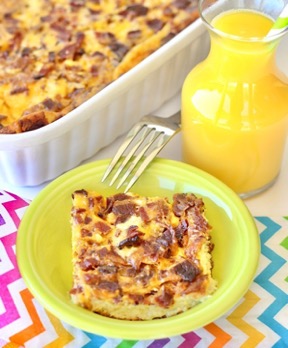 Weekend Brunch just got really exciting with the introduction of this easy Bacon Hashbrown and Egg Casserole Recipe!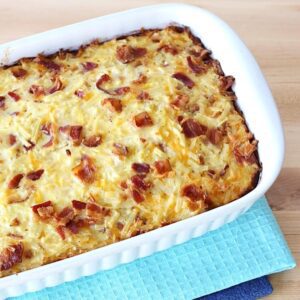 Give your Weekend Breakfast or Holiday Brunch a delicious makeover packed with flavor with this fun recipe!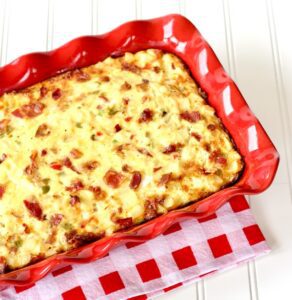 Whether you're looking for the perfect weekend brunch, a cheesy game day tailgate treat, or a fun new holiday tradition, these bacon, egg, and cheese sliders are the ultimate brunch dish!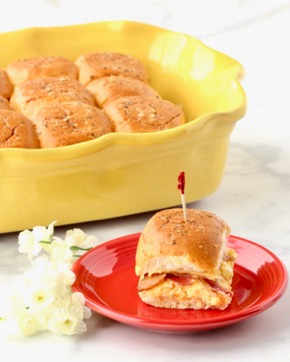 Bacon makes everything better, including your pancakes with this yummy Bacon Filled Pancakes Recipe!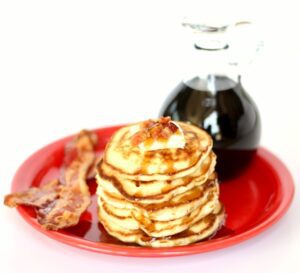 Something fun is bound to happen when you infuse bacon into homemade macaroni and cheese.  This is comfort food at it's very best!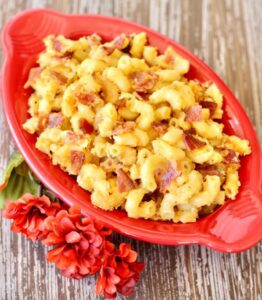 This Crockpot BBQ Bacon Chicken Recipes brings bacon and bbq sauce together in one tasty dish!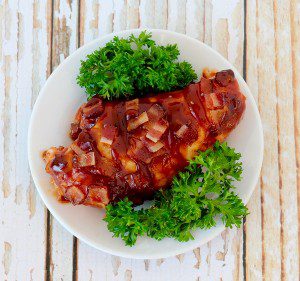 These nom nom delicious Crockpot BBQ Chicken Sandwiches will take your taste buds to a flavor party!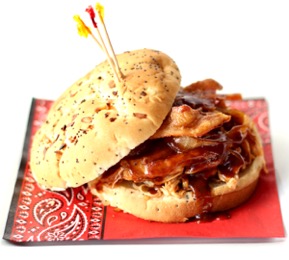 Let your slow cooker do the cooking for you tonight with this yummy Crockpot Chicken And Rice Casserole Recipe that is loaded with bacon!
Making your Crockpot Green Bean Casserole with Bacon is pure genius.  What an easy way to upgrade your green bean casserole!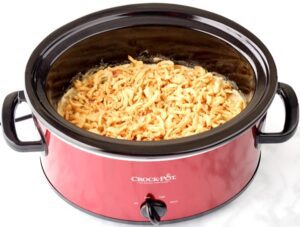 With chunky potato pieces, flavor packed bacon, and fresh shredded cheddar, you really can't go wrong with this simple stove top recipe!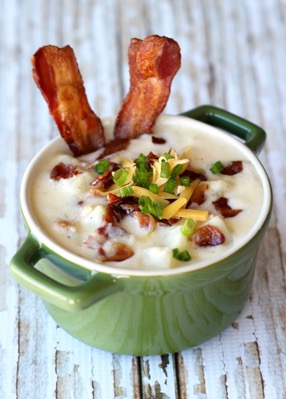 This Easy Bacon Ranch Potato Salad Recipe will make you fall in love with Potato Salad all over again!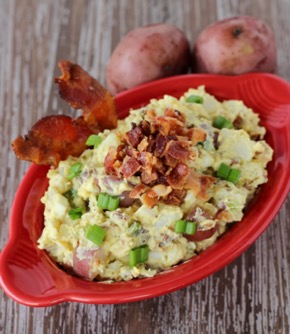 These Beans are the BOMB!  Because, really… how can you go wrong with Bacon and Ranch?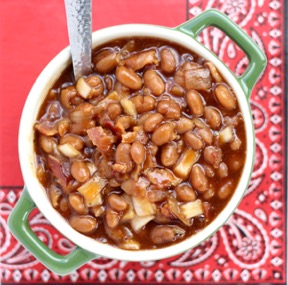 Grab your fork, spoon, or just use your fingers!  This Easy Cheesy Bacon Macaroni Casserole is totally tempting!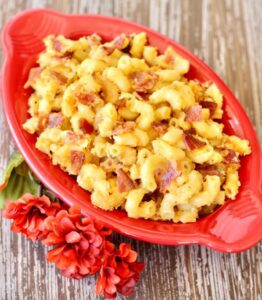 This sweet and savory Broccoli Salad Recipe with Bacon will have your tastebuds doing a happy dance!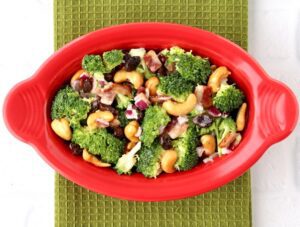 Would you love even more Pork Recipe deliciousness?  Check out these fun recipe ideas…
Get ready for a flavor party when you try one of these Pork Dinner Ideas for tonight!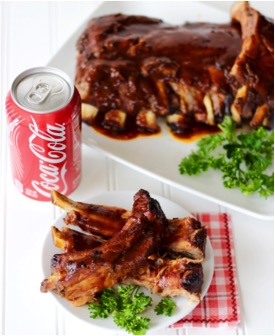 Don't miss out!  Get even more fun Frugal Girls Recipes, Tips +  more right here…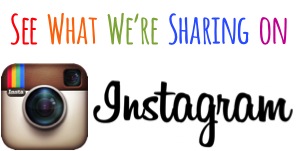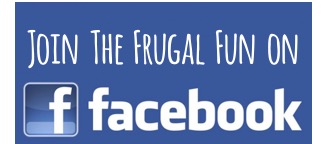 So have you tried any of these easy Bacon Recipes yet?
Leave a comment and share…