I may get
paid
for ads or purchases made through links in this post.
Enjoy a homemade American classic… single serve style when you make this easy Apple Pie in a Cup Recipe!  Just 5 ingredients and you've got a simple and delicious healthy treat!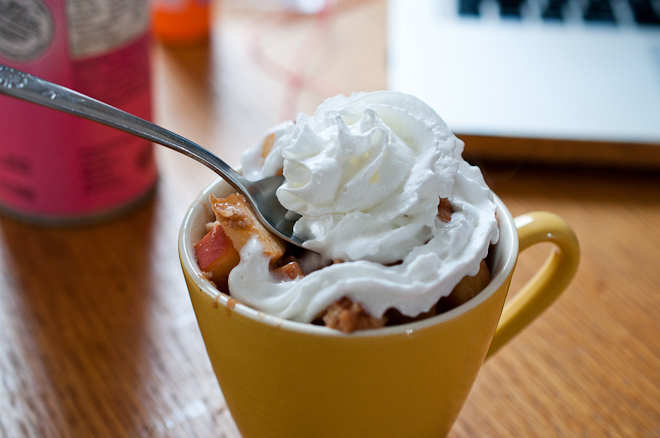 Following is a delicious and easy Apple Pie in a Cup Recipe and guest
post by frugal friend Carly ~ enjoy!

Apple pie in a mug?  Yes, please!  I believe in dessert.  And I say that in a totally philosophical way and I mean it. I don't care how calorie-conscious you are, we are humans and we deserve a little bit of pure sweetness in our lives! That said, I will admit to being one who often skips desserts at restaurants.
Why? Because I have no idea what they put in there! How much butter? How much sugar? Is the crust purely graham crackers, butter, and fat? Sometimes, it just ain't worth it, my friends. Not for a whole piece, at least. But, just as I believe in dessert, I believe we all deserve a whole piece. And we deserve to eat it without feeling guilty.
Did I mention Apple Pie in a Cup?  It's breakfast and dessert!
Homemade Apple Pie in a Cup Recipe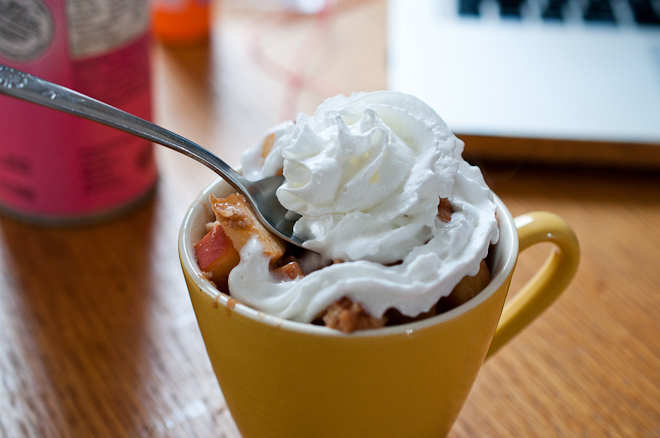 Apple Pie in a Cup Recipe
Enjoy a homemade American classic... single serve style when you make this easy Apple Pie in a Cup Recipe!  It's such a simple and easy dessert!
Ingredients
3

Apples

1

tablespoon

White Wine Vinegar

1/2

cup

Rolled Oats

1

tablespoon

Water

2

teaspoons

Ground Cinnamon

2

tablespoons

Sugar
Instructions
Preheat oven to 350 degrees.

Chop into small pieces, about 1/2 inch thick.

Transfer chopped apples to a medium bowl, then add White Wine Vinegar, Cinnamon, and Sugar and stir well.

Add oats and water and mix well.

Bake for 30 minutes in small oven safe dish.

After it has baked, remove from oven and transfer to mugs for serving.

Optional: Top with whipped cream. ENJOY!
Now… are you ready for even more amazing Apple Recipes and Mug Recipes?
I know you're gonna love these fabulous desserts…

This light and fluffy Vanilla Cake in a Mug Recipe is the perfect way to satisfy those dessert cravings with easy portion control!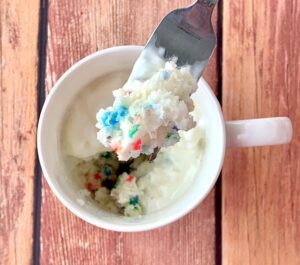 This dreamy Lemon Mug Cake using cake mix is the perfect single serve dessert, making portion control a cinch.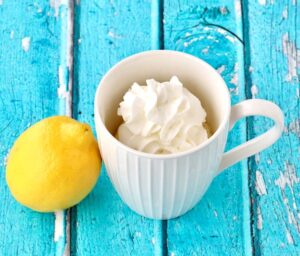 The next time you have a craving for a piece of chocolate cake, this chocolate mug cake will be ready for you… just like a cozy hug in a mug!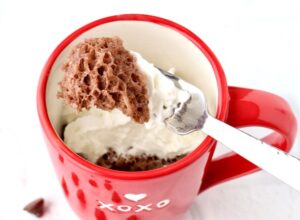 If you're looking for an easy 3-2-1 recipe, you need to try this cozy Spice Mug Cake Recipe!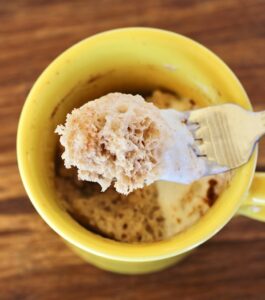 Enjoy your apple pie in a pocket with this fun and easy Apple Pie Pockets Recipe!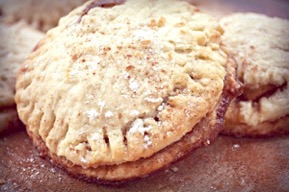 Prepare yourself for a 3 ingredient apple cinnamon temptation that is crazy easy to make!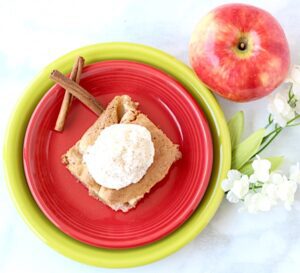 When you're prepared with some genius kitchen shortcuts and an amazing blend of spices, you'll make your very best apple pie in no time at all!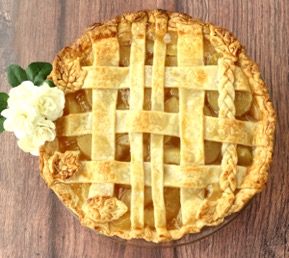 Nothing says Fall like apples and cranberries, so let's put these two together in this easy Cranberry Apple Pie Recipe!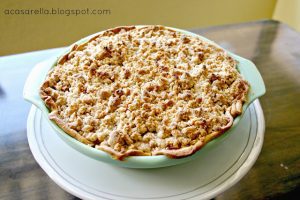 If you're going to take the time to make a pie, then you need to start with the best Caramel Apple Pie Recipe!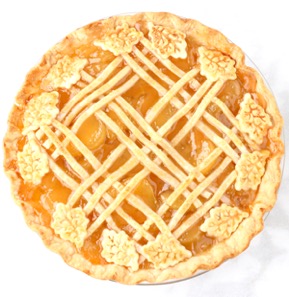 Once you've tasted this easy to make homemade Apple Pie Filling for Canning, you'll never want to buy those store bought cans again!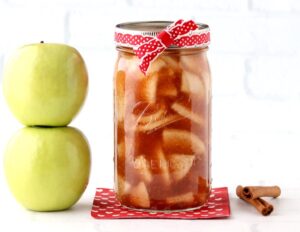 Make your apples scream with delight when you make this easy Peanut Butter Nutella Apple Nachos Recipe!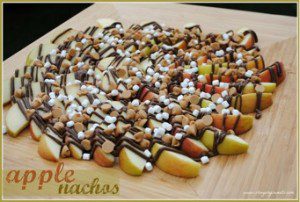 Ready for the fun and healthy homemade snack the whole family loves?  It's time to make this Cinnamon Apple Chips Recipe!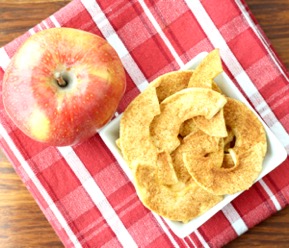 This amazing Crockpot Baked Apples Recipe is so easy, so delicious… what a perfect way to enjoy apples!!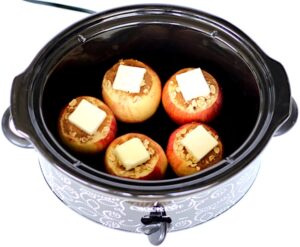 Turn those fresh apples into something extra delicious with this easy Crockpot Applesauce Recipe!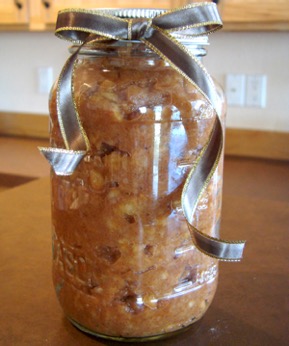 30+ easy Apple Recipes to make this Fall!
These amazing Apple Recipes are the perfect way to enjoy our favorite fruit, the apple!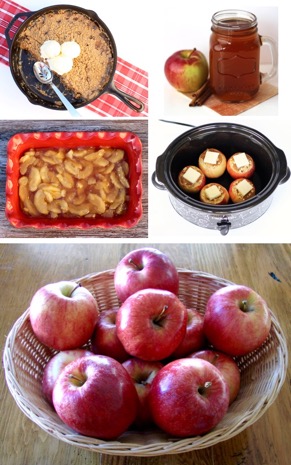 These recipes are easy, all of them are delicious.  Many even take less than 5 ingredients!  Are you ready for one seriously fun list of 5 ingredient dessert recipe fun?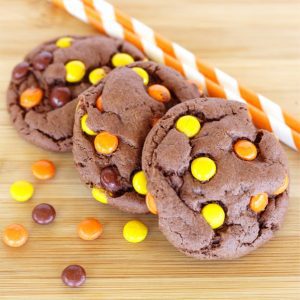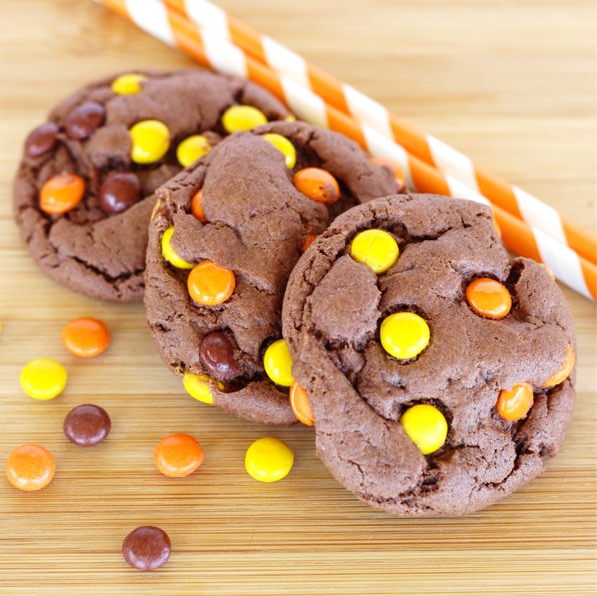 These quick and easy Pie Recipes are perfect for your next holiday celebration or as a fun Friday night treat!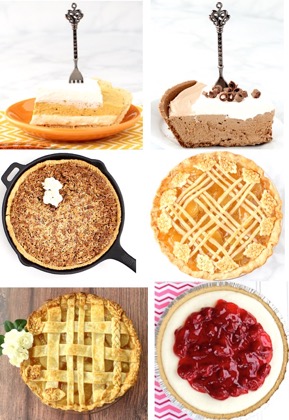 Grocery Money Saving Tips:
You won't believe how much money you'll save with these simple tips and tricks!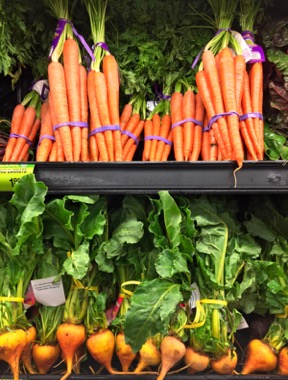 So have you tried this 5 ingredient Apple Pie in a Cup Recipe yet?
Leave a comment and share!