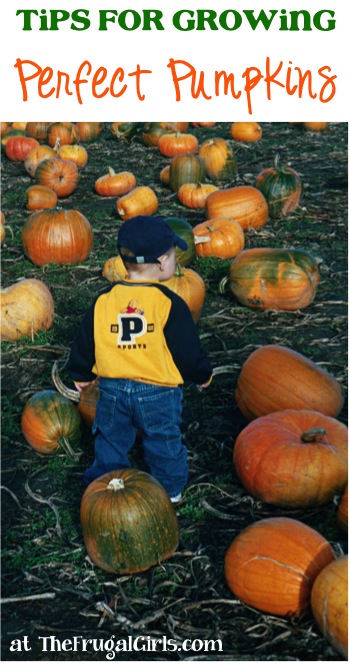 Do you want to grow some perfect pumpkins this year??
Check out these creative
gardening tips and tricks
shared right here and on
The Frugal Girls Facebook Page
…
Brenda said: "Take off all but three or four blooms so that those can grow bigger getting more water and nutrients than if you have ten or more blooms growing into pumpkins."
Shannon said: "Give the vines plenty of space… I remember my husband mowing around the vines, and pumpkins grew quite large the two years we grew them… they were bigger than our 2 year old!  Good luck!!"
Sarah said: "Did great with little white and orange pumpkins… fertilizer helps."
Dede said: "Just remember they have to cure in the sun after you pick them, but before you carve them!  Otherwise the rind is way too soft."
Stephanie said: "Don't get the leaves wet, because then you can get a fungus type disease that you can't get rid of.  You have to water by leaving the hose on the ground or getting a special sprinkler that floods, instead of spraying.
And slugs will try to live under the pumpkins as well as other bugs.  I used a nest of dried pine needles to keep the pumpkins off the ground but still low enough for good growth"
Tera said: "Where are you located?  If you have squash bugs you should plant them after the bugs go through… a little later in the season."
Sarah said: "Do not grow the Big Max kind if you have deer around.  They ate all of ours last year.  Anyone know how to keep deer away?"
Suzanne said: "Keep deer away with human hair.  Take the remains after a hair cut and scatter it around your plants!"
Melissa said: "On accident.  LOL. Make sure you have lots of room!"
Afton said: "One year we got a lot of pumpkins, when some of them rotted, we threw them in the garden.  We tilled them up and the next year, they grew like crazy."
Jessica said: "I've grown great pumpkins by accident (tossing the innards into the bushes while carving them outside) – I've never tried growing them on purpose!"
Kelli said: "We had NO idea how the vines would travel… planted the seeds and sort of forgot about them.  Next thing we knew, we had pumpkins growing out of our trees and the neighbors fence, and the neighbor's trees… LOL.  Some were more than six feet up in the air after the vines climbed and bloomed."
Patti said: "Plant them, leave them alone and ignore them.  They'll grow like crazy.  Give them lots of attention and they'll die on the vine!"
Tammy said: "I agree with Patti, they grow like crazy. I planted four plants and had so many pumpkins for the Fall.  Just beware, they take over the garden and the yard!"
Find more Fun Inspiration with The Frugal Girls here: