This Chocolate Valentine Kiss Cookies Recipe is sure to whip up some totally cute cookies!

Following is a delicious Cookie Recipe and guest post
by Tracey at The Kitchen is My Playground… enjoy!!
Hello,
The Frugal Girls
readers!  I'm Tracey from
The Kitchen is My Playground
and I'm thrilled to be here guest posting with you all today.  Can you believe it's almost Valentine's Day?  Have you made some sweet treats for your sweetie yet?
I've whipped up this totally adorable Chocolate Valentine Kiss Cookies Recipe.  Aren't they cute? But I have a confession to make … I didn't make these for my sweetie. No.  I shared the love of these tasty little cookies with someone else.  But it's okay, and my sweetie is okay with it. See, I have a new baking project.
For me The Kitchen is My Playground has always been about more than cooking, baking, and writing about it.  It's also an opportunity to do something I love … cook & bake … that I would do no matter what … and turn it into an opportunity to give back to the community.  Even if it's in just a small way. And so I began this newest baking project back in October, and have continued with a new sweet treat each month since.
Who is the recipient of my confections, you ask?  Well, it's not just one person … it's the group of children in residence at a place simply known as The Shelter, … our local battered women's shelter.  The Shelter strives to empower victims of domestic violence by providing emergency shelter, advocacy, and support on their journey to an abuse free life.  And in so doing, at any given time, they are typically providing shelter to about 20 children. I am happy to share this tiny token of love with these children.
For this month's treat, I was specifically asked to make Valentine cookies.  No problem there … I was definitely game for that!  So I put on my thinking cap and came up with this sprinkle-covered adaptation of the classic peanut butter blossom cookie.  But with chocolate.  'Cause in my book, chocolate beats peanut butter any day. I got myself ready with unwrapped Hershey Hugs and Kisses and an assortment of pretty Valentine sprinkles, …
… whipped up some tasty chocolate cookie dough, rolled the dough into balls, and coated each ball completely in sprinkles.
Then I just baked them up and popped a Kiss (or Hug … but the Kisses work better) in the center of each one.
So cute!  I just love how fun they look in a group with all the different sprinkles.
Now, Hugs taste just great in these cookies, but they tend to melt into little pools of zebra stripes instead of staying intact like the Kisses do.  See? It's a cool look … but just wanted to make you aware of the melting.  You know, full disclosure and all.
Whatever your Valentine's plans, I wish you and those in your heart the blessings of many sweet treats.  Happy Valentine's Day!  And, … share the love. Enjoy this Chocolate Valentine Kiss Cookies Recipe!
Chocolate Valentine Kiss Cookies Recipe
Chocolate Valentine Kiss Cookies Recipe
Ingredients
1 c. all-purpose flour
⅓ c. cocoa powder
¼ tsp. salt
8 T. (1 stick) unsalted butter, softened
⅔ c. sugar
1 egg yolk
2 T. milk
1 tsp. vanilla extract
¾ to 1 c. assorted Valentine sprinkles
25 to 30 Hershey Kisses or Hugs candies, unwrapped
Instructions
Combine flour, cocoa, and salt; set aside.
With an electric mixer on medium-high speed, beat butter and sugar until light and fluffy, about 2 minutes. Add egg yolk, milk, and vanilla; mix until incorporated. Reduce mixer speed to low and add the flour mixture until just combined.
Wrap dough in plastic wrap and refrigerate until firm, 1 hour.
Roll chilled dough into 1-inch balls and roll each ball in sprinkles, completely covering the dough ball with sprinkles. Place balls about 2 inches apart on a baking sheet. With your thumb, gently press down into the center of each ball just slightly to make a very small indentation. Chill the baking sheet of dough balls in the refrigerator for 10 to 15 minutes.
Bake at 350 degrees until set, about 12 minutes.
After removing cookies from the oven, immediately place a Hershey Kiss or Hug in the center of each cookie. Let cookies cool on the baking sheet for about 3 minutes, remove to a cooling rack to cool.
Source:  Concept inspired by classic peanut butter blossom cookies; chocolate dough adapted from America's Test Kitchen
Yum
Tracey  is a first grade teacher by day, and kitchen adventurer by night (and weekend!).  You can follow along with her adventures at www.thekitchenismyplayground.com, or on Facebook, Google+, and Pinterest.

Now… let's be naughty and look at even more tempting Cookie Recipes!!
On the hunt for the perfect easy little cookie for your Holiday Dessert, Office Party, or Cookie Exchange?  You'll LOVE this Easy Peanut Butter Kiss Cookies Recipe… they're so simple to make, addictive and delicious!
If you love cinnamon, then you'll really love this Cinnamon Spice Cake Mix Cookies Recipe!
This easy Cake Mix Cookie Recipe has just 4 ingredients and is crazy yummy!
Craving an Almond Joy Bar??   I've got a fun way to satisfy your fix… with these delicious Almond Joy Cake Mix Cookies!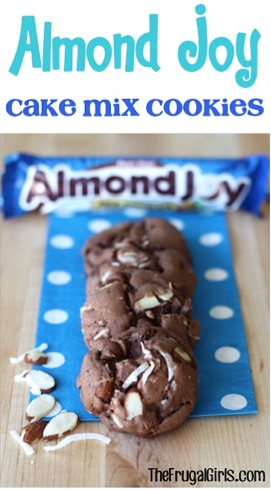 Well, guess what… it is!  These Hot Chocolate Cake Mix Cookies are crazy delicious and taste just like the classic, nostalgic drink we all love!  Plus, they've got just 5 ingredients!!