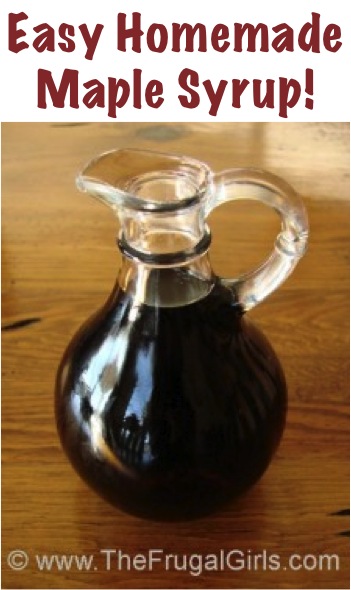 Easy Homemade Maple Syrup Recipe
Ingredients
1 Cup Water
1 Cup Sugar
1 tsp. Maple Extract or Mapleine Imitation Flavoring
Instructions
Bring water and sugar to slow boil over low heat, stirring continually.
Remove from heat before it comes to a rolling boil.
Stir in Maple Extract as it is cooling.
Serve warm. {*Yum!*}
Yum
The best part? It costs around 1 quarter to make! 🙂
Since syrup doesn't seem to last too long around here, I like to triple this recipe and store the leftovers in the fridge.
Then I just pull it out what we need, and reheat before serving again at a later date.
This syrup has become our family favorite!!  Give it a try, and see what you think!
Still hungry?  Check out more delicious Breakfast & Brunch Recipes below…