These Revolution Cookies are so yummy, they could start a cookie eating contest!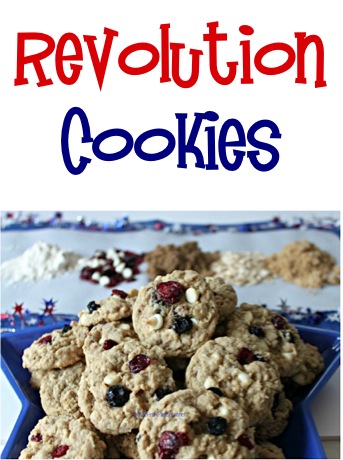 Following is a guest post and fabulous Cookie Recipe
from Made From Pinterest… enjoy!!
A sudden, marked and complete change. That is one definition of revolution. I have been tinkering with this Revolution Cookies recipe for years. I was playing with the proportions of butter to flour, baking times and temperatures, and what I wanted for mix ins.
All cookies are good fresh and warm from the oven. But I wanted a cookie that was still good for days. Tender and chewy. Full of flavor.
Related:
This recipe began as chocolate chip raisin oatmeal. When I ran out of chocolate chips, I decided to try white chips. And then raisins didn't seem right anymore.
I tried dried cranberries, and this cookie was born. The day I made this recipe for the first time was a revolution in cookie making for our family.
These were devoured. We made batch after batch and couldn't get enough of them. The flavor and texture of this cookie are created from a few key ingredients. A mixture of white and dark brown sugar, and, would believe it, a teaspoon of water?
I found when I used all dark brown sugar the flavor was too strong, but the combination of the light and dark brown sugar gives the cookie a more robust flavor that is not overpowering.
The teaspoon of water does something magic to soften the cookie and keep it soft. I like to pull mine out of the oven when they look almost done, but not quite. A little underdone with a golden blond color is perfect for a chewy cookie that stays soft.
Revolution Cookies Recipe
Revolution Cookies
These Revolution Cookies are so yummy, they could start a cookie eating contest!
Ingredients
1 cup softened Butter
¾ cup granulated Sugar
2 Eggs
1 teaspoon Vanilla
½ cup Light Brown Sugar
½ cup Dark Brown Sugar
2½ cups Old Fashioned Rolled Oats
2½ cups All Purpose Flour
1 teaspoon Water
1 cup White Chips
¾ teaspoon Salt
1 teaspoon Baking Soda
1 cup Dried Fruit of your choice (dried cranberries, cherries, blueberries are my favorites)
Instructions
Cream together butter, granulated sugar, and brown sugars. Add vanilla, and eggs and beat until well blended.
Combine oats, flour, salt and baking soda. Slowly add ½ of the dry ingredients to butter mixture until combined. Mix in teaspoon of water and then the remaining dry ingredients.
Stir in chips and dried fruit.
Using medium cookie scoop, or generous spoonful drop on parchment or Silpat lined cookie sheet.
Bake at 325 degrees for 8-10 minutes.
If you like homemade cookies you may also like
Flourless Chocolate Cookies
,
Brown Sugar Snickerdoodles
,
Righteous Chocolate Chip Cookies
or
Wicked Good Chocolate Chip Cookies
.
We three sisters are from madefrompinterest.net and we make and create the things that we pin from Pinterest and then share our results with you! Some of the pins we make "Rock" and some of them are a "Flop".
Our blog helps us to actually make and enjoy what we find on Pinterest, but it also helps us stay in touch with each other. We all live in different parts of the United States. We love that we can work together even though we live far apart.
Besides blogging and Pinterest we love spending time together as a family whenever possible. Between the three of us we have 10 children and 3 grandchildren.
I have even more patriotic recipes and Delicious Cookie Recipes to share with you.  Here are some I know you'll love…