Have some fun with your cake pops and make these festive Bald Eagle Cake Pops!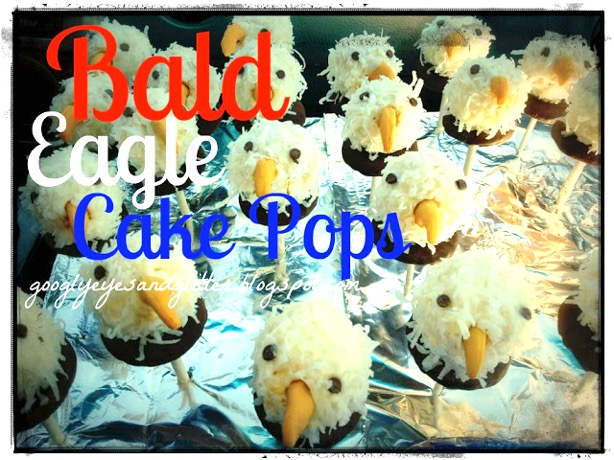 Following is a fun 4th of July Treat and guest post
by Brianna at Googly Eyes and Glitter… enjoy!!
In my search for a fun 4th of July treat I came across these amazingly cute Bald Eagle Cake Pops treats on Familyfun.com (which, if you don't subscribe to that magazine and you have kids, you totally should, it's a treasure trove of fun ideas every month).
Now, I don't have anything against marshmallows, but I thought these would be much better incarnated as a cake pop. Here's how you can replicate these amazing little patriotic birdies!
Related:
Bald Eagle Cake Pops
Bald Eagle Cake Pops!
Have some fun with your cake pops and make these festive Bald Eagle Cake Pops!
Ingredients
16.25

ounce

Betty Crocker White Cake Mix

3

Egg Whites

1/3

cup

Vegetable Oil

1 1/4

cups

Water

12

ounces

White Candy Melts

16

ounces

White Frosting

1/2

cup

Shredded Coconut

24

Whole Cashews

48

Mini Chocolate Chips

8.5

ounces

Fudge Covered Oreos
Instructions
To make the cake balls, bake cake mix as directed on box.

Allow cake to cool.

Crumble up cooled cake, and mix with container of store bought frosting.

Form into balls and place in freezer.

While cake balls are chilling in the freezer, prepare fudge covered Oreos (I used the single layered ones because that's what I found, also I think they worked easier than the thicker would have for piercing a hole in the middle).

I used the pointy end of a cake decorating flower platform tool to carefully pierce a whole in the middle of the cookies, none of them cracked so it worked pretty well. A skewer or anything sharp would probably work just fine.

After Cake Balls have chilled and firmed up, remove from freezer.

Melt white candy melts according to package (I thinned mine with a little bit of coconut oil)

Dip stick into candy melt and then insert into cake ball (this adheres the stick to the cake a little better)

Dip cake into candy and spin excess off.

Immediately cover with shredded coconut and quickly slide the pierced cookie onto the stick from the bottom so it can adhere to the ball with the candy melt.

Use a spare stick to press a large indent where you want the beak and then place the fat end of a whole cashew in the indent (you can first dip the end in a little bit of the candy melt if you want better staying power, but I didn't seem to have a problem with them falling out either way)

Press in 2 mini chocolate chips for eyes and let dry. Share with friends and enjoy!
You can follow along with Brianna at Googly Eyes and Glitter, and join her on Pinterest, too!
I have even more patriotic recipes and Delicious Cookie Recipes to share with you.  Here are some I know you'll love…