Get ready for some pumpkin bliss on Saturday morning with this delicious Fall Pumpkin Pancakes Recipe with Spiced Apples!  Seriously… these pumpkin pancakes will make you jump out of bed in the morning!  With the perfect blend of sweet pumpkin and Fall spice, they're 100% irresistible!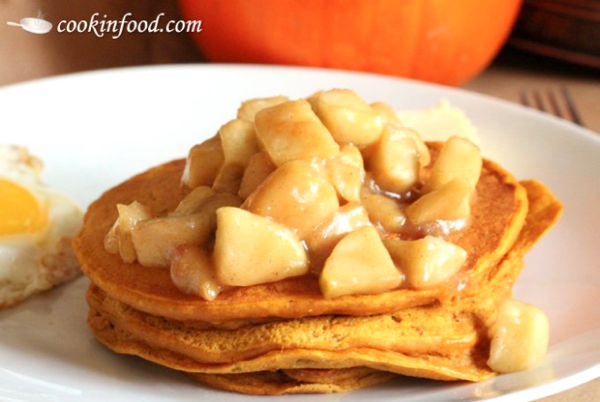 Following is a fabulous Pumpkin Pancakes Recipe and
guest post by CookinFood… enjoy!!
I think a perfect breakfast includes pancakes and eggs, and occasionally bacon. 😛   But with Fall here and apple season in full swing, I had to cook up something special for breakfast Sunday morning.  I needed to create the Best Pumpkin Pancakes Recipe ever!
Drawing inspiration from my Pumpkin Apple Spice Yankee Candle, I whipped up some of the most Heavenly homemade pancakes I've ever had. I mean both my husband and I thought they would be good, but we had no idea they'd be that amazing!!!
Not only are these pumpkin pancakes wonderfully delicious, they are pretty darn easy to make, and super filling. So a pancake or two per person will do ya just fine, which means this recipe will feed the whole family! Imagine fluffy spiced pumpkin pancakes melting in your mouth.
Topped with fresh crisp apples that have been seasoned with cinnamon and sugar, a touch of cloves, and warmed with a dab of butter. Oh yeah! This is the life you've always dreamed of! Or at least, one that I've dreamed of. 🙂 30 Minutes, and you too can be eating your very own Pumpkin Pancakes with Spiced Apples.
Related:
Best Pumpkin Pancakes Recipe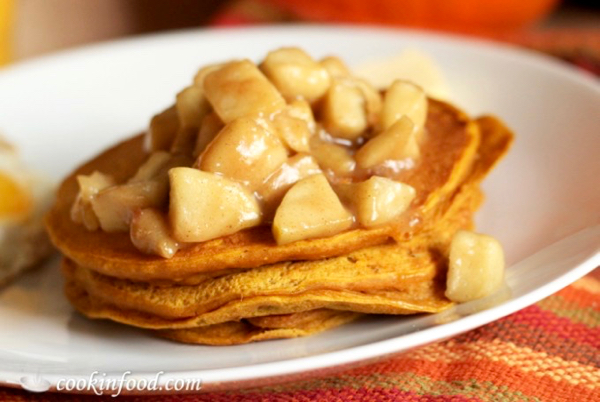 Best Pumpkin Pancakes Recipe with Spiced Apples!
Gooey Spiced Apples top steaming fluffy Pumpkin Pancakes in a recipe that hits all the right notes!
Ingredients
1 1/2

Cup

Buttermilk Pancake Mix

1

tsp.

Cinnamon

½

tsp.

Cloves

½

tsp.

Allspice

1

Egg

1

Cup

Milk

3

Tbsp

Melted Butter

1

Cup

Pumpkin Puree

4

Medium Apples Peeled

Cored, Small Chopped (about 2 cups)

1

Small Lemon Juiced

about ¼ Cup

1

Tbs

Butter

Melted

½

tsp.

Cinnamon

¼

tsp.

Cloves

½

Cup

Brown Sugar

1

Tbs

Flour

½

Cup

Water
Instructions
Start by prepping your Apples. Peel and dice into 1″ cubes, and drizzle each apple after cubing with about 1 Tbs. lemon juice. Using about 1/4 cup of lemon juice for all 4 apples.

Melt 1 Tbs. butter in the microwave, whisk 1 Tbs. flour into the butter and throw in a medium-sized skillet over medium heat. Toss in your apples.

Coat apples in 1/2 tsp. Cinnamon, 1/4 tsp. Cloves, 1/4 tsp. Cloves, and 1/2 cup Brown Sugar, and toss thoroughly allowing the butter and flour to melt and combine with the spices and sugar evenly over the apples. Add the 1/2 cup of water, stir, and cover. Allow to slowly simmer and cook while you prepare and bake your pancakes, stir occasionally. (cook about 20 minutes)

For your pancakes add Buttermilk Pancake Mix, 1 tsp. Cinnamon, 1/2 tsp. Cloves, 1/2 tsp. Allspice, Egg, and Pumpkin Puree and stir until just incorporated. Then add your 3 tbsp. melted butter, stir, and let the batter sit for a couple minutes while you heat your griddle to about 350 or pan to medium heat.

Use a small dab of butter to coat your cooking surface. Then give your pancake batter a quick stir and ladle about 1/4 cup of batter into a circle on your cook top. Allow to cook until the edges begin to be lightly brown (note* you may not see your typical bubbles because this is a thicker batter). Flip pancake and allow to cook for a couple more minutes. I cooked each 4″ pancake for approx 5 minutes because it is a thicker batter and you don't want it to be doughy in the middle. Try testing 1 pancake first to get the appropriate cook time.

Once your pancakes are done top with apples and enjoy!
Notes
Top with some whipped cream and your kids (or you) will go crazy for these! If your pancakes are too dark or burning on the outside, but still not quite done or cooked through the middle, turn your heat down on the pan and cook your next batch lower and slower.
cookinfood.com is a blog created by the Brady Girls – a mother, daughter, and sister team full of passion for food, and cookin' up great times together! It all started with thousands of recipes from our Gradma Brady that inspired us to share our family traditions, and new creations with all of you.  We hope you'll stop by cookinfood.com and share in Cookin' up Good Times!  You can follow Cookin' Food on Facebook and also on Pinterest!
I have even more amazing Pumpkin Recipes and some totally Easy Breakfast Recipes to share with you today.  You can never ever have enough Pumpkin or Breakfast recipe inspiration, so have fun exploring these ideas…
Can the weekend get here any sooner?  Your whole family is about to go crazy for this easy pumpkin spice french toast!

This fluffy Pancake Mix Recipe is easy to make and whips up some seriously amazing pancakes.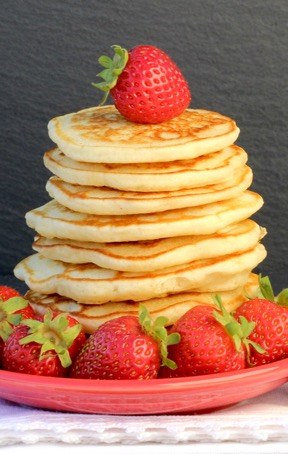 Bacon makes everything better, including your pancakes with this yummy Bacon Filled Pancakes Recipe!

Make everyone happy at breakfast with this yummy Crockpot Apple Cinnamon Oatmeal Recipe!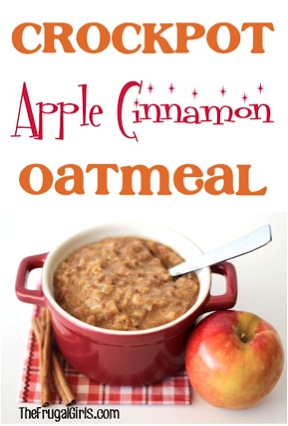 This Easy Maple Brown Sugar Bacon just did the impossible… it made bacon even better!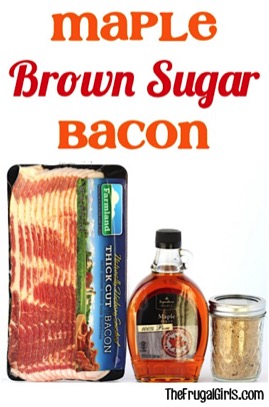 What better way to celebrate Fall and Harvest season than with a delicious slice of this moist Homemade Apple Bread Recipe with Fresh Apples?!

Get ready for a little Pumpkin bliss with this World's Best Pumpkin Bread Recipe!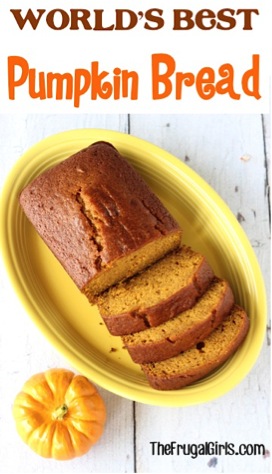 Satisfy those long repressed cravings for pumpkin with this delicious Pumpkin Spice Dump Cake Recipe!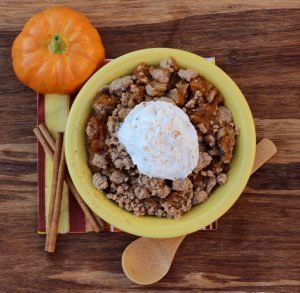 This yummy 5 ingredient Pumpkin Spice Milkshake Recipe is always in season!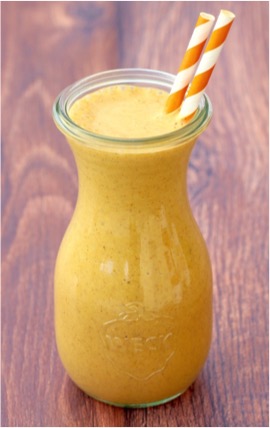 Do you love Pumpkin Spice as much as I do?  If so, meet your new favorite Fall Cookie Recipe!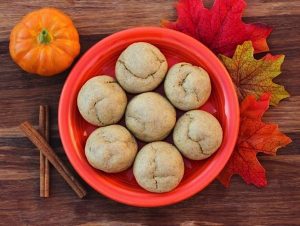 This easy Homemade Pumpkin Pie Spice Recipe is an easy way to ensure you never run out of your favorite spice!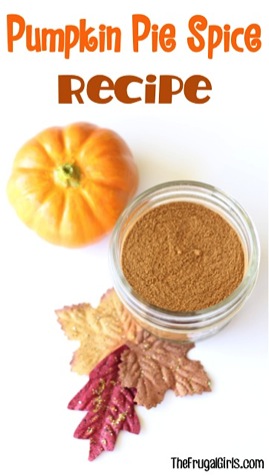 Enjoying one of these Easy Pumpkin Recipes is the perfect way to say "Hello" to Fall!

Grocery Money Saving Tips:
You won't believe how much money you'll save with these little known tips and tricks!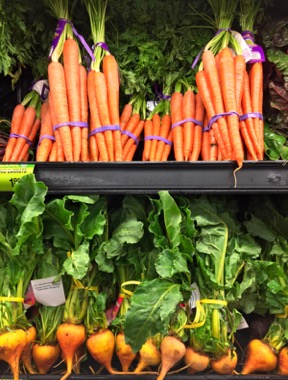 Don't miss out on all the fun!  Get all the latest fun new Frugal Girls Recipes, Tips + more right here…


So have you tried this Pumpkin Pancakes Recipe yet?  
Leave a comment & share!