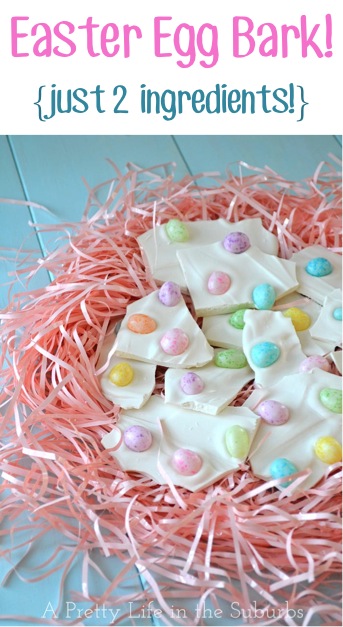 Following is a fun Easter Recipe and guest post by
Jo-Anna at A Pretty Life in the Suburbs… enjoy!!
Hello Frugal Girls readers! I'm Jo-Anna and I blog over at A Pretty Life in the Suburbs,
where I blog about all things crafty and yummy!
I'm so excited to be posting over here with The Frugal Girls today!
With spring & Easter just around the corner, I thought it would be fun to share a really simple, fun and delicious Easter treat with you!
Easter Egg Bark. Yum…
This would make for a perfect Easter dessert or hostess gift!
So pretty and chocolatey & chewy!
And did I mentions simple? I'm talking super simple.
But just because it's easy doesn't mean that it's not great!
Now, you are two ingredients away from a great treat…Easter Egg Bark!
Easter Egg Bark
2 cups of white chocolate chips
1 cup Easter egg jelly beans
Line a baking sheet with parchment paper. Set aside.
To melt the chocolate chunks, use a double boiler, or a saucepan and a metal or glass bowl. I like to use the saucepan/metal bowl option: all you have to do is put about an inch of water in the saucepan, get it boiling, then put the bowl over the opening of the saucepan. Put the chocolate into the empty bowl, and stir it until melted.
Spread the melted chocolate out on to the parchment paper, about 1/4 inch thick.
Let the chocolate cool for a few minutes, then sprinkle on your jelly beans.
Allow the chocolate to cool completely, before breaking it into pieces.
That's it! So easy and so delicious!
Oh, and it helps that you have made the prettiest little dessert ever!
Have a delicious day!