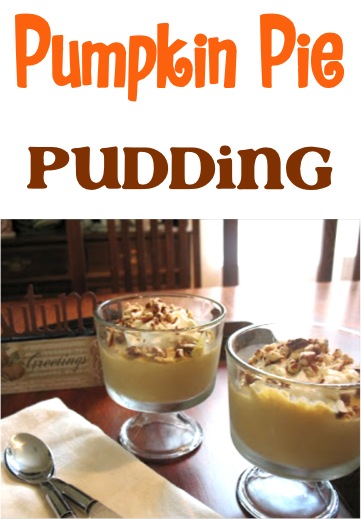 Following is a delicious Pumpkin Recipe and guest post
by Lisa at Stop and Smell the Chocolates… enjoy!!
Hi, I'm Lisa from
Stop and Smell the Chocolates
– glad to be here today!
I do love Fall, and love Fall desserts – especially pumpkin desserts!
This one is so good, I just had to share! 🙂 I have a recipe for a
Pumpkin Pie Pudding Recipe
on my blog. It's a great dessert for the kids, but how about taking that idea to the next level for the grownups? This dessert is rich and creamy. It has a mild pumpkin pie flavor with just a hint of maple in the nuts and cream. And it's really not that difficult – it sounds more complicated than it actually is. You can do this one!
Better test it out before Thanksgiving!
Thick & creamy pumpkin pie pudding!
Press the plastic wrap directly onto the pudding surface.
Maple sugar pecans – you could try walnuts also!
recipe adapted from Cooking Light

Yum
This might just be my new fave pumpkin dessert – so good!!
But then good old 
Pumpkin Dessert
comes in a close second.
Thanks for having me, Heidi! Have a lovely Fall day friends!
Do you love Fall? Do you enjoy pumpkin desserts? What's your favorite pumpkin dessert?
Lisa is blessed to be a stay-at-home mom and considers herself an imperfect homemaker.  She blogs about life in general and yummy recipes at Stop and Smell the Chocolates.  You can find her on Facebook and Pinterest, too!
See Also: