I may get
paid
for ads or purchases made through links in this post.
A fabulous Birthday for Baby doesn't need to break the bank! Check out this HUGE list of fun First Birthday Party Ideas!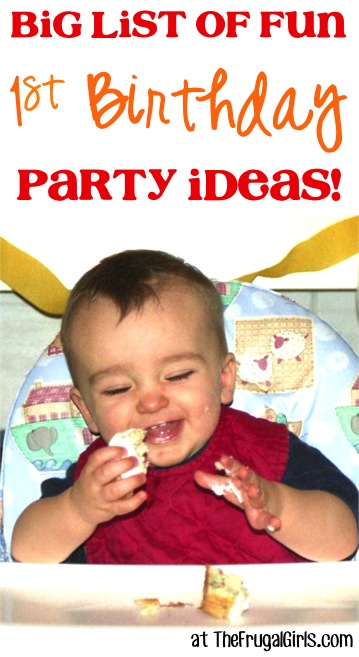 Are you looking for some fun First Birthday Party Ideas on a Budget?  1st Birthdays are such a special milestone for Baby, and always something fun to celebrate and attend.  These tips will help you throw an extra fun birthday bash without breaking the bank!
I received the following question from frugal friend Tori… "I'm looking for some fun and frugal birthday party ideas for a 1st birthday. Or do you have any other cute ideas for food, themes or decorations??  Thanks!"
Here are just a few of the awesome ideas that were shared right here and on The Frugal Girls Facebook Page…
Related:
First Birthday Party Ideas
Maura said: "I always make treat bags for the kids.  Typically I put in sidewalk chalk, bubbles, and Playdoh… which can be very expensive, but I use the 40% off coupons from Michaels to buy the stuff.   The best advice is to plan ahead, if you see stuff after a holiday and you think you can make it work, then buy it!"
Lisbeth said: "1st birthday – reuse the baby food jars.  I did a search on pinterest and found lots of uses for baby food jars as favors."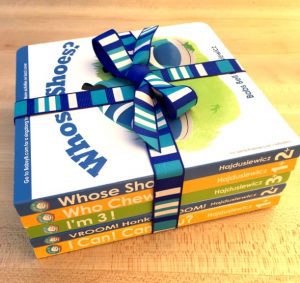 Michelle said: "First Birthday Party Ideas?  I make out great for party favors at the dollar store.  Bubbles – 3 for $1, modeling clay – small containers 8/$1, large 4/$1, pencils, balloons, etc.  And board books for the little ones!"
Karen said: "Plan ahead.  It's all in the planning, seriously.  You can score great favor stuff after Easter, etc..  September is also a perfect time to get 24 packs of Crayola crayons for 20 cents or less.  You can then use plain brown bags and have the kids decorate them.  I love a good favor bag and I get great stuff for very little, because I store it for awhile.  If you can't store items for awhile, the dollar stores are usually a good alternative."
Kate said: "I ordered finger puppets and they are adorable… I am going to put them on top of candy sticks for party favors for my son's second birthday!"
Sally said: "If you are ordering a cake from a baker or store, check to see if they offer a small child's cake for free along with the cake you ordered.  We got a deal like this with each of our sons, and it was awesome to watch them get to tear into their own special small cake, which was free to boot.  And we didn't have to deal with the slobbers a one year old will leave on a cake… ewwww!! lol"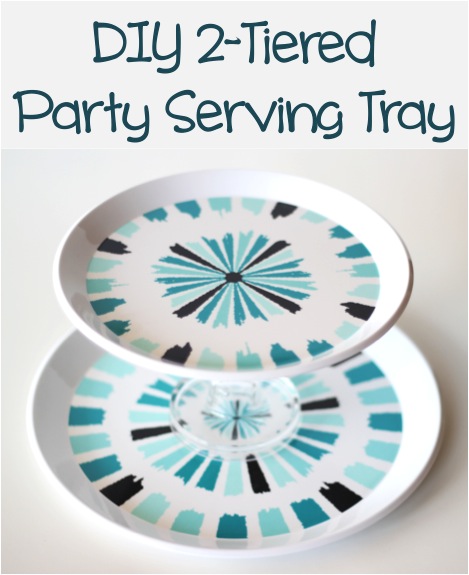 Molly said: "Harris Teeter offers a free "smash" cake for baby's first birthday.  Just fill out a form and return it to Customer Service."
Emily said: "Ask around your mommy group and see if there is a local baker in your area that makes cakes out of his/her home."
Becky said: "I just bought party supplies on clearance at Celebrate Express/Birthday Express.  My daughter's birthday isn't until May, but I got everything for 99 cents per pack.  And I think I only paid $5 for shipping.  Check them out!  Another great site for an edible cake pic that you can put on your own cake is Icing Images.  They run about $8 and shipping is reasonable."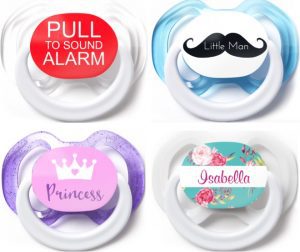 Helen said: "Tub toys make awesome cake toppers for this age group.  They can usually be found in a character theme and when the smash cake gets out of hand, the child can keep the toy all the way through a quick bath."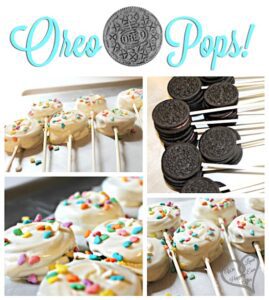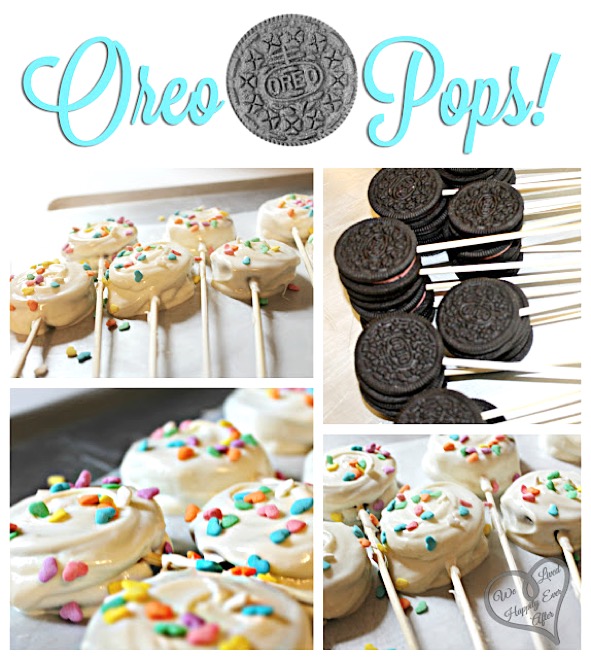 Denise said: "I made a cake and a butterfly smash cake.  For the large cake I did two cakes in a 12″ and two cakes in 8″.  I layered each size with pudding in the middle, then frosted them in a marshallow fondant, which was super easy to make and use.
For the butterfly smash cake I took two 4″ round cakes, and layered & frosted them in whipped topping.  I cut them in half and put the rounded ends together & cut triangles on the cut side to make the butterfly wings.   I did a butterfly theme for my daughter's 1st birthday.  The cakes looked and tasted great!"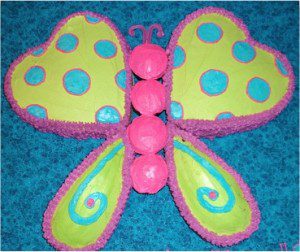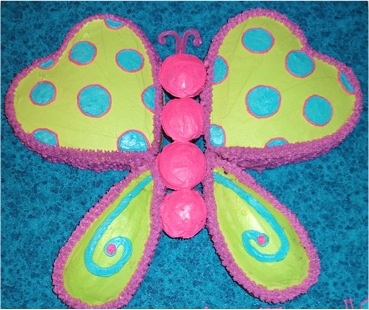 Emily said: "If you want to save on cake, I suggest making your own cupcakes and then investing in a Wilton tip to frost them.  Much cheaper than the store-bought decorated sheet cakes and they don't take long to make and frost."

Shellie said: "I am doing a cupcake theme for my daughters first.  I am making her smash cake in the shape of a cupcake of course.  Everyone else will have cupcakes they can decorate at a cupcake decorating station."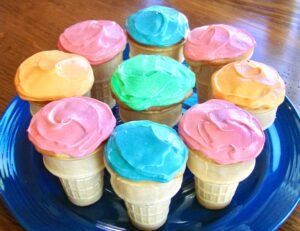 Monica said: "For my son's first birthday, we did a Mickey Mouse theme.  We only bought a couple of decorations with Mickey and then did solid colors to accent.  For his cake we made 2 dozen cupcakes, and then shaped them into mickey's head and frosted mickey's face over all of them.  This was really cheap and he got his own cupcake to tear into."
Rachel said: "1) Pick your theme, our son's 1st b-day was Mickey Mouse.  2) Buy one or two of the themed decorations.  3) Supplement with dollar store solids on everything else.  We bought Mickey napkins, one pack of Mickey balloons, and a Mickey banner.  Everything else was balloons, streamers, plates, silverware, etc. in solid colors from the dollar store!"
Brittany said: "Go to the Dollar Store for fun First Birthday Party Ideas.  They have tons of great party decorations, and if you don't see something in the store, you can order it online.
Also check with other mom's in the area and see if any of them have left over decorations you can use.  I always store extra decorations in a tub in case someone needs them."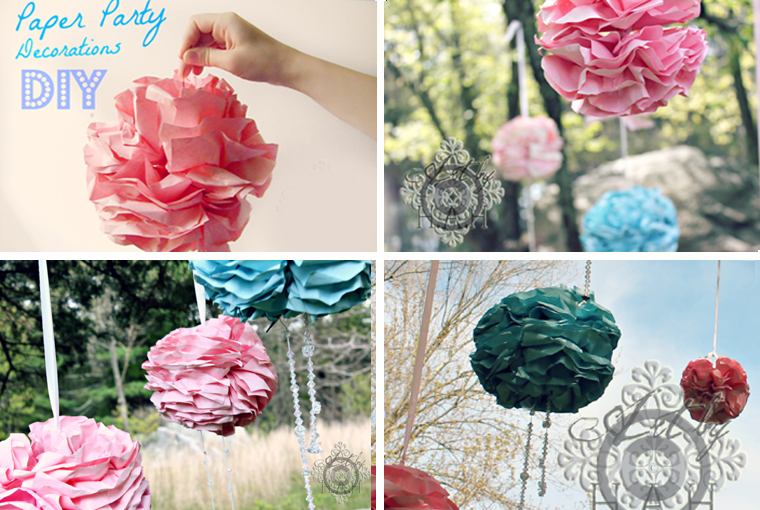 Jessica said: "You can just choose color themes, and decorate your table with various sizes of cupcakes and cakes.  Your table runner/cloth could be a piece of (darker) fabric that you will use later to make something (like pillows or bedding) for your child's room. 
My daughter had a pink and brown theme for her first birthday, and it turned out well.  I bought good quality faux flowers to further fancy the table up, and they are displayed in her room to this day.  You can buy balloons (with helium) for pretty cheap, and curling ribbon is also inexpensive."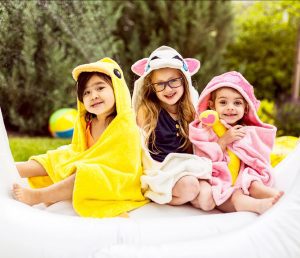 Kristina said: "1) If you are doing a character themed party (example: sesame street, where the wild things are) use toys your child already has as decoration.  Strategically placed stuffed animals and figures make great centerpieces and entryway decor.
2) For the biggest bang, concentrate your decor by the front entryway (it's the first thing your guests will see) and where they get their food.
3) Check Vistaprint to see if you can get a great banner or sign for cheap.  You'll look like you spent a lot when you didn't!
4) Consider getting a super cute shirt for your child with the number 1 on it at etsy.  Your sweetie is going to be in a lot of pics, so you will get a lot of mileage out of your purchase!"
Mindy said: "I just planned my sons first b-day party and it was a barnyard theme.  I'm obsessed with event planning and my top tips are:
1) Shop Around!!  I always do tons of shopping around on the internet and look for coupons, sales, and free shipping.
2) I'm all about DIY and I LOVE etsy for some purchases, but it's also a great tool for DIY ideas!


3) I totally agree that you should pick a few name brand theme items, and then do the rest in solids from the dollar store.
4) I make my own digital invitations and printed them on 4×6 photo paper at Walmart for $.19 each."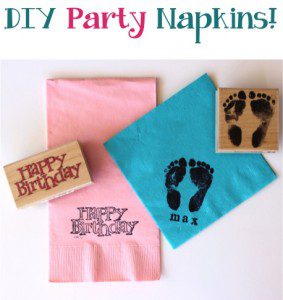 Dana said: "Hmm… First Birthday Party Ideas?  We did a garden themed party for our daughters 1st birthday.  I borrowed silk flowers from friends and family + bought some at the dollar store.  I made big flowers to hang on the wall, using cardboard & craft paint, and then put a picture of her in the center of each flower."
Kimberly said: "Seriously look at stuff on etsy.  I found tons of cute things for my little ones first birthday party in November."
Larissa said: "When having a party for your child, the cheapest place to host is nowhere else… but in your own home or backyard!  Serve kid-friendly finger foods like chicken nuggets, sliders, fruits, etc.  Bake your own cake (very frugalicious).  Instead of goody bags, how about taking home arts and crafts they made at your party (play dough? Popsicle stick art?) and a balloon to boot.
Be creative, but remember, you're doing this to make your child feel special celebrating their birthday!"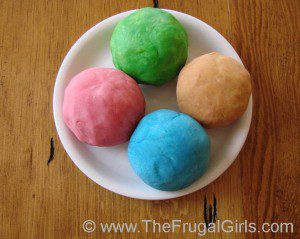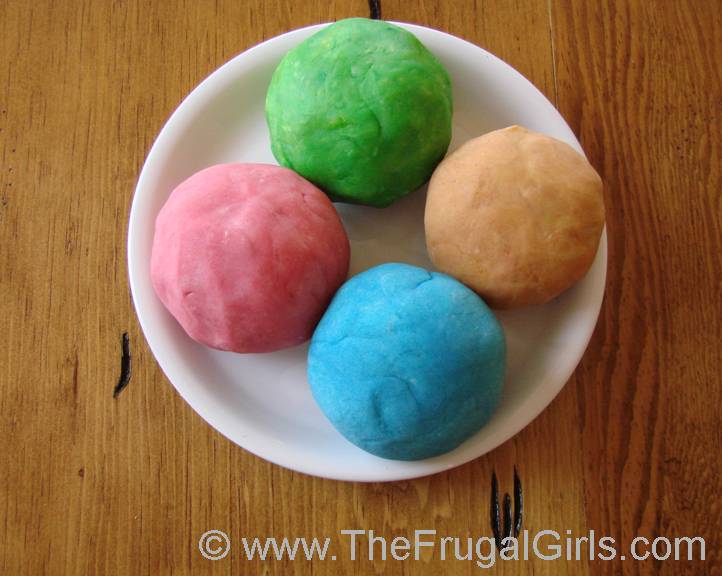 Stacy said: "My daughter's 1st birthday was a "1" theme.  I cut out big 1′s, then cut out pictures of her from various times during her first year.  The pictures were glued to the #1′s and hung from the ceiling.  I found paper lanterns in the dollar section at Michaels and hot glued Z's (my daughter's name is Zoe) and 1′s to them to hang outside.
Check Craigslist.  Also look on Freecycle to find party supplies (and other stuff) for free."
Liza said: "Try to plan a few weeks ahead, that way you can easily find cheap party supplies online. The party doesn't need to last more than a couple hours, since the kids are quite young and can get restless.  Provide a simple snack (for the kids and parents) and simple games, like duck-duck-goose."
Jessica said: "For First Birthday Party Ideas, just remember to keep telling yourself its only their 1st, and they don't know or care.  So keep it reasonable and age appropriate, short and sweet."
I have even more fun party ideas I know you'll love.  Get ready for some serious party inspiration…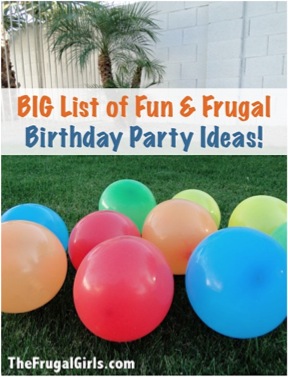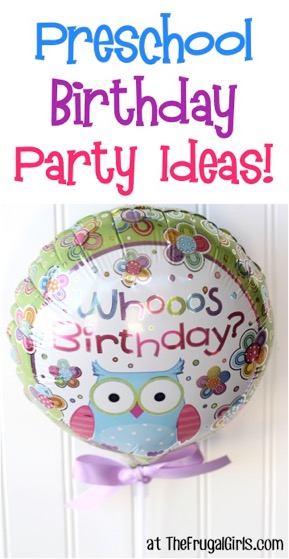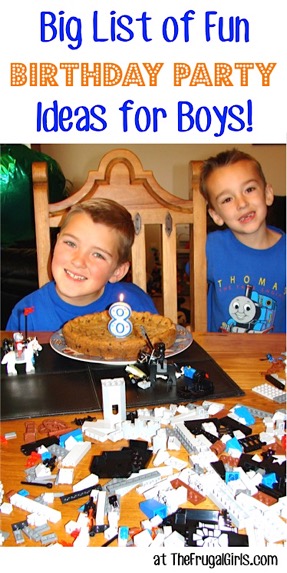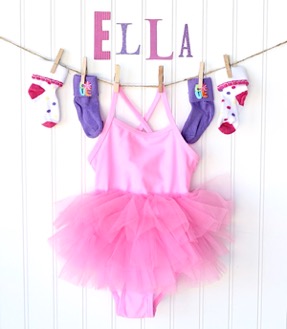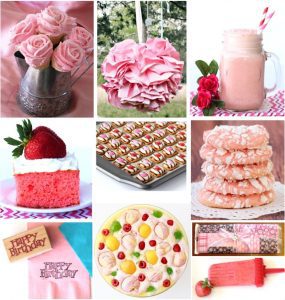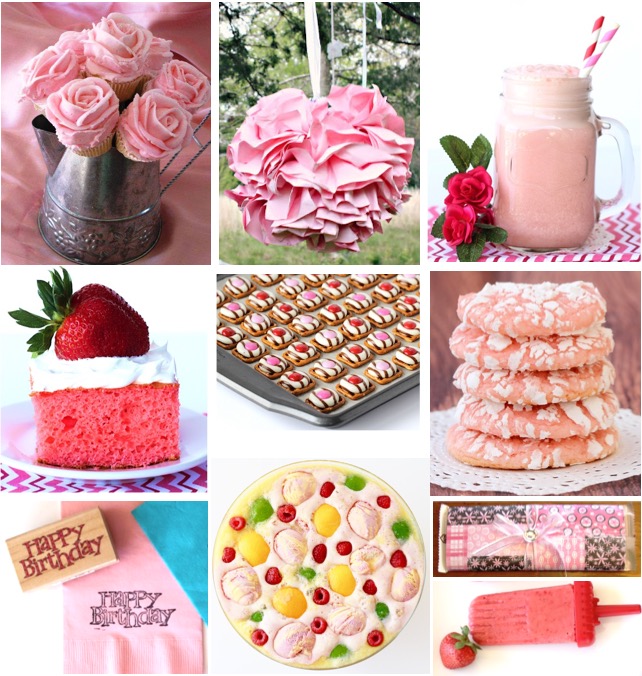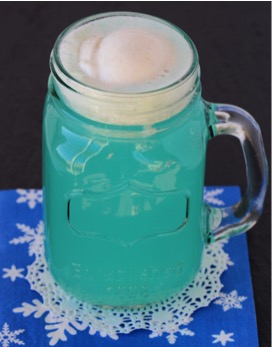 Score frugal gift ideas for the Kiddos, Teens, Dad, Grandma, Grandpa, Co Workers and more!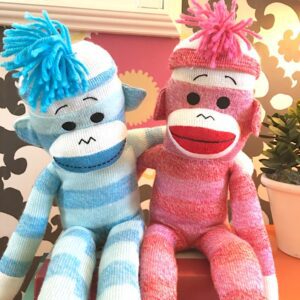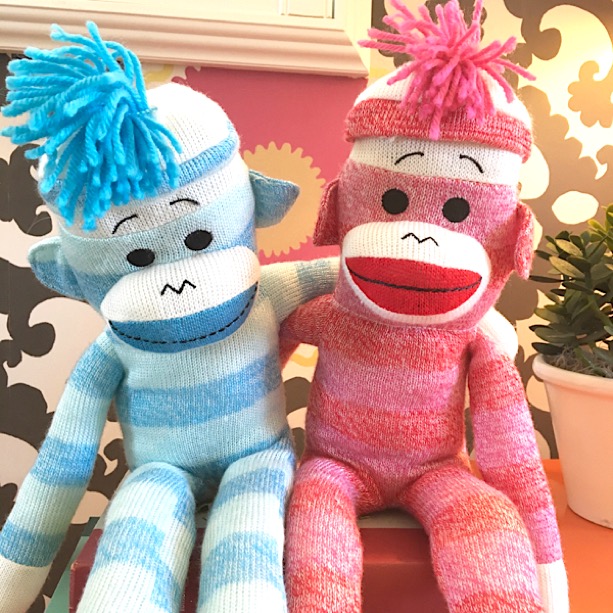 So do YOU have any fun First Birthday Party Ideas or Tips?

Leave a comment & share!