I may get
paid
for ads or purchases made through links in this post.
Planning a sleepover?  The little ladies are going to LOVE these  fun Girls Slumber Party Ideas!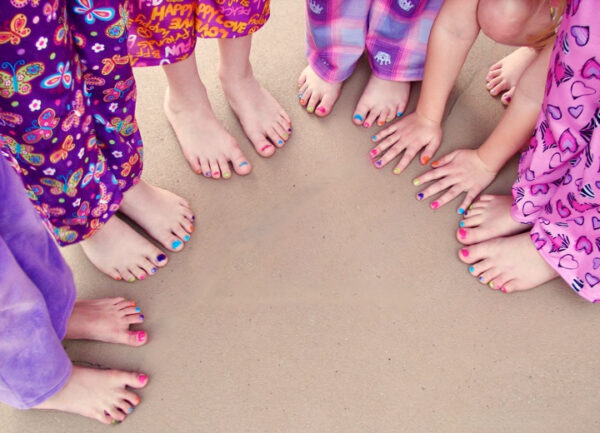 On the hunt for some fun Girls Slumber Party Ideas?
Spoil your girls with love when you throw an awesome slumber party this summer.  You'll love this fun collection of 6 Girls Slumber Party Crafts, Sleepover Games, Party Food and Ideas + more!
Frugal friend Christina recently threw a sleepover party birthday bash for her daughter… and was so sweet to email over her pictures! 😉 Are you ready for some serious Sleepover inspiration?  Read on…
Girls Slumber Party Ideas
Related: Fun Frugal Birthday Party Ideas
Hi fellow Frugal Girls!  For this party, I used a lime green twin size flat sheet for the table cloth and put craft supplies in cute tin buckets.  The buckets were purchased at Target from the Dollar Spot section.
I made the flower centerpieces from clearance items as well.  I picked up the flower charger and dot napkins from Hobby Lobby.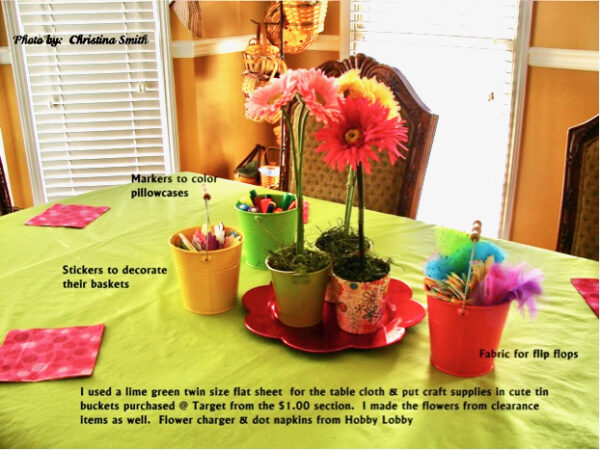 I purchased a small chocolate fountain and the girls dipped strawberries and marshmallows in it.  They had a LOT of fun!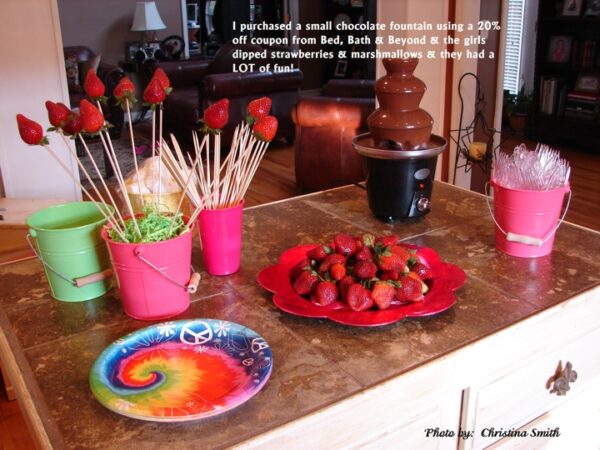 Girls Slumber Party Favors:
Hailey and I made their goodie baskets with spa essentials (picked up from the Dollar Store) as well as their craft items.
They colored their own pillowcase and made fabric flip flops.
The baskets were purchased from the Dollar Tree and we cut out their names from scrapbook paper using a personal cutting system.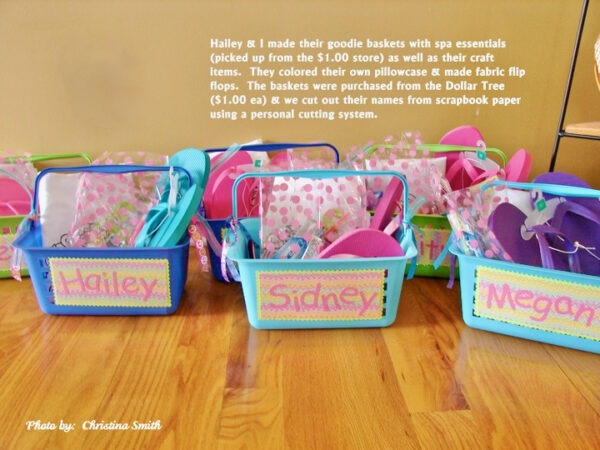 Spin the Bottle Nail Polish Game:
I made this game – a "new" version of spin the bottle!
Each girl took turns spinning, and when it landed on a color they had to paint 1 toe (or finger) with that particular color.
When it landed on the other spaces they could pick their favorite color.
The girl who had all nails painted first won a prize.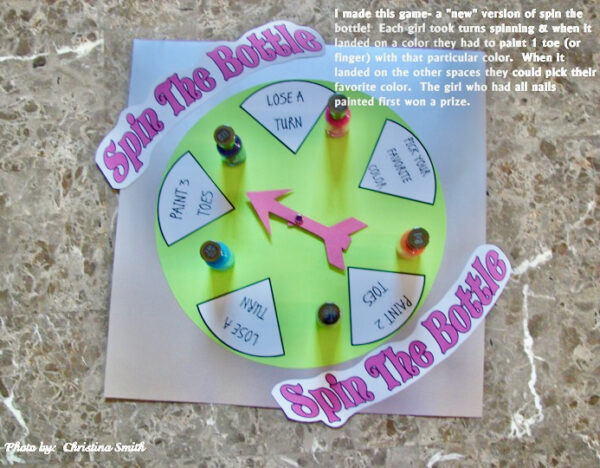 Here are the girls after the Spin the Bottle Nail Polish Game…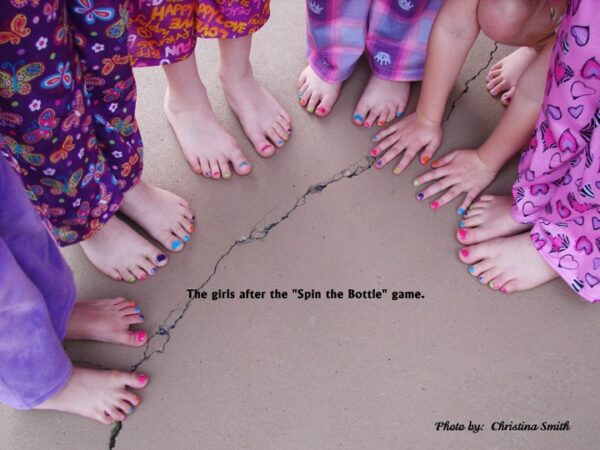 Girl Slumber Party Crafts:
Here was craft time – as they color their own pillowcases purchased from ColorTime. (They were the most expensive part of her party supplies).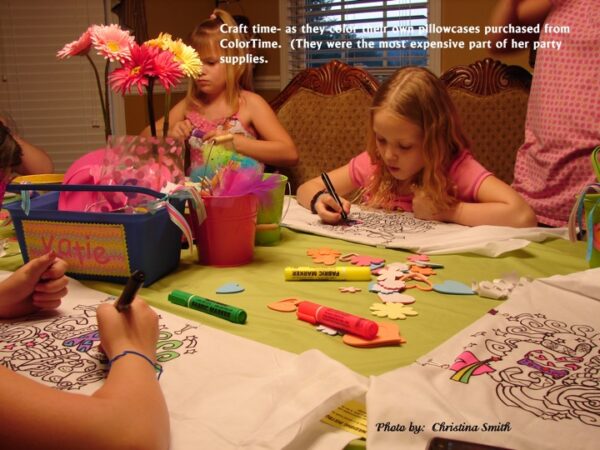 Flip Flop Craft:
I pre-cut strips of tulle and fabric for them to tie onto inexpensive flip flops we purchased.  They LOVED this craft!!!
All the girls were able to wear their flip flops home after the party.
Frugal friend Marion writes: "My granddaughters loved this craft! Ages 4-12."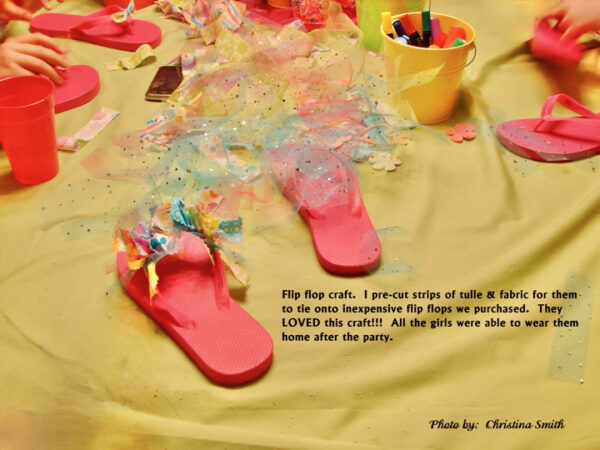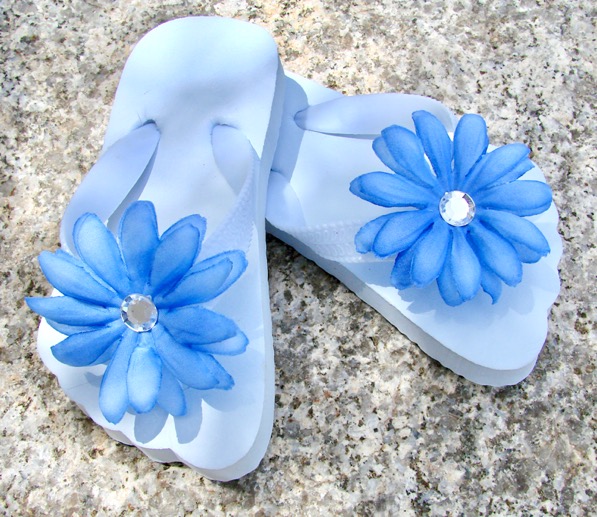 Wasn't that such a great party?  Thanks so much to Christina for sharing!
More Girl Slumber Party Games: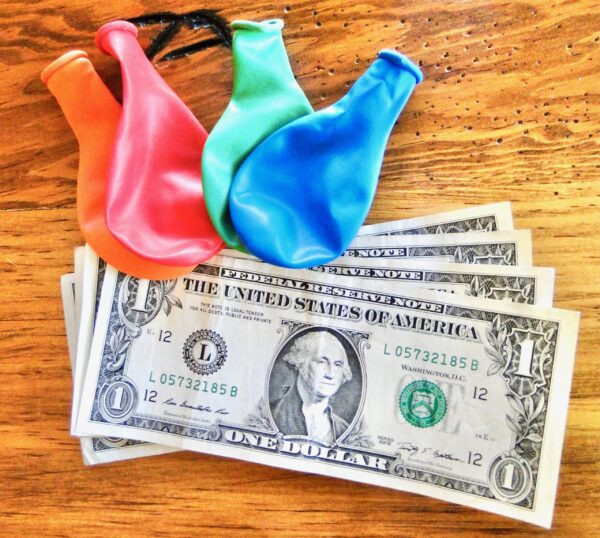 Girl Slumber Party Food Ideas:
Keep those tummies full and happy with these delicious Sleepover Snacks…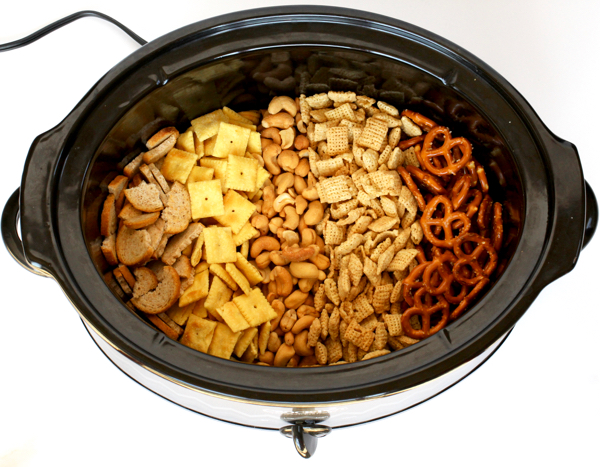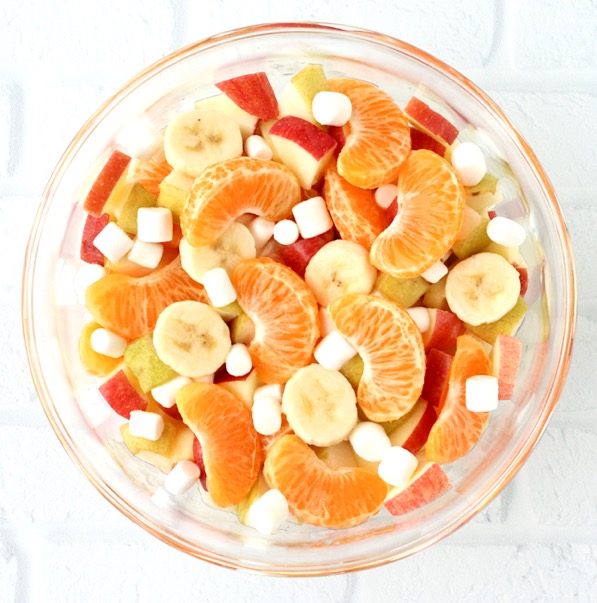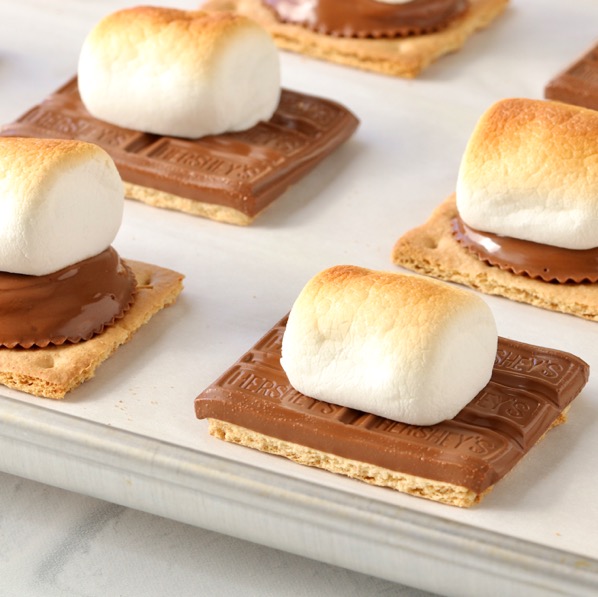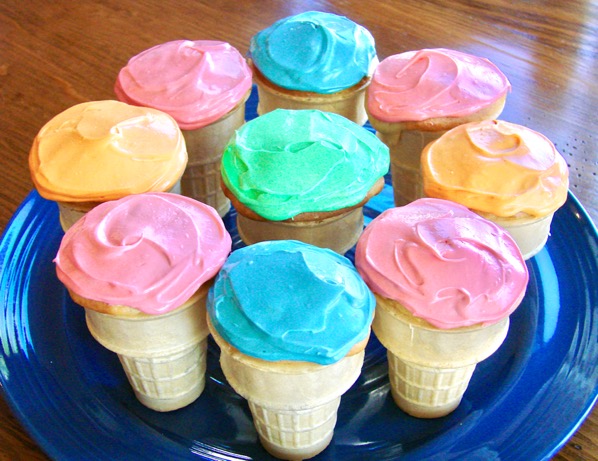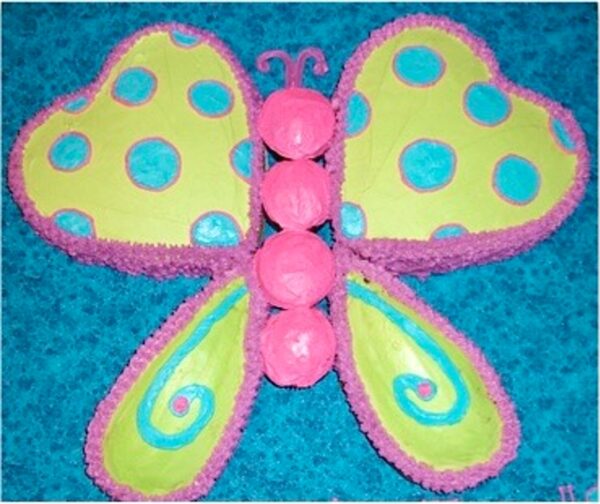 These punch recipes are so delicious, and are guaranteed to be the hit of your sleepover! The girls will be swarming the punch bowl and sipping up seconds!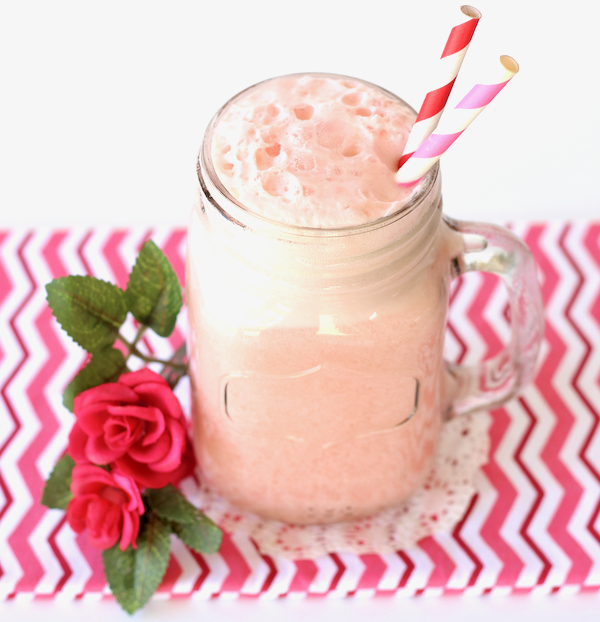 Girl Sleepover Party Decorations: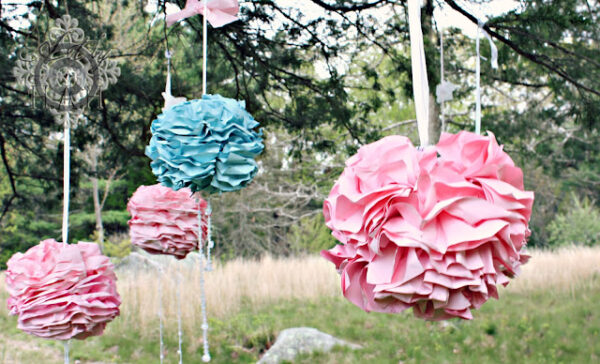 Girl Slumber Party Themes:
Here are a some of my favorite Beach Party Tips to get your creative party ideas flowing!  They're perfect for hula or luau theme… and always so much fun!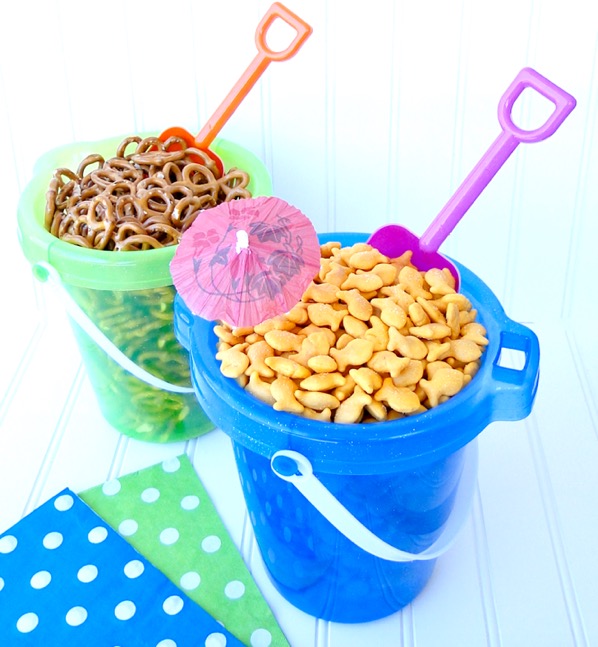 Plan an unforgettable party with these sweet and fun Taylor Swift Themed Birthday Party Ideas!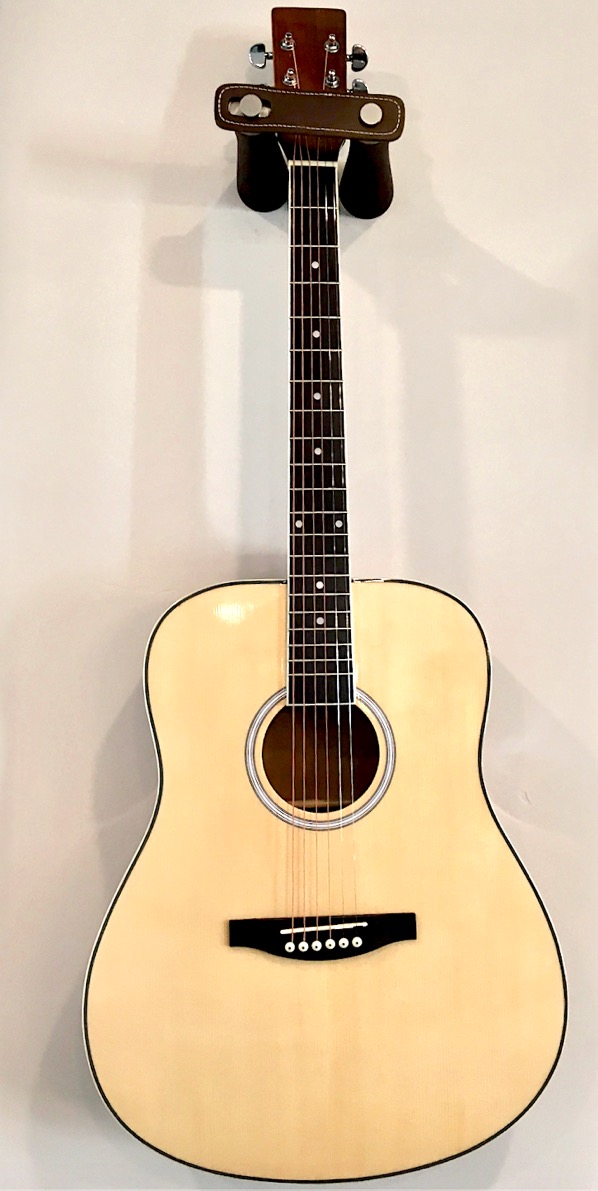 Whether your favorite part of winter is building a snowman, having a fun snowball fight, or just enjoying a good party with friends, these Winter Wonderland Party Ideas are perfect for you!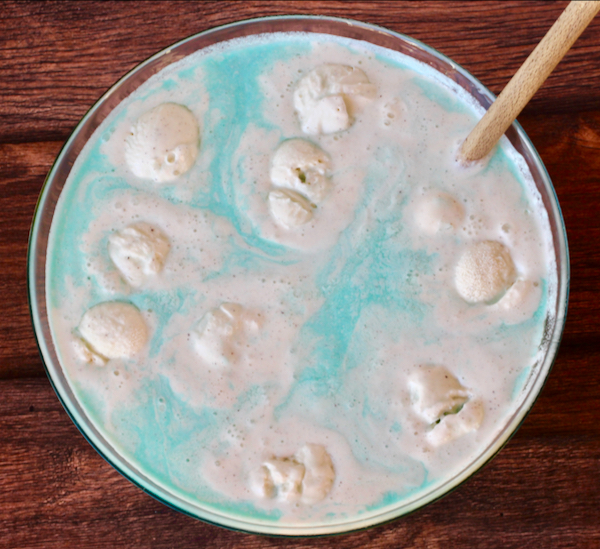 Then… find more fun Party Ideas great for Sleepovers below…
Planning a party??  You'll LOVE these fun Thrifty Birthday Party Ideas for Tween Girls!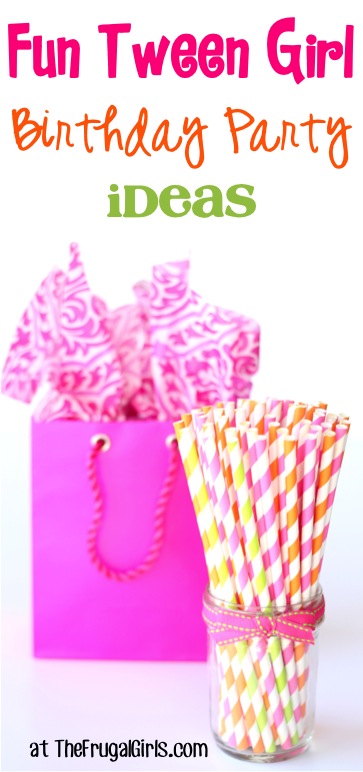 These 26 Pretty Pink Birthday Party Ideas are a fabulous way to celebrate in style!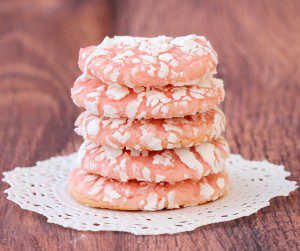 Do you need some fun Sweet 16 Birthday Party Ideas for your girl… or do you know someone that does??  Load up on fun inspiration with these Sweet 16 Birthday Party Ideas!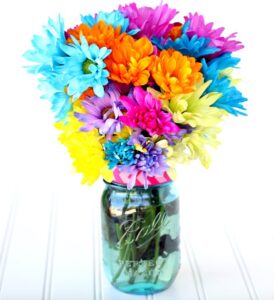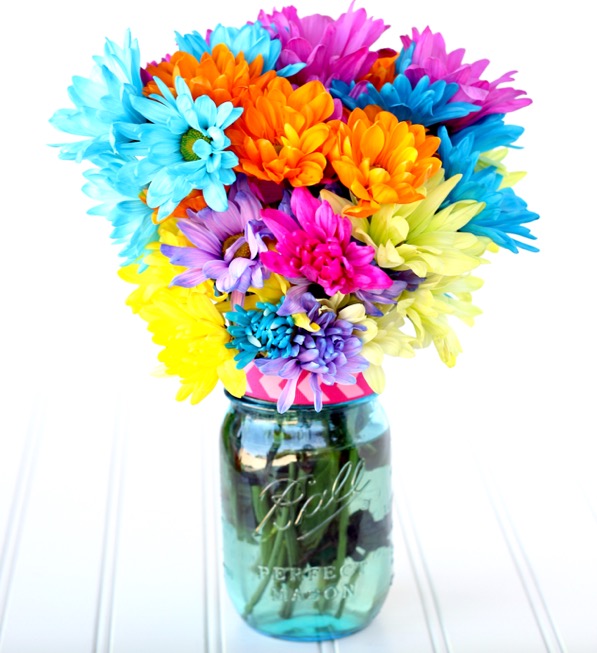 These Graduation Party Ideas are sure to make your grad's celebration extra special and completely memorable!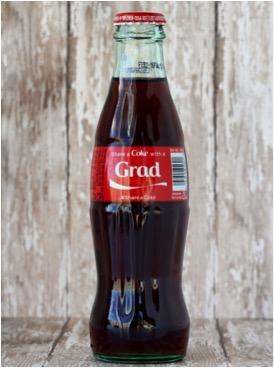 Planning a party??  Check out this BIG List of Fun Frugal Birthday Party Ideas for some creative inspiration for all ages!!  You'll find everything you need for Creative Party Games, Decorations, Fun Party Food and Punch, and more!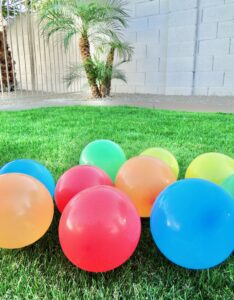 On the hunt for the Best Birthday Freebies and the Most Free Birthday Stuff? Check out this birthday gold mine!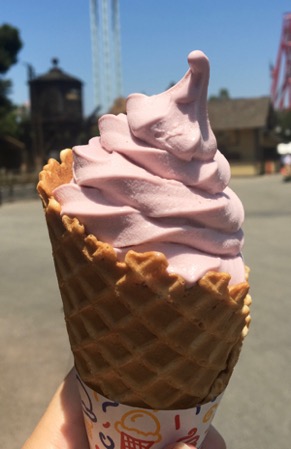 Score frugal gift ideas for the Kiddos, Teens, Dad, Grandma, Grandpa, Co Workers and more!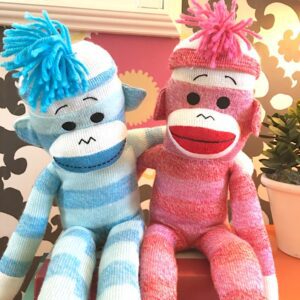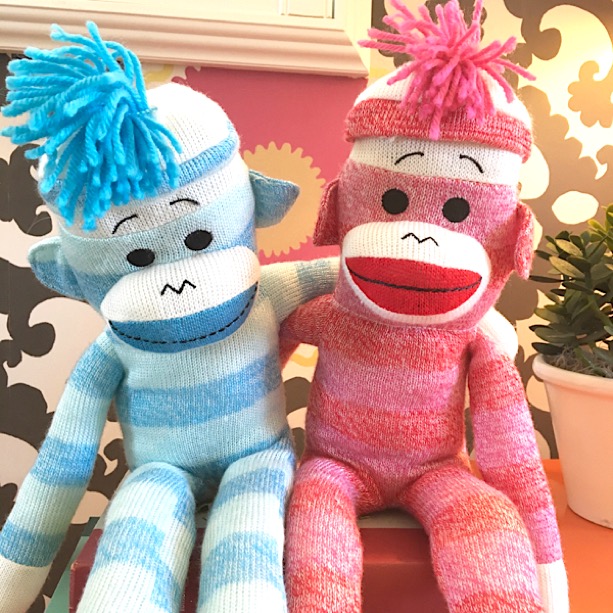 Don't miss out on anything!  Get all the latest fun new Frugal Girls Tips, Recipes + more right here…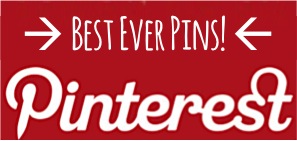 So do you have any fun Girls Slumber Party Ideas?
Leave a comment & share!