I may get
paid
for ads or purchases made through links in this post.
Create a fun new holiday tradition when you make these popping DIY Christmas Crackers with Snaps!  Popular in the UK, now you can share these exciting poppers with your family, too!  They're always the hit of the party with a loud POP!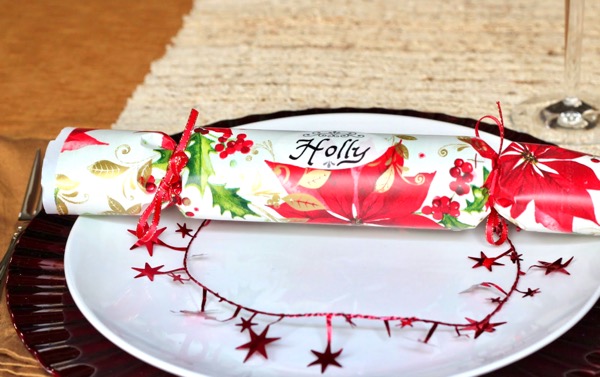 Following is a fun Christmas Craft and guest post by Holly at A Baker's House… enjoy!!
What a treat to share this craft on The Frugal Girls! Thanks so much to Heidi for the invitation to guest post. I'm Holly and I blog at A Baker's House.
DIY Christmas Crackers
Related:  45 Easy Christmas Crafts for Kids and Adults!
DIY Christmas Crackers are a tradition dating back to the 1800s in England. These colorful packages which open with a loud "pop!" are shared at Christmastime.
The traditional contents consist of a tissue paper hat, a joke or bit of trivia, and a trinket of some sort. Trinkets can be useful—a miniature flash light, small screwdriver or key ring. Other times the trinkets are good for a laugh—a kazoo or yo-yo would create smiles at your holiday get-together.
Other countries share this festive tradition and in recent years holiday crackers have been sold in the U.S. This year I've already seen them at William-Sonoma, Target, World Market and Target.
We've used the store-bought crackers a few times and have enjoyed them but wouldn't it be more fun to customize your own?
You can even make Fall themed crackers, like these…
Thanksgiving Crackers Poppers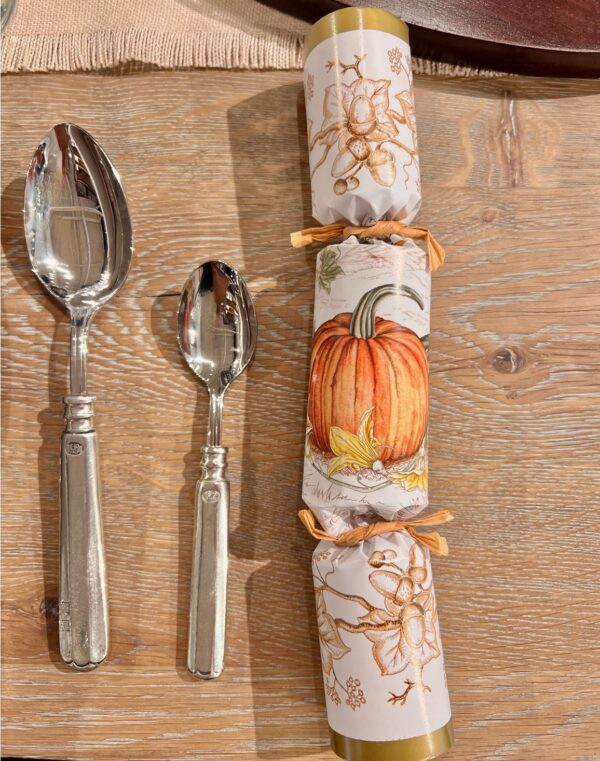 So are you ready to make your own popping crackers?  Here's what you'll need to get started…
Christmas Crackers Supplies Needed:
Paper Towel Tubes
Freezer Paper, Parchment Paper, or Wax Paper
Wrapping Paper
Ribbon, cut into 12 inch pieces
Contents: Tissue Paper for Hats, Paper to Print Jokes, Trinkets, and More
Other: golf balls to assist in wrapping your crackers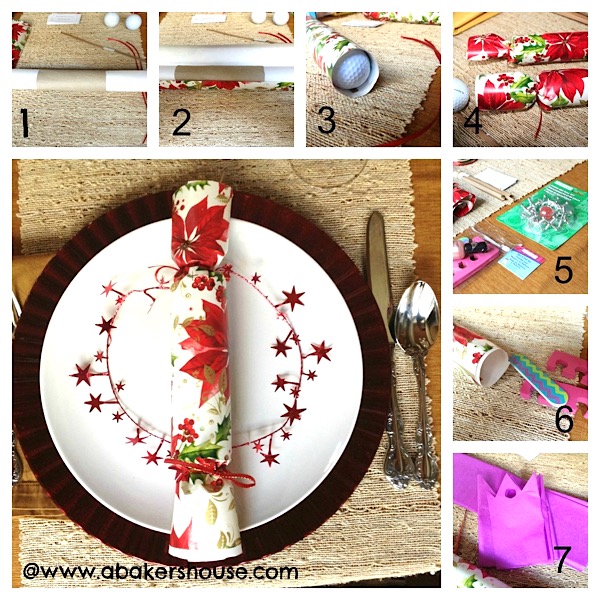 Let's get started. To get the "pop!" you'll need to order the popping strips for a few dollars. Here is the site I used. You could easily skip this step and add bells for some noise but it's fun to have two people pull on opposite ends of the popper and then the winner is whoever is left with the longer end (similar to a turkey wishbone).
I use paper towel tubes to support the shape of the cracker. You could also buy tubing at the craft store. Cut your tubes in half so that each is about 5 1/2 inches long. I think it looks nice to use freezer paper to line the tube so that the recipients won't even notice that their gift began as a paper towel tube.
This layer also adds stiffness to the wrapping paper so that it is less likely to rip when you tie the ends. Cut the freezer paper and your wrapping paper into rectangles about 12 inches by 6 inches. Roll up the freezer paper and insert it inside the tube. (See photo 1)
Next wrap the wrapping paper around the outside of the tube. Secure it with tape, glue or double-sided tape if you wish. (See photo 2)
Lay the popper inside the tube. Tie the first end of the cracker. Here's where the golf ball comes in to play. Christmas Crackers always have long tube-like endings. The paper isn't bunched together and the crackers are uniform in appearance.
You can buy wrapping tubes to assist you (and I made some with an extra paper towel tube) but the best tool I found was the golf ball. Stuff the golf ball into the end of the cracker. (See photos 3 and 4)
Notice in photo 4 that the top Cracker has squished ends because no golf ball was used.) Carefully take your ribbon and tie it about 1/2 inch off the end of the cardboard tube. You'll need to leave that space so that you don't rip the paper.
Pull gently but firmly so that you secure the end tightly. Remove the golf ball and you are left with a gorgeous tube of wrapping paper.  Now fill your tube. (See photos 5 and 6)
The hats: Yes! Everyone at the table will wear a funny hat on his/her head and you'll all have a good laugh. This is part of the fun and no party-poopers allowed! Take the tissue paper and cut it into 5 inch sections. (See photo 7)
It may already be folded from its packaging or, if not, fold it into sections and cut the top of your crown with a jagged edge—think of those hats we used to get in Burger King happy meals. That is the look you'd like to achieve. Tape the edge of the hat together, about 12 inch diameter for adults and 8 for children.
My sister found a great site with friendly Christmas jokes for kids here. This has an English twist so a few jokes might not get laughs from an American audience but use whatever makes you chuckle.
Trinkets—customize your crackers so that the golf fan receives tees, ball makers and golf pencils; someone who likes pampering might be thrilled with nail polish, a nail file and toe separators.
Be creative and make your friends and family grin from ear to ear when they pop open their crackers! Merry Christmas!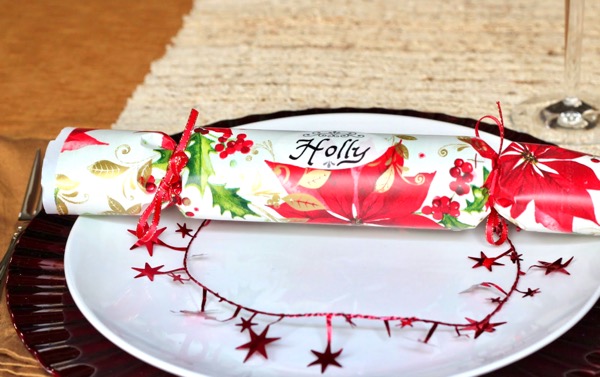 Many of my posts are desserts because that is what I love to eat! I also have a growing interest in preserving jams & jellies. I'd love to connect with you! Please come visit me at A Baker's House, on Facebook and Twitter.
So now that you've scored this fun DIY Christmas Crackers ideas, are you ready for even more Homemade Christmas Gift and Craft Inspiration?
Spoil your yourself, your friends, family, and teachers this year with some sweet homemade crafts and gifts… made with love!
Create a fun Christmas countdown you can use year after year with this DIY Advent Calendar for Kids!

Add some sweet holiday decor to your home when you make this easy Mason Jar Christmas Candles craft!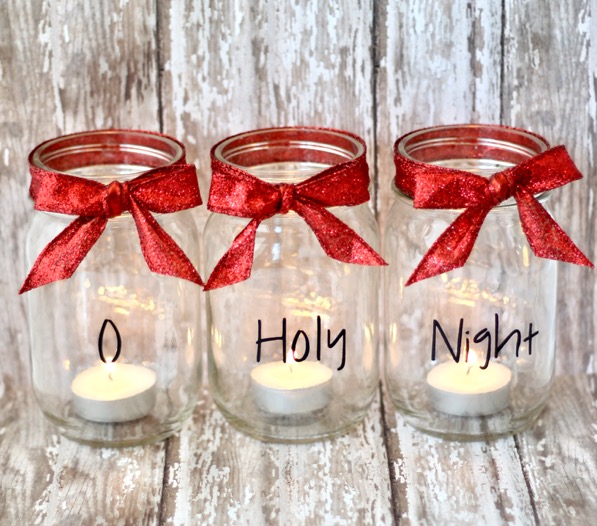 You can use these adorable jingle bell wreaths as ornaments on your tree, or as door hangers so you can hear the jingle every time a door opens or closes!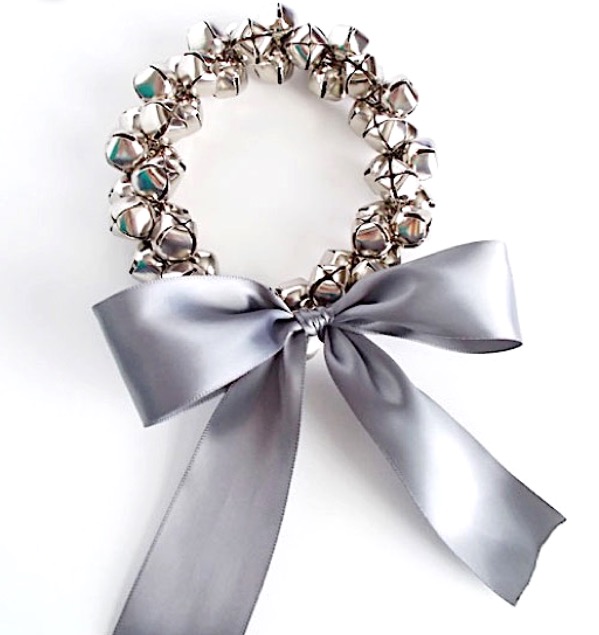 This Christmas craft is an easy and thrifty way to make paper circles into decorative balls.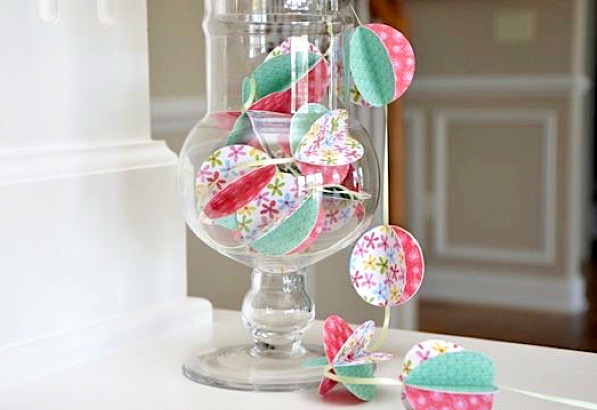 Not only are these DIY Waterless Snow Globes easy to make, they also make a fun craft to do with the kiddos!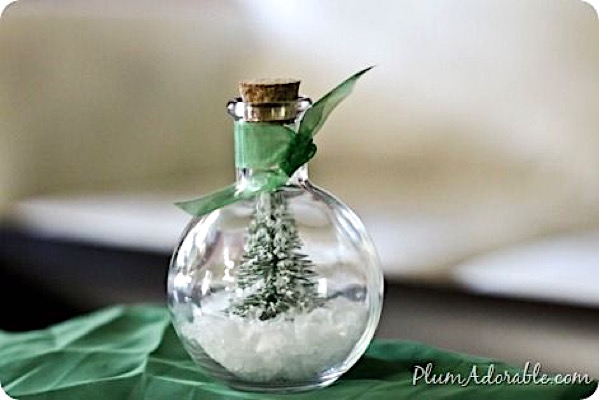 If you know how to sew, these Burlap Stenciled Pillows will be fun a fun addition to your Christmas décor!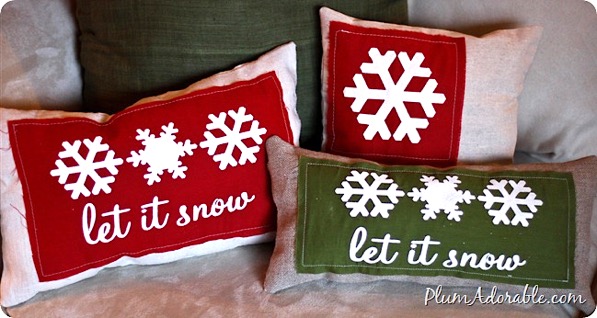 Got the itch to craft?  Do you absolutely love Christmas??  If you're feeling crafty, get inspired with this BIG List of Fun and Easy Christmas Crafts!
Load up on fun Christmas Decorating Ideas using this BIG List of Christmas Decor Tips + Tricks!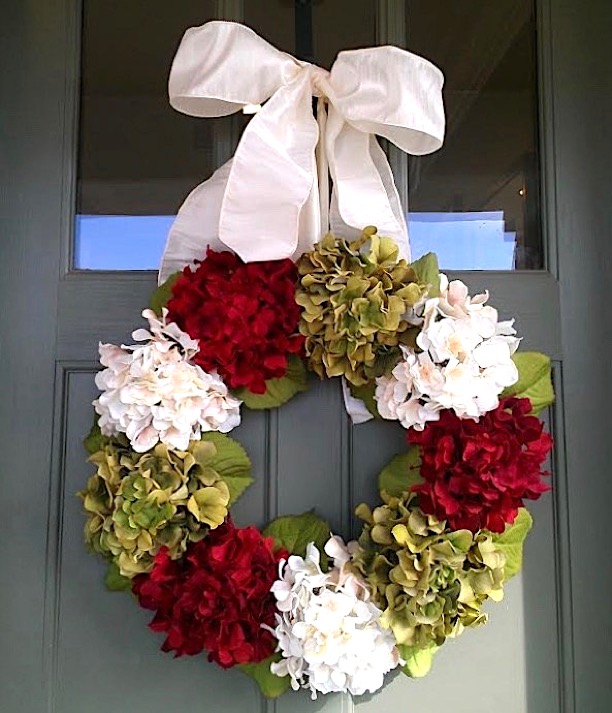 Whether you're looking for festive new Christmas traditions for families, December date nights for couples, holiday party ideas for adults, exciting activities for friends, or magical ideas for kids… I've got you covered!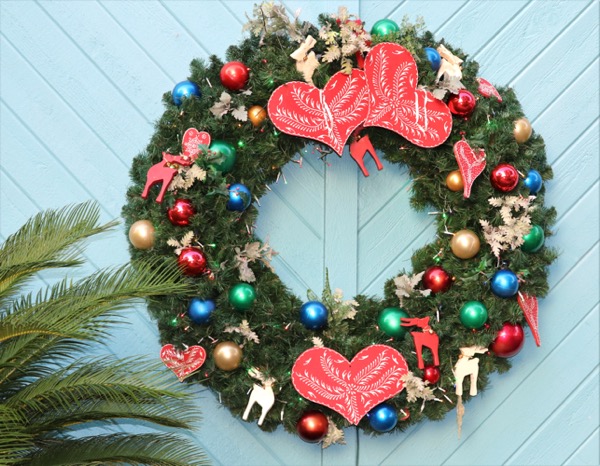 With these easy Homemade Christmas Gift Ideas, you'll always have enough time to give that perfect homemade gift!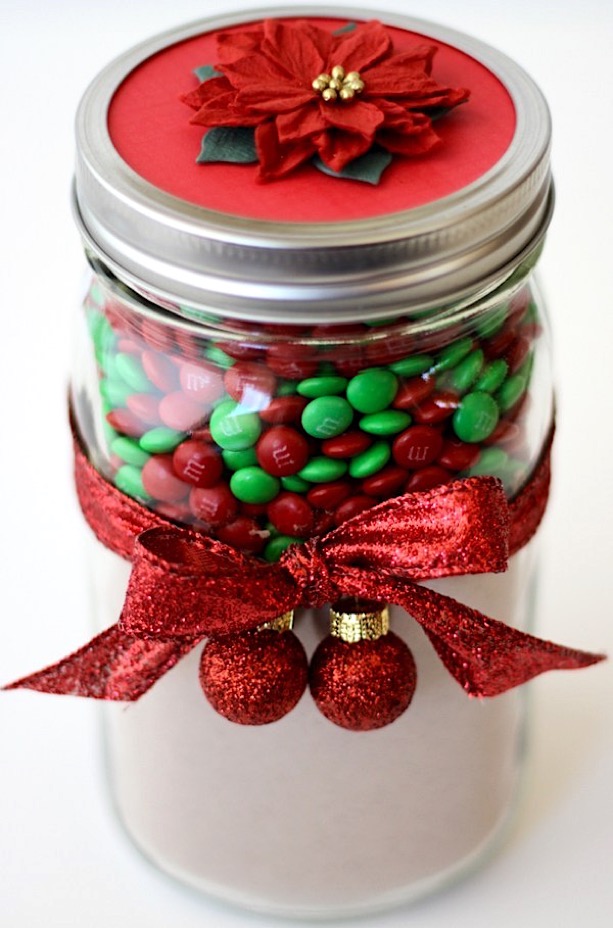 Load up on inspiration with this HUGE List of Unique Gifts in a Jar Recipes!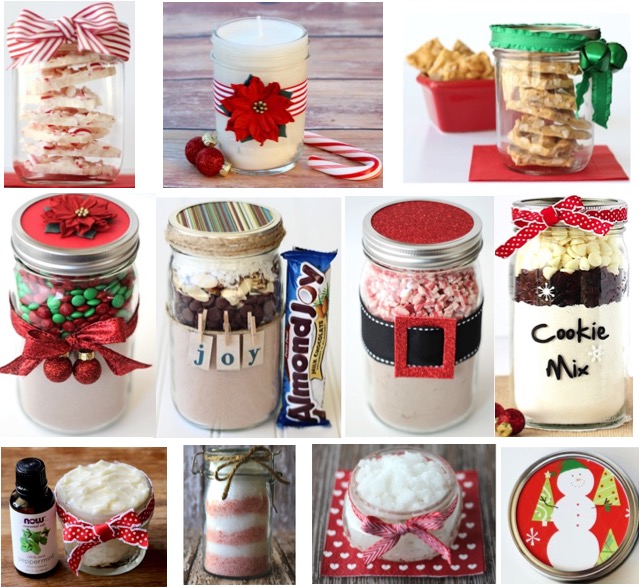 Score frugal gift ideas for the Kids, Teens, Dad, Grandma, Grandpa, Foodies, Co Workers and so much more!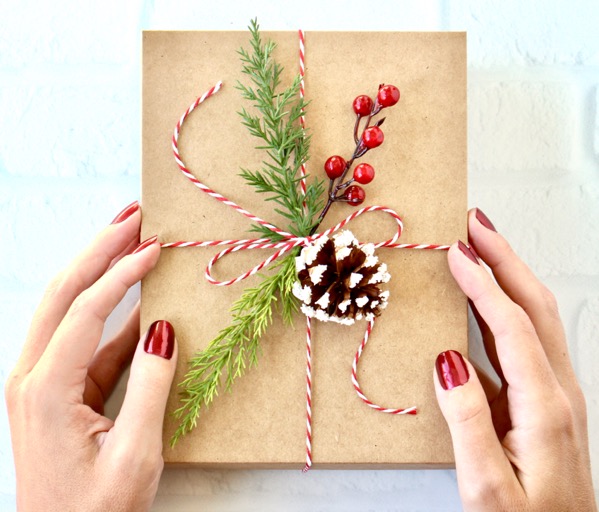 So have you every made DIY Christmas Crackers before?
Leave a comment & share!