Add some glitter to your cookies when you make these Valentine's Day Glitter Cookies!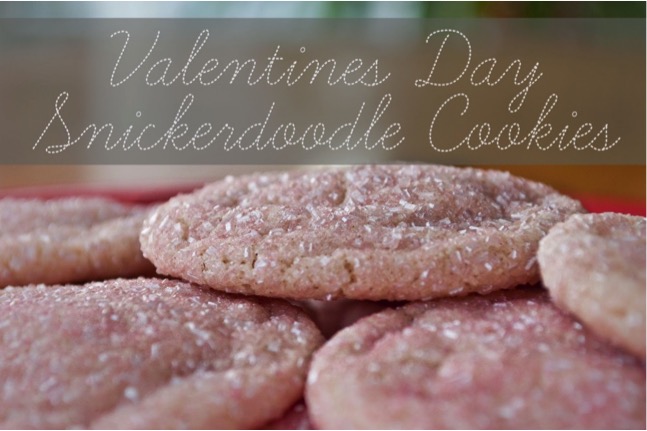 Following is a delicious Cookie Recipe and guest
post by Carly at Createlive ~ enjoy!
In true Valentine's Day spirit, I'm covering things in pink, red, and glitter dust after making these
Valentine's Day Glitter Cookies
. Half of you are smiling (and oo-ing and awww-ing). The other half are cringing. Maybe that means you think I'm tacky.
But tacky is as tacky does and tacky does make cookies.
This is truly less of a 'recipe' and more of a trick to turn-any-cookie-into-a-Valentines-Day-Cookie (or, truly, to turn any dessert into a Valentines Day Dessert).
For this recipe, I used a pre-packaged box of Snickerdoodle mix found in my mother's pantry… and some awesomely pink and shiny edible glitter dust made by Wilton, purchased from Hobby Lobby. I also grabbed a can of sparkly white larger-grain edible glitter.
Snicker doodle cookies are pretty much your regular old cookie, coated in a cinnamon sugar dusting. For these, I went ahead and mixed half of the cinnamon sugar bag in with the dough. Then, instead of coating them in the brown cinnamon sugar mix, I combined the glitter ingredients, along with organic white sugar, and rolled the cookie dough balls in there. But surrsly. Aren't they cute?
P.S. Check out my Pink Hands. What can I say? You caught me pink-handed…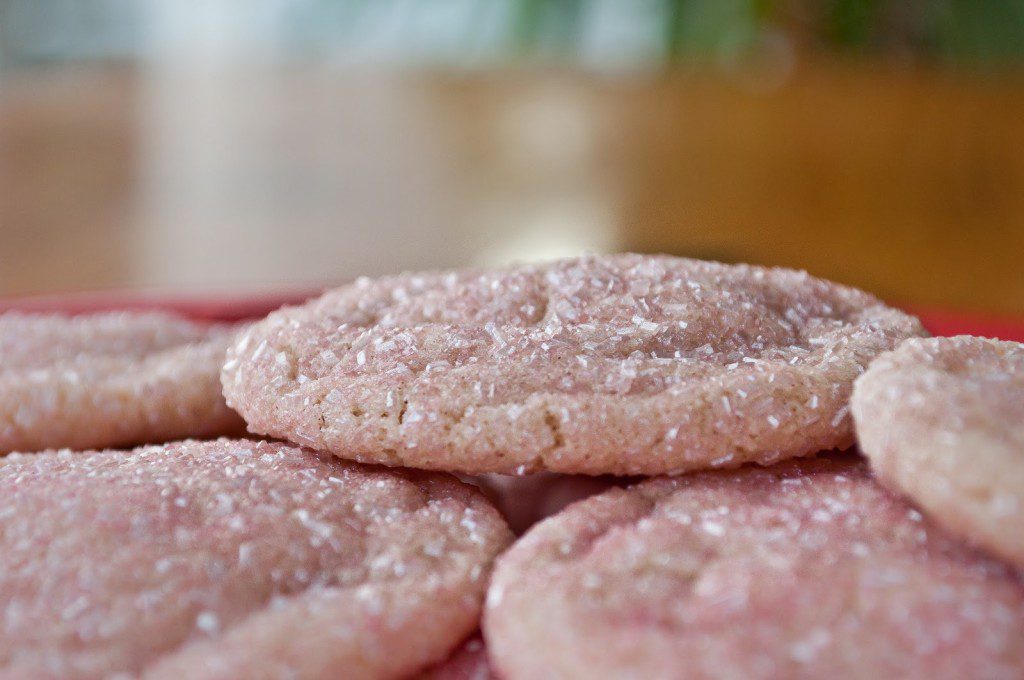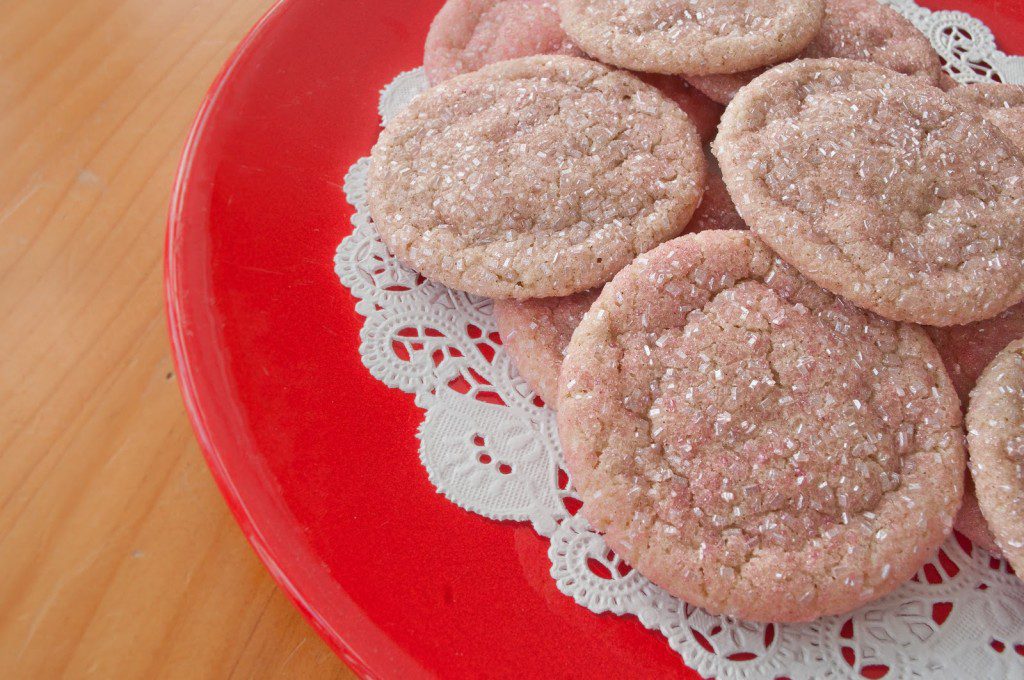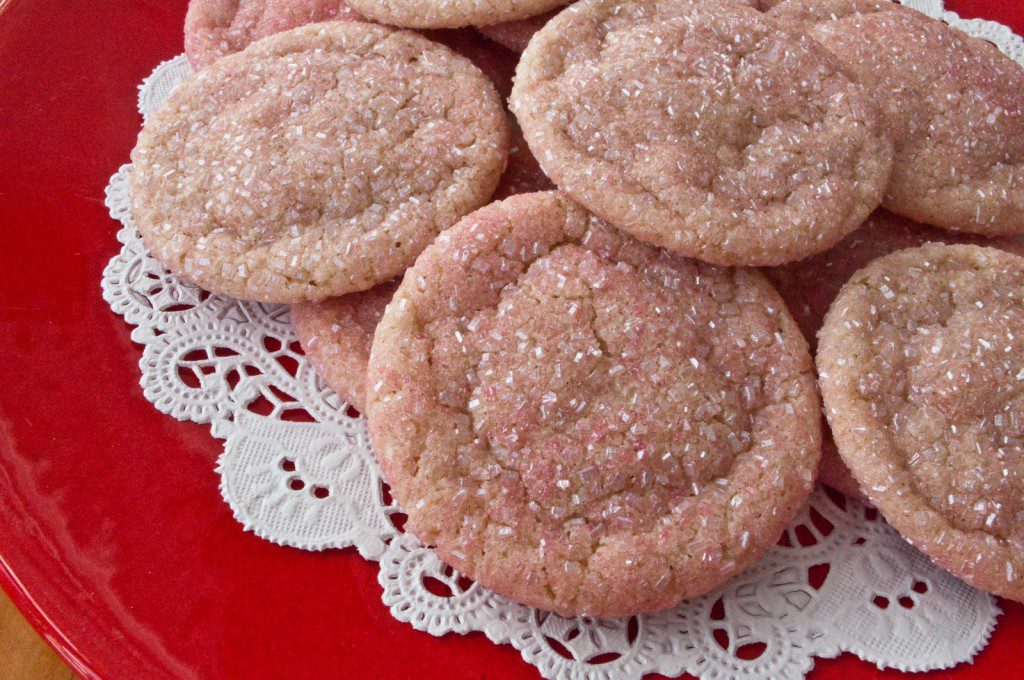 Valentine's Day Glitter Cookies
Valentine's Day Glitter Cookies
Ingredients
1 bag Snickerdoodle mix
Accompanying box ingredients (though I did cut the butter in half)
½ Cup Organic (or regular) granulated sugar
¼ Cup Glitter Crystals (I found at Hobby Lobby)
1 Teaspoon Wilton Pearl Dust in Pink (not available via Hobby Lobby's website, but was available in-store)
Instructions
Combine Snickerdoodle ingredients as instructed on your chosen box mix.
Instead of rolling the dough in cinnamon and sugar, add half of the instructed cinnamon sugar mixture into the dough and combine until well mixed (that means that, if your box provided a packet, use only half… but if you were instructed to make it yourself, cut the ingredients in that recipe in half).
In a shallow bowl, combine granulated sugar, glitter crystals, and Wilton pearl dust. Mix well with fingers or a fork.
Roll balls of cookie dough, then roll them in the sugar/glitter/pearl dust mixture until covered and place on a greased cookie sheet. Continue with the rest of the dough.
Bake for the prescribed time and heat specified on the box (I baked mine for 10 minutes) and remove.
Carly is a young blogger living in Chicago who loves mason jars, healthy cupcakes, oxymorons, and workout music!  Check her out on Facebook and Pinterest!
Ready for more fun cookie temptations?? Check out these fun cookies below!