I may get
paid
for ads or purchases made through links in this post.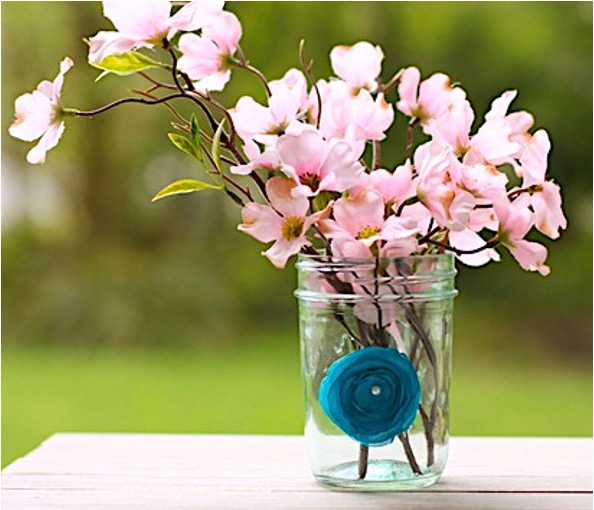 Following is a fun Craft Project and guest post
by Jenny and Jess… enjoy!!
Normally I wouldn't do two tutorials in one post, but because it's Teacher Appreciation time and Mother's Day is coming, I wanted to share a simple Painted Mason Jars idea that I think either one would love.
Plus, I'm going to bet you will end up making some for yourself as well.
Related:
Painted Mason Jars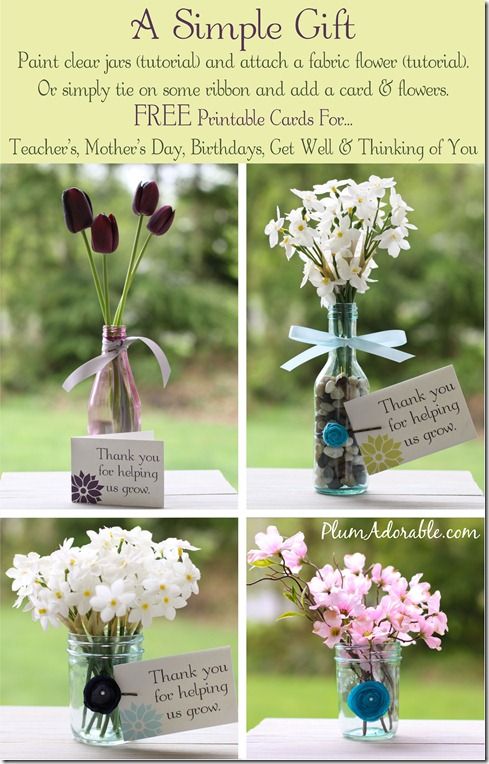 I realize there are a lot of blogs that have posted about how to paint glass jars, but because I think I finally found my favorite 'mixture' I thought I'd share it with you.
Supplies Needed:
Clean Jar (Mason or other clear jar: spaghetti sauce jars, soda bottles etc.) (Always save your clear jars and bottles. You just never know when you might want to break one out and make a craft with them.)
Gloss-Lustre Mod Podge
Paint Brush
Food Coloring
Water
Mix together:
1 tsp. of Mod Podge
3-4 drops of food coloring (or more if you want it darker)
1.5 tsp. of water
This is where you can have fun and experiment with colors. If you want the aqua/turquoise look, try two drops of blue and 1 drop of green.  One 'mixture' can actually be used on four to six jars depending on the size.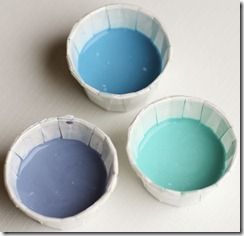 Next, paint the glue mixture onto your jar. It will look something like this below. Don't worry…it won't stay like that. I took this picture when there were still some bubbles on it. I tried to paint most of the bubbles off so that it was smooth.
Also, I made these jars (the blue ones) a little lighter than I have in the past, so your 'paint' may look different than mine.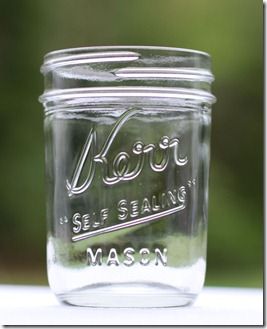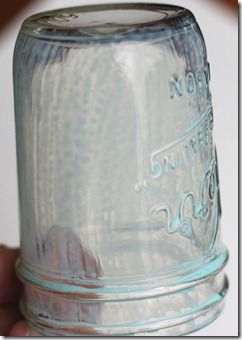 Let It Dry:
Either let it dry on it's own upside down over night, or (here's the cool part) put it on a plate upside down place it in the microwave for 30 seconds. You will see your results almost immediately.
I didn't take any pictures of just the jars because it was late at night and I got straight to work on embellishing them, sorry.
I love the purple one. It goes perfectly with the tulips my hubby and daughter 'surprise' planted me years ago. Tulips always remind me of my friend Kristen who was one of my bridesmaids.
She's always loved them. And I love how little things like tulips bring back memories of friends.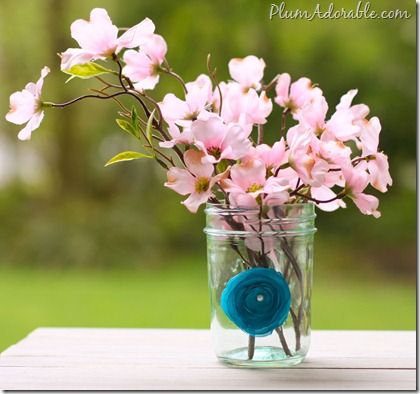 Ok, so once you have painted your jars set them aside. If you'd like to add some fabric flowers to them then keep reading.
If you'd just like to add a card, then scroll to the bottom to download and print.
---
Fabric Flower Tutorial
(No Sewing = equals = A Good Thing)
I'm going to show you how to make fabric flowers that can be used on a variety of things.
I realize there are lots of fabric flower tutorials out there as well, but these are very simple to make, yet look so elegant.
What You Will Need:
Silky synthetic fabric (chiffon, taffeta etc.)
A tea light candle or a lighter.
Glue Gun
Card stock (for circle templates)
Scissors
Felt circles
Embellishments: tulle, pearls, feathers, beads, buttons,
Optional for hair: headbands, clips, bobby pins
How To Make Your Flower:
1. First cut out a template of 5 to 7 circles on card stock paper. I like my smallest circle to be 1 inch. Then I make each additional circle a 1/2 inch bigger than the next. (ex. 1in., 1.5in., 2in., 2.5in. etc…)
2. Depending on how big you want your flower use your template to trace and cut out your circles. If you use a dark marker, make sure you cut inside your marker line so that it doesn't show on the fabric.
I usually make dots around the circle just to give me a visual of where to cut. When you cut out your circles don't worry about them being perfect.
I also like to cut the same size circle two or even three times especially when I am doing smaller flowers. Since your circles are not perfect they will just add to the layering effect.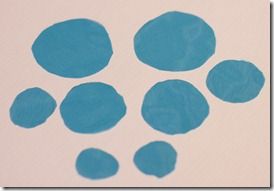 3. Next, take each fabric circle and put it close enough to the flame so that it starts to curl slightly. Turn your circle around until all edges are curled to your liking.
I suggest that you do a couple of practice ones first. Also, for safety, it's best to do it over the kitchen sink with the water running.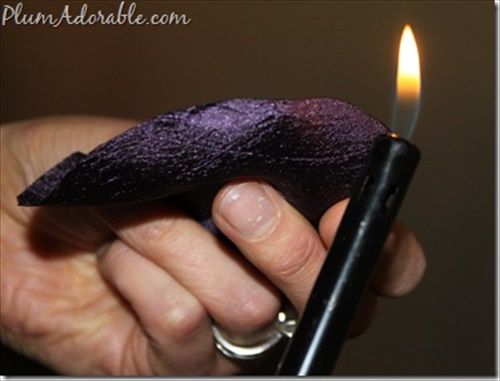 Are you wondering how I held the flower, lighter & took the picture?   Yah, that's not me. That's my 'hand model' and friend Andrea. Thanks Girlfriend!
4. Once you have curled your edges they should look something like this. I 'barely' curled the edges for these flowers.
5. Next, start with the smallest circle and put a dot of hot glue onto the bottom/middle of it.
Then layer it inside the next biggest circle. Now take those two circles and add another dot of glue and layer it into the next circle. Continue until they are all glued together.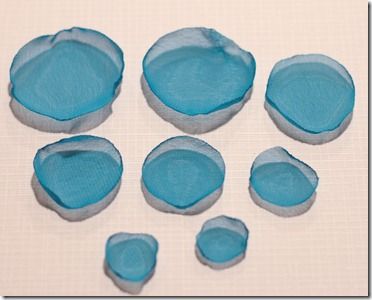 If you want to add tulle in the middle of a couple of the circles like I did with the one below, just add it to your layering steps.
You can embellish your flowers with pearls, beads or whatever else your little heart desires.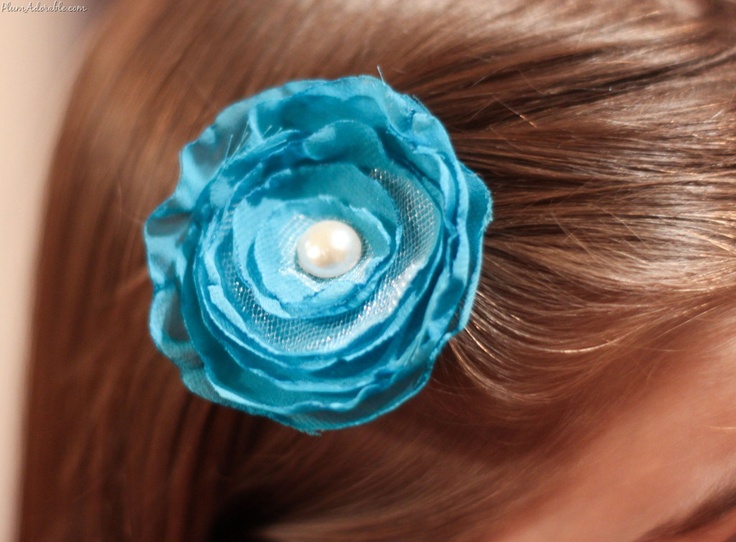 I like to attach alligator clips if they are going to be worn in your hair mostly because they are easier for my girls to put in their hair. You could also attach them to a flat back bobby pin or a headband.
If you do this it's best to cut out two identical felt circles. Glue one felt circle to the flower and then glue it onto the top of the headband.
Take the second felt circle and glue it so that overlaps the the underside of the headband and attaches to the felt one you glued on the flower so that it holds it in place.
Ok, let's finally bring the two tutorials together and make our gift!
There are a couple of ways to attach your flowers. If you want to put it on a bobby pin so that it can hold a card I think it's best to attach a piece of felt to both the glass and the bobby pin flower.
Sorry these aren't the greatest pictures. I was working late at night when the kiddos were sleeping. But basically it seems to stick better when the felts are glued to each other.
Or just add the felt to the back of the flower and glue directly onto the jar.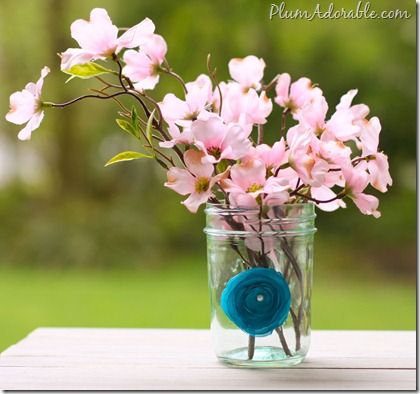 If you want to skip the flower then simply add some ribbon, flowers and print one of our cards below.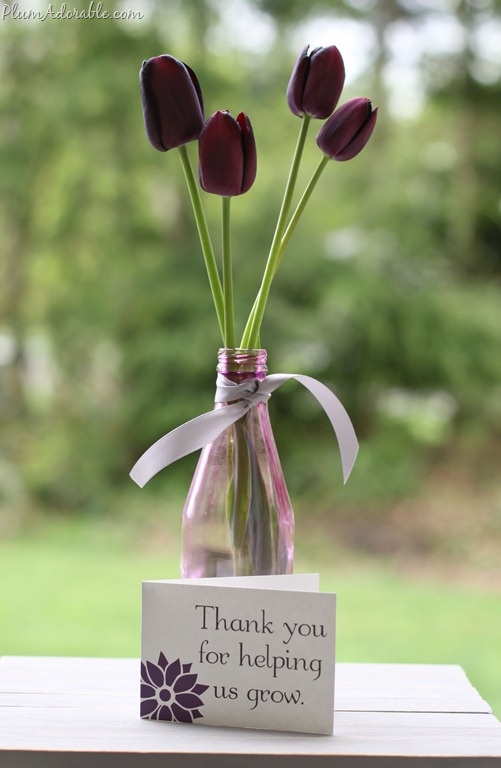 I've designed these cards so that you could easily attach a gift card if you'd like. Or if you'd rather skip the gift card then just cut it down the middle and use only the printed side.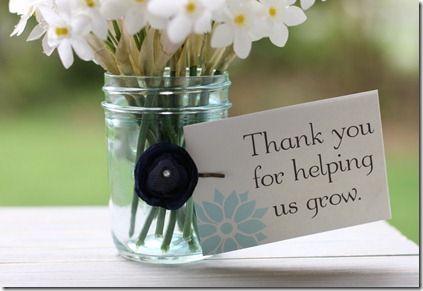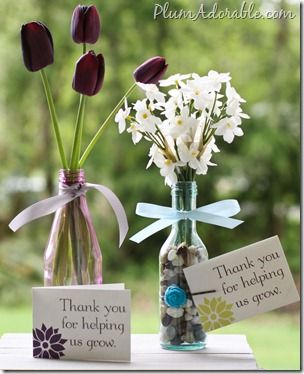 I'd love to hear if you make one or both of these projects.
They really are simple and oh so cute!
~Jenny
Jenny and Jess are two friends that love creating crafty stuff (for both kids and adults), cooking, reading, and so much more!  They also love to create free printables and svg's for both kids and home decor.  You can also find Jenny and Jess on Facebook and Pinterest.
Be sure to also check out The Easiest Way to Tint Mason Jars Blue plus more Fun Crafts!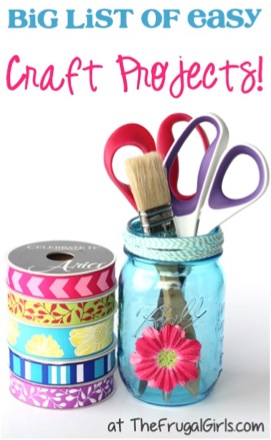 You can never have enough creative ideas.  Find even more Home Decor Ideas, and Organizing Ideas below…
Give your home a gorgeous makeover with these Easy Designer Home Decor Tips and Tricks!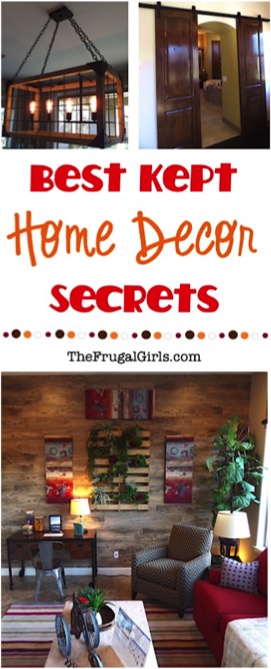 Nothing beats coming home to an organized home!  Put these Home Organizing Tips and Tricks to use and you'll love the results!

It's true… you can LOVE your house and save BIG all at the same time!  Are you ready to start saving?  Check out these affordable ideas and frugal hacks for your home.

Frugal Girls LOVE great deals!  Before you shop, check out these Insider Tips + Shopping Hacks that will save you so much money at your favorite stores!!