I may get
paid
for ads or purchases made through links in this post.
Give your Gymnastics Doll some fun new accessories with this easy American Girl Doll Craft for a DIY Gymnastics Ribbon!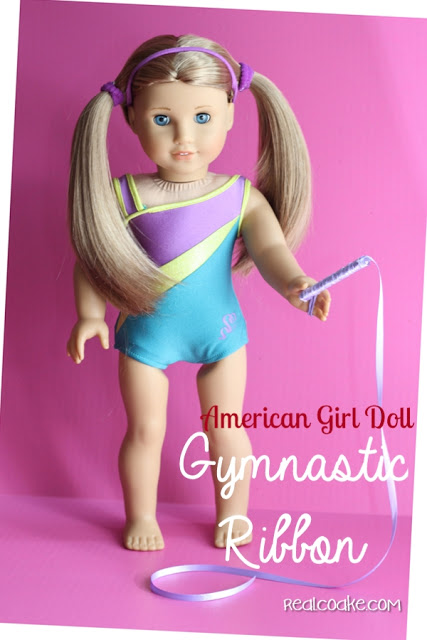 Following is a fun Craft for Kids and guest post by
KC at The Real Thing with The Coake Family… enjoy!!
Related:
American Girl Doll Craft – Gymnastics Ribbon
I don't know about your house, but at my house, we love making American Girl Crafts. We have lots of fun with our dolls and love to find inexpensive ways to play and have fun with our dolls.
Today, I'm going to show you an American Girl Doll Craft tutorial to make your own gymnastic ribbon for your doll. It is an easy and inexpensive craft that any American Girl Doll and/or gymnastic fan will love.
American Girl Doll Gymnastics Ribbon – Supplies Needed: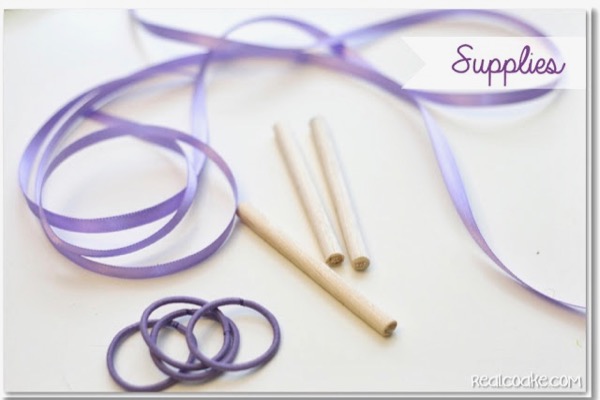 Dowel rod cut into 3.25″ lengths
Ribbon – You will need one 28″ length and one 21″ length of ribbon for each completed craft (You may need less than 21″ depending on the width of your ribbon.)
Hair elastics – one per completed gymnastic ribbon
Hot glue gun
I got this cute idea from Sew Crafty Mommy and modified it a tiny bit.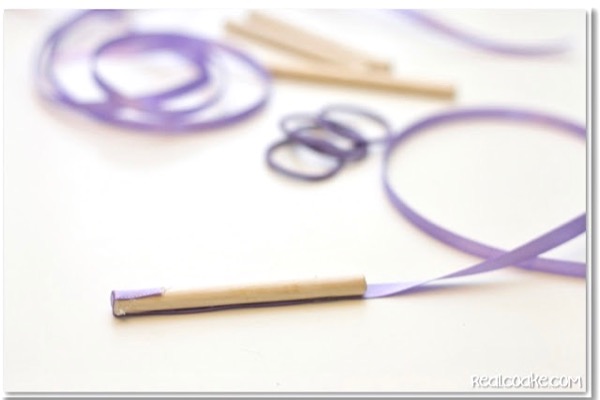 Start with your 3.25″ dowel rod and the 28″ length of ribbon. Glue the ribbon using your hot glue gun. You will want to glue the top as well as both sides of the ribbon.
You may find it helpful to glue the entire long side of the ribbon to the dowel rod, that way it won't twist up or be awkward while you are gluing the other ribbon to the dowel rod.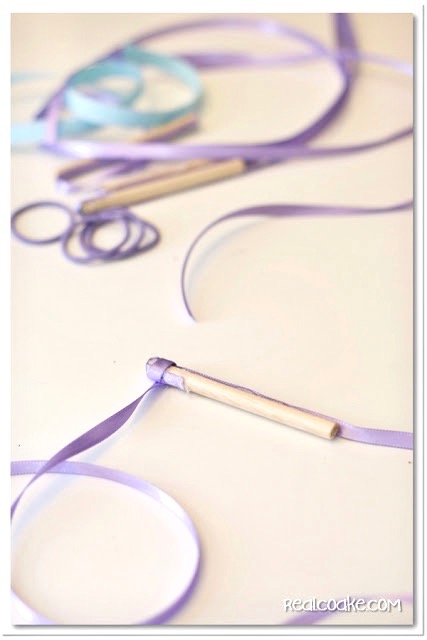 Use your 21″ long ribbon and the hot glue gun. Start as close to the top of the dowel rod as you can get. Glue the ribbon. Continue winding the ribbon around the dowel rod and gluing it with the hot glue gun.
At this point only wrap a few turns around the dowel rod.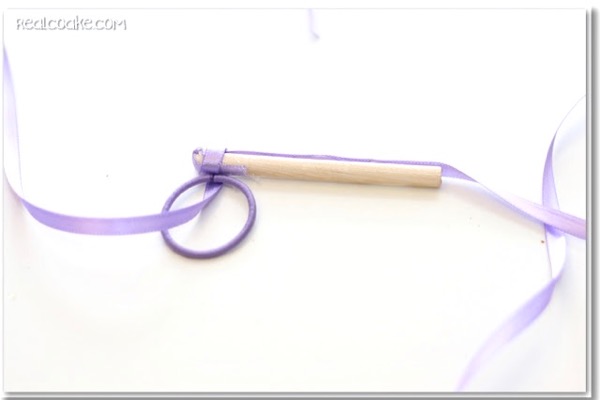 After a few turns around the dowel rod, add your hair elastic onto the ribbon. Pull the elastic up to the dowel rod. Make sure to securely glue the ribbon on either side of the elastic.
It will get pulled on quite a bit. You could also wind the ribbon around and secure it with two sections of the ribbon.
I did mine with only one section of ribbon around the hair elastic and we haven't had any problems with ours.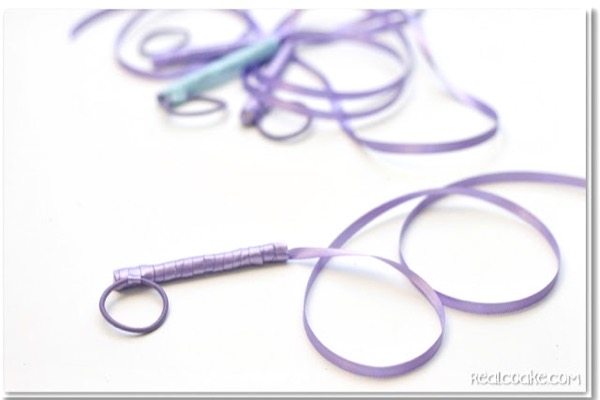 After adding your hair elastic, continue hot gluing the ribbon as you wind it down the dowel rod. Make sure to glue the end very securely and trim any excess ribbon.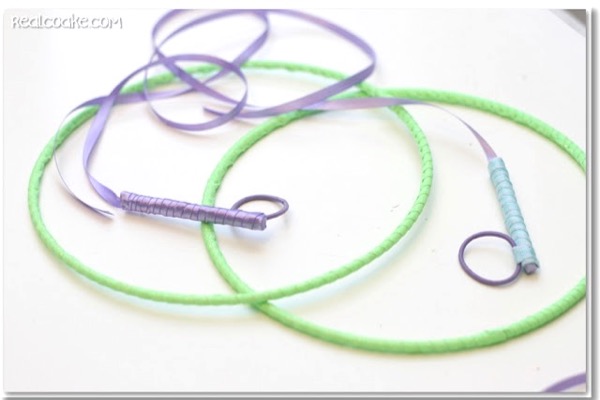 Easy Peasy…gymnastic ribbon is complete! I made ours with a gymnastic hoop as well. We gave them as favors for our McKenna American Girl Birthday Party.
They both turned out so cute and my girls as well as the girls who came to the party really liked them.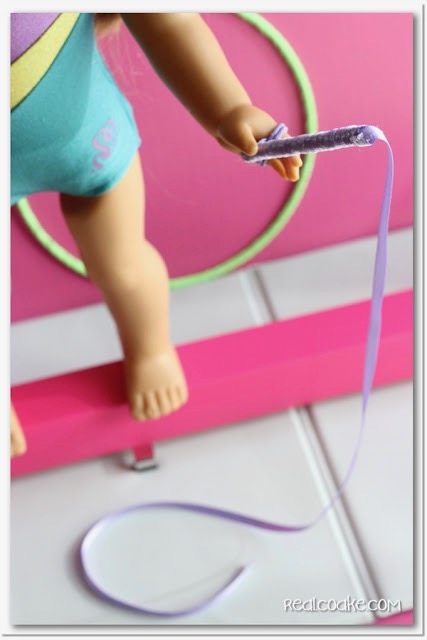 You can see how McKenna is able to hold the ribbon. This way she is holding it looks pretty realistic. You can also put the hair elastic around her wrist.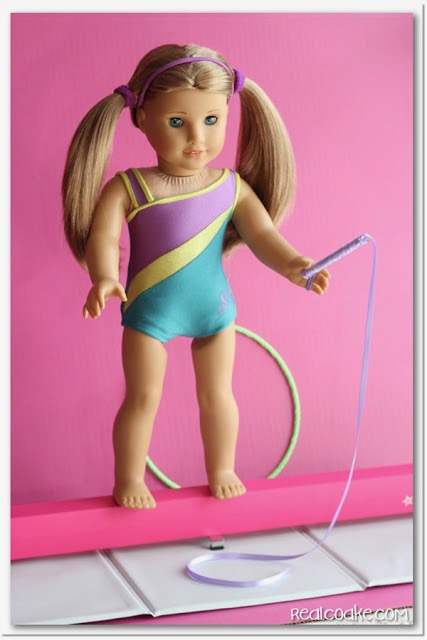 McKenna did a little routine for us with her hoop and her ribbon on the beam. She is such a great gymnast!
KC is a stay at home mom of two cuties who are 11 and 6. She loves running, reading, scrapbooking, Starbucks, hiking, cooking, picnics, pretending to be crafty, and having fun with her family.She blogs at The Real Thing with the Coake Family about crafts, organizing, family fun, American Girl ideas, cooking, and all manner of fun things, while keeping it real, not magazine glossy. You can follow along on Twitter, Facebook, or Pinterest.
I have even more fun craft ideas and ways to keep your kiddos entertained that I know you'll love.  Check out these creative tips…
These fun Rainy Day Activities will keep the kiddos busy and Momma happy!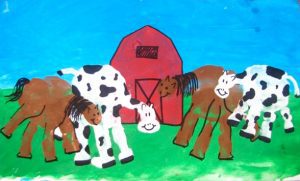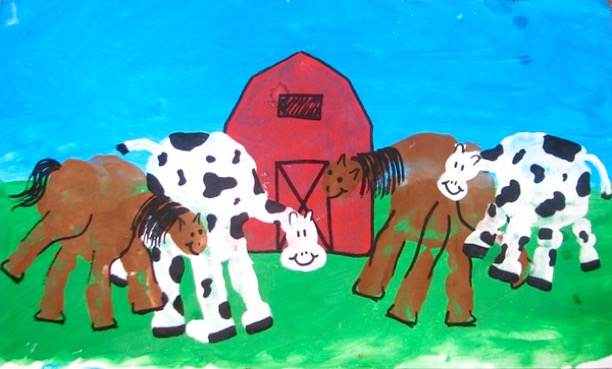 Busy hands make happy kiddos!  Keep your kid smiling all day with these Fun Crafts for Kids!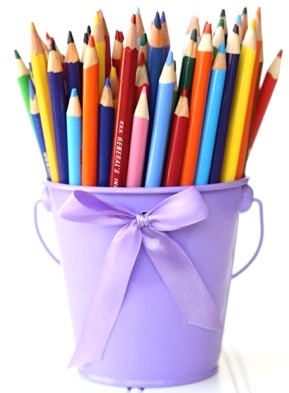 Plan loads of fun for your kiddos with this BIG List of Frugal Summer Fun Ideas for Kids!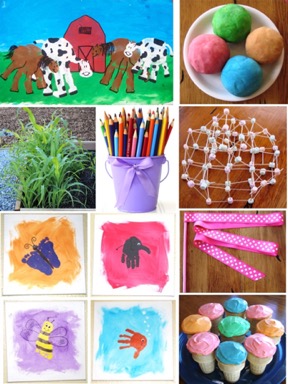 Feeling crafty??  It's time to get your Craft on and get inspired to do some fun crafts!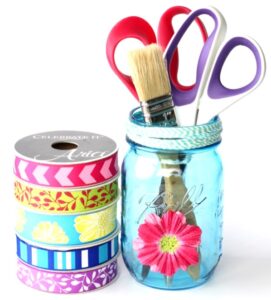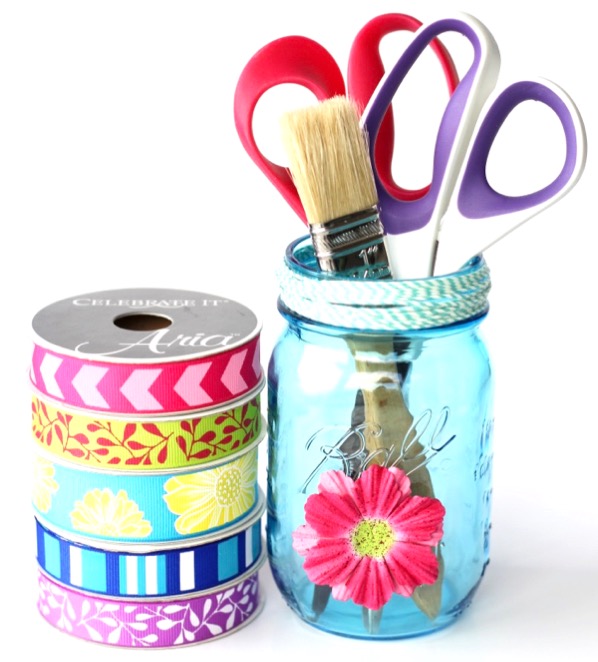 So have you tried this American Girl Doll Craft yet?
Leave a comment and share…