Skip the store-bought syrup, and make your own with this easy Homemade Vanilla Coffee Syrup Recipe!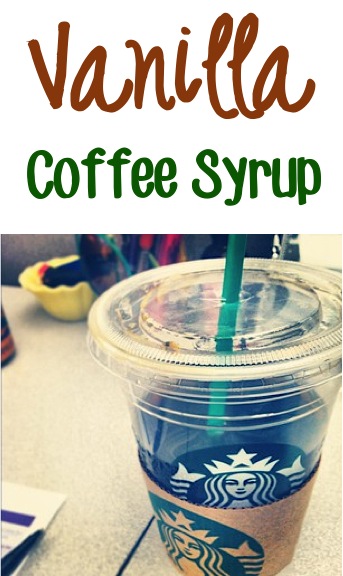 Who's in the mood for some Homemade Vanilla Coffee Syrup??
I love coffee. I'm pretty sure my brain doesn't turn on until cup 2. There's also a Starbucks in my building… which is a blessing… and a curse. When I found myself ordering a skinny mocha latte, I often felt disappointed afterwards because it meant I'd just consumed about 115 calories (and it honestly made me just too full if I drank it right after lunch, when I really "need" it). Those liquid calories will sneak up on ya, folks. And if a tall (smallest size) skinny (their lower calorie version) latte is at least 100 calories, I shudder to imagine what their larger, non-"skinny" drinks ring in at. Then, I discovered this little combination! I'll grab an iced, unsweetened cup of black coffee from Starbucks (or make it with the lunchroom Keurig) and squirt in a bit of my very own homemade coffee syrup (which I put in a travel size shampoo container from Walgreen's). Ahh. Refreshment. Deliciousness. Love.
Homemade Vanilla Coffee Syrup Recipe
Homemade Vanilla Coffee Syrup Recipe!
Ingredients
1 cup Water
1 cup Truvia (or other Stevia product. Sugar and Splenda will both work as well, but the nutritional values will be different).
2 tsp Vanilla Extract
Instructions
Bring water and Truvia to a boil on the stove.
Reduce to a simmer and simmer for 15 minutes.
Stir in Vanilla Extract, then remove from heat and spoon or pour into containers (such as a travel-size shampoo container from Walgreen's). Refrigerate between uses.
Notes
This recipe is made with Truvia, a zero-calorie natural sweetener. If you're not worried about calories, feel free to substitute regular granulated sugar for this recipe.
Other skinny recipes:
Carly loves mason jars, healthy cupcakes, oxymorons, and workout music! Check her out on Facebook and Pinterest!
On the hunt for more fun Coffee Recipes + Tips?  Get inspired below…