Spoil yourself or make some gifts with this easy recipe for DIY Coconut Oil Salt Scrub!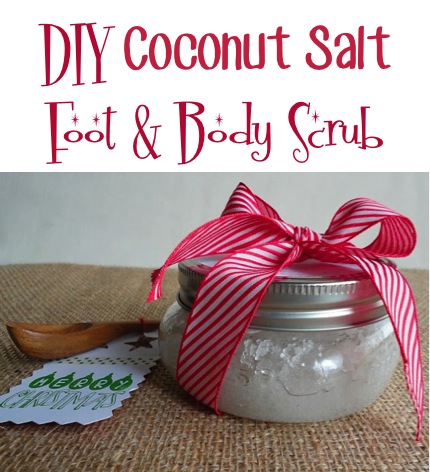 Following is a fun DIY Coconut Oil Salt Scrub and guest post by Nicole at Wonky Wonderful… enjoy!!
DIY Coconut Oil Salt Scrub
Hi There! Today I am sharing my favorite type of project . . . Quick, Simple and Inexpensive. This DIY Coconut Salt Foot and Body Scrub is absolutely luxurious and is the perfect homemade gift. Or, feel free to make this for yourself. After all, you deserve to be pampered too!
The great thing about making your own foot and body scrub is that you control the ingredients.  You can choose to make a salt or sugar scrub.  Use coconut or olive oil and whatever fragrance you like.
Just mix course salt (or sugar) with the oil at a 2:1 ratio.  For example, I mixed 1 cup salt with 1/4 cup coconut oil and 1/4 cup vitamin E oil.  If you are only using one type of oil, mix 1/2 cup oil with 1 cup salt.  Then add 3-4 drops of fragrant essential oil and stir it up.
*Note: Coconut Oil does become solid when it is cold (the scrub is still effective).  Heat the jar in warm water to return the coconut oil to liquid form.
Put the DIY Coconut Salt Foot and Body Scrub into a jar and gussy it up with ribbon and a label.  That's it, you now have a lovely homemade gift for friends and family!
Store bought scrubs can cost ten to twenty dollars or more.  Depending on the ingredients you choose, this DIY Coconut Salt Foot and Body Scrub ends up costing approximately two to three bucks!  Doesn't get much more Frugal than that.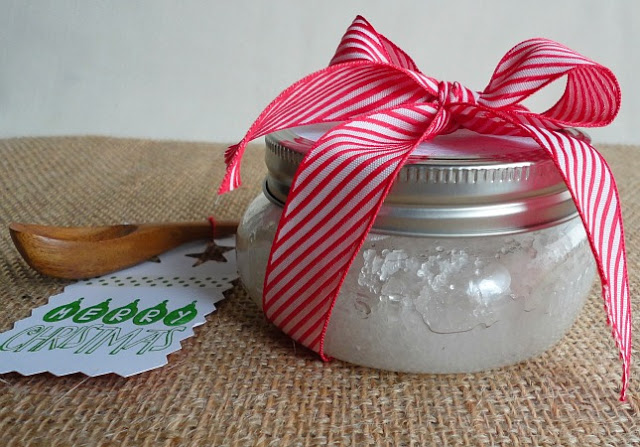 Have A Beautiful Day!
WonkyWonderful is written by Nicole, California girl and mother to a three year old daughter.  She enjoys experimenting in the kitchen, crafting with the kiddo, creating crochet patterns and making natural products.  She blogs about her cooking, crafting, diy and crochet adventures.
You can join her Wonky Wonderful World here: 
WonkyWonderful.com
Facebook
Pinterest
Twitter