This easy Oreo Pops Recipe is a perfect way to enjoy your favorite Oreo treat!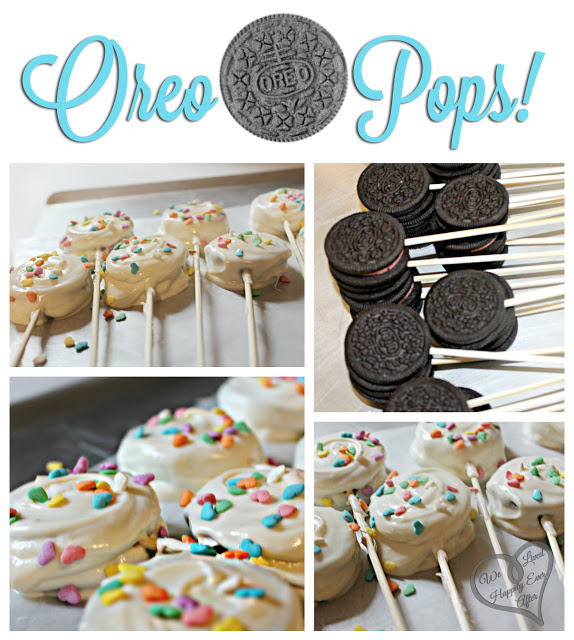 Following is a fun Oreo Pops Recipe and guest post
by Hannah at We Lived Happily Ever After… enjoy!!
Hello Everyone! I am
Hannah from We Lived Happily Ever After.
I am so happy to have the opportunity to share this wonderful idea with you all!
Everyone loves Cake Pops, but why bother with all the messy hassle when you can use the same concept with something simple, like Oreos? I mean, it's cake pops without all the work (& it's just as cute!)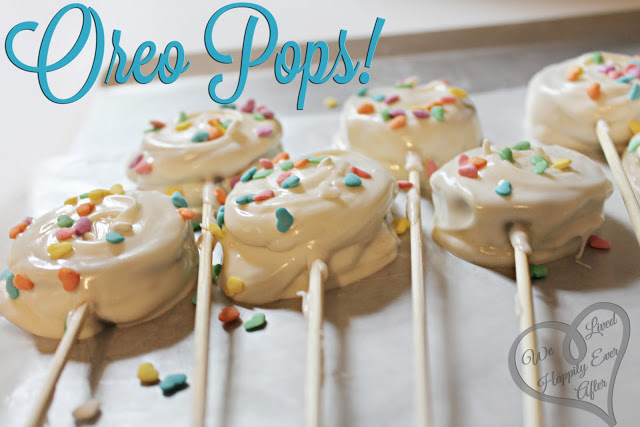 Oreo Pops Recipe
Oreo Pops Recipe!
Ingredients
Oreos! (Any kind works. We used Berry Burst Ice Cream Oreos)
Lolly Pop or Popsicle Sticks (or Sis-kabob Sticks- what I used)
20 oz. Melted White Chocolate (we used an almond bark bar)
1 Tsp. of Oil (to thin out the white chocolate)
Sprinkles!
Instructions
First, assemble your Oreos and lolly pop sticks. Some people have said that popsicle sticks hold the oreos up better than lolly pop sticks.
Next, melt your Chocolate (with the oil in it.)
Whether you are using your microwave or a double boiler, check and stir your chocolate often!
Dip your Oreo pops into the chocolate- but don't leave them in too long or they will melt & fall apart. We found that we didn't add enough oil to the chocolate, as it was a little too thick & we ended up needing more chocolate than we should have.
If your oreos fall apart, either dispose of them (aka eat them) or just piece them back together. Both ways work.
Dress them up with Sprinkles & let them harden on your wax paper!
Yum
There you are! That was easy, wasn't it?  You should have about 30 oreo pops… if you didn't eat any of the… "defect" ones… 😛  We ended up with 18. 🙂
These are a BIG hit.
This recipe was developed for my 5 Weeks Worth of Tutorials for We Lived Happily Ever After's "Pinterest Inspired Party Ideas"
Love you all!
Hannah is a Stay at Home, DIYing, baking, drawing, and fun loving mommy and wife who blogs at www.welivedhappilyeverafter.blogspot.com
Hannah is a stay at home mommy to her beautiful baby girl, June. She loves taking on the challenge of making her home a beautiful (and yummy) place for her family- without a huge price tag! Visit her website at: http://welivedhappilyeverafter.blogspot.com You can also join Hannah on Pinterest and Facebook, or Subscribe by Email!

Ready for even more delicious dessert temptations??  Check out these Delicious Dessert Recipes!