What better way to celebrate Fall and Harvest season than with a delicious slice of this moist Homemade Apple Bread Recipe with Fresh Apples?!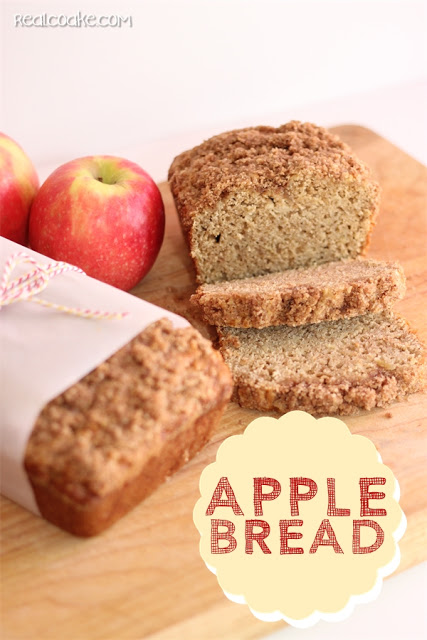 Following is a delicious Homemade Apple Bread Recipe with Fresh Apples and guest post
by KC at The Real Thing with The Coake Family… enjoy!!
I love that fall is here with its crisp coolness, the leaves and all the fun that I think of in the fall. One of the ways we have fun in the fall is to go apple picking. For us, it is such a great fall family activity. Once we have picked all those apples, often 20 lbs or more, it is time to start using them up and having some delicious fun with them.
One idea is to make this Homemade Apple Bread Recipe.  My cousin shared this recipe with me about 4 years ago. Yep, I'm quick like that. I finally got around to trying it this year. She had some modifications from the original recipe and I modified it a little bit more.
This apple bread certainly didn't disappoint. It was moist with great flavors and a crunchy, delicious topping.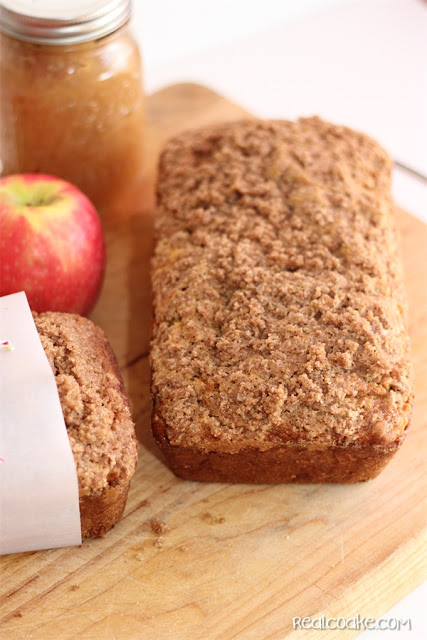 The apple orchard we go to is on a mountain, which means we spend the day hiking up and down the hills, not to mention carrying all those pounds of apples around. After a day in the apple orchard, the last thing I want to do is spend a long time cooking.
This recipe is easy to mix together. Then it just bakes in the oven for 50-60 minutes. Easy Peasy. Perfect for an evening following the apple orchard, a day at work or a busy weekend.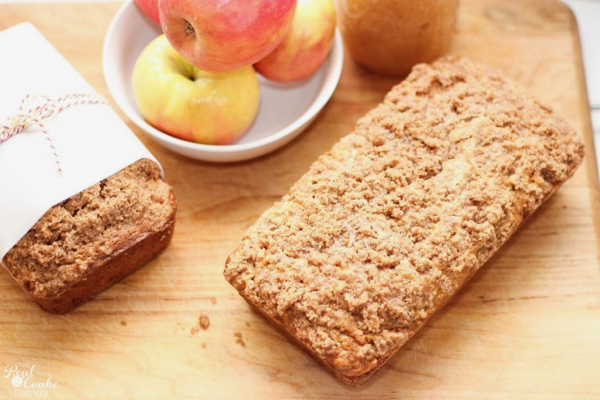 The original recipe called for oil and white flour as well as full fat sour cream. My cousin gave me the idea to change a few of those things and I then changed a few of her ideas as well
In the end, you have a recipe that is a little bit healthier by using applesauce rather than oil and light sour cream rather than full fat sour cream.   I also always cook with white whole wheat flour as it adds some additional healthiness over traditional white flour
My cousin added the toasted oat bran to the topping on the bread, which adds some additional fiber among other things. Putting all of these little changes together makes the overall end result a little bit healthier.
It doesn't lose anything in the flavor department, if anything the use of the applesauce for the oil ups the apple flavor in the bread.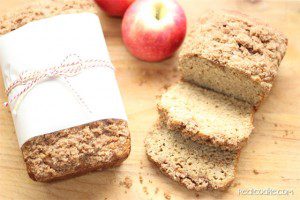 The recipe will make two loaves of apple bread. If your house is like mine, it will go quickly. I couldn't even get them to wait until I had taken the pictures (hence why the one loaf is never fully in the other pictures).
Can you tell that we had already eaten a few slices before I got to the pictures….the cut up loaf is a bit smaller than had I just cut those slices for the pictures. We just couldn't wait…it was too delicious!
Homemade Apple Bread Recipe with Fresh Apples
Apple Bread Recipe with Fresh Apples
Ingredients
½

cup

light sour cream

2

cups

granulated sugar

⅔

cup

applesauce

3

eggs

1

teaspoon

cinnamon

2

teaspoons

vanilla

1

teaspoon

salt

½

teaspoon

nutmeg

2

cups

shredded apples

3

cups

white whole wheat flour

1

teaspoon

baking soda
For the Topping:
2

tablespoons

butter

melted

½

cup

sugar

1

teaspoon

cinnamon

¼

teaspoon

nutmeg

¼

cup

toasted oat bran
Instructions
Preheat oven to 350 degrees

Grease and flour 2 loaf pans

In a large bowl, mix Sour Cream, 2 cups Sugar, Applesauce, Eggs, Cinnamon, Vanilla, Salt, 1/2 tsp. Nutmeg, and Apples

In a separate bowl, combine the Flour and the Baking Soda

Add dry ingredients to the wet mixture and stir just until moist

Divide evenly between the two pans

For the topping, combine melted butter, 1/2 cup sugar, 1 tsp. Cinnamon, 1/4 tsp. Nutmeg, and Oat Bran, and mix well.

Prior to baking, sprinkle the top of the loaves with the sugar/oat mixture.

Bake 50-60 minutes or until a toothpick comes out clean
There are so many delicious ways to use apples, what kinds of things do you like to make with apples?
KC is a stay at home mom of two cuties who are 11 and 6. She loves running, reading, scrapbooking, Starbucks, hiking, cooking, picnics, being creative, and having fun with her family. She blogs at The Real Thing with the Coake Family which is about living the creative life with a family, while keeping it real along the way. 
You can follow KC via Instagram, Pinterest, Facebook, or Twitter!
So are you ready for even more delicious recipe inspiration?  Here are more recipes I know you'll love…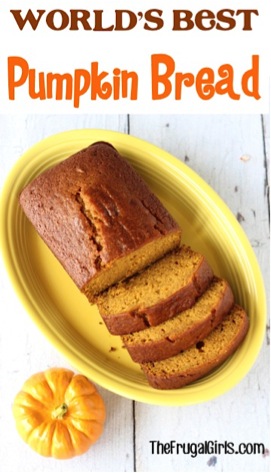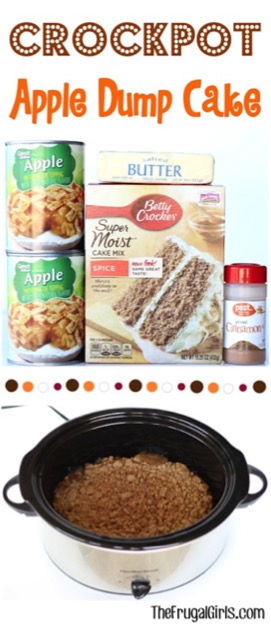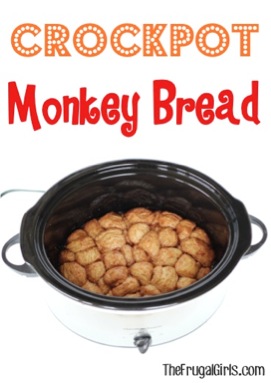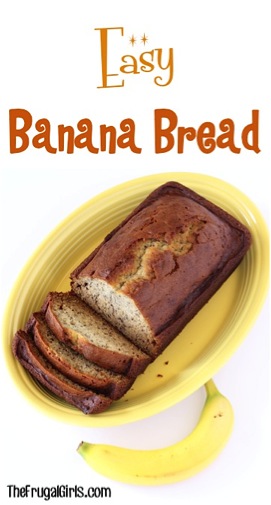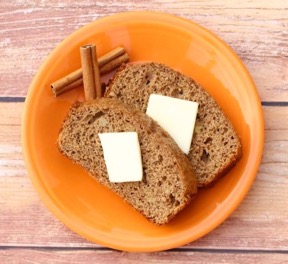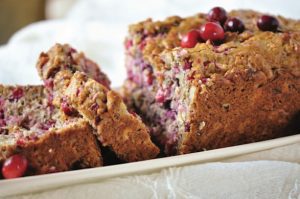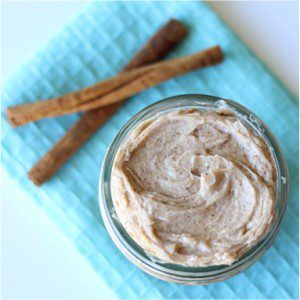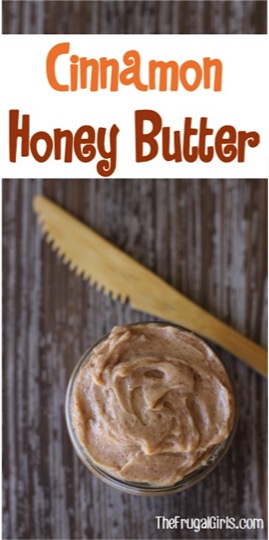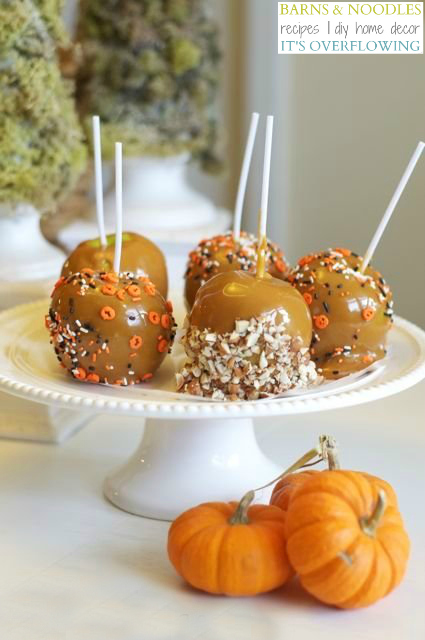 So have you tried this Homemade Apple Bread Recipe with Fresh Apples?
Leave a comment & share!