Following is a fun DIY Floral Swag Craft Project and guest
post by Jo-Ann at Growing in Grace... enjoy!!
DIY Floral Swag Tutorial
Related:
I enjoy the beauty of flowers, the fresh as well as the artificial ones.  In fact, I like to display them throughout my home. I display them in vases, on my mantel, on my walls in pictures or swags.
Flowers add beauty everywhere, both indoors and out.  They are a constant reminder of the beauty of our God who created them.  Flowers can be very expensive, but I have found that making flower arrangements myself helps defer the cost.
Pre-made floral swags cost anywhere from $20.00 to over $100.00. Making them yourself can save a lot of money. Here is how to make a swag of your own, for a fraction of the cost.
You Will Need the Following Items:
dried eucalyptus
baby's breath
assortment of flowers (silk or dried)
ribbon (you could us raffia if you prefer)
hot glue gun and glue sticks
wire cutter
measuring tape
20- to 24-gauge floral wire
Lay out your eucalyptus on the table and divide it in half.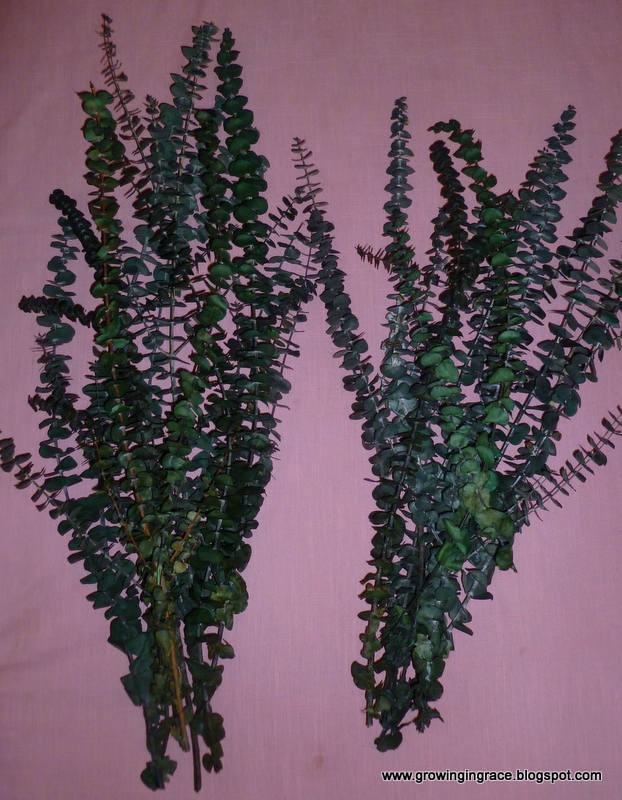 Cut a piece of wire (approximately 18 inches long) for each half, and wrap it around each half securing the eucalyptus stems securely.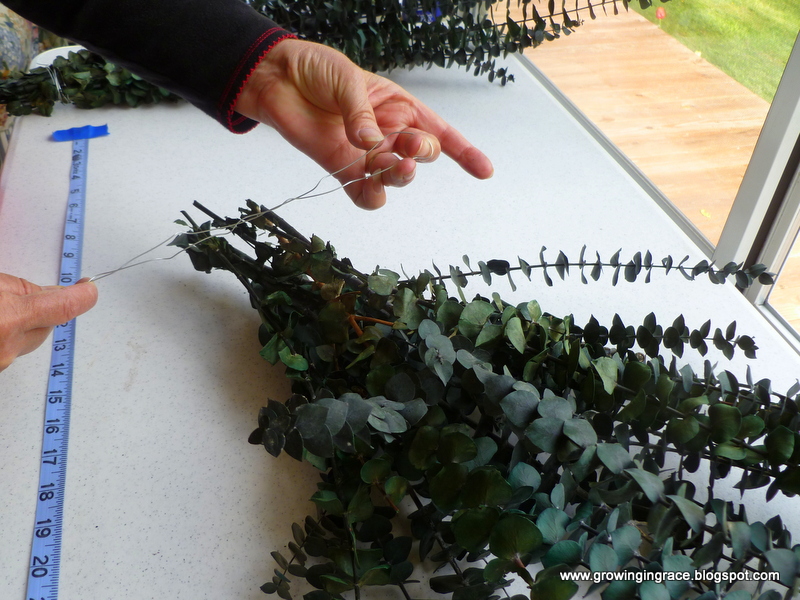 Next take the two halves and have the tips facing in opposite directions, overlap them approximately three inches.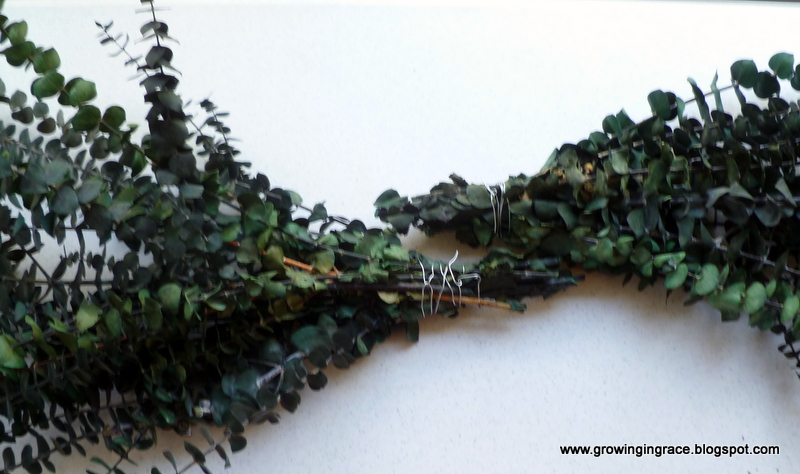 Cut another piece of wire approximately 24″ long and wrap it around the two bunches. Overlap until you have it secured together, by twisting the ends of the wire together several times.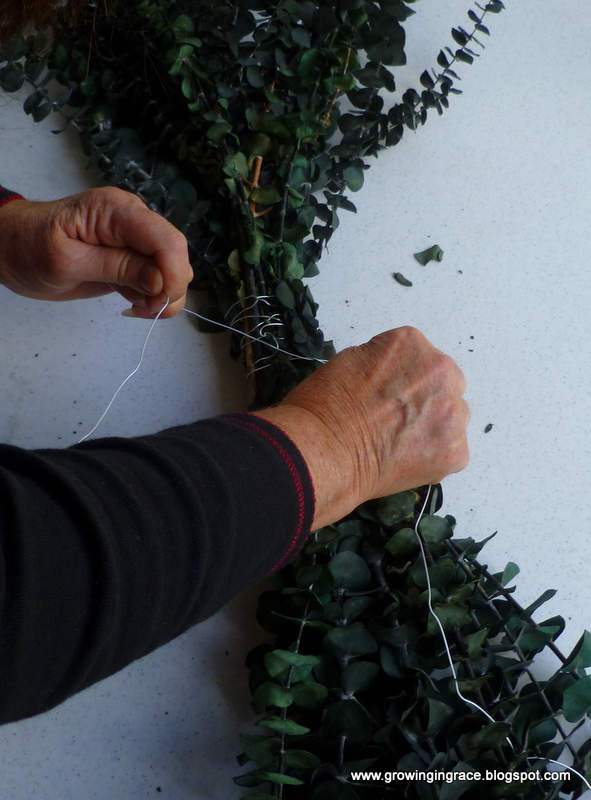 In order to form a hanger for your swag, you would cut a piece of heavier wire (I used a coat hanger) 6 " long.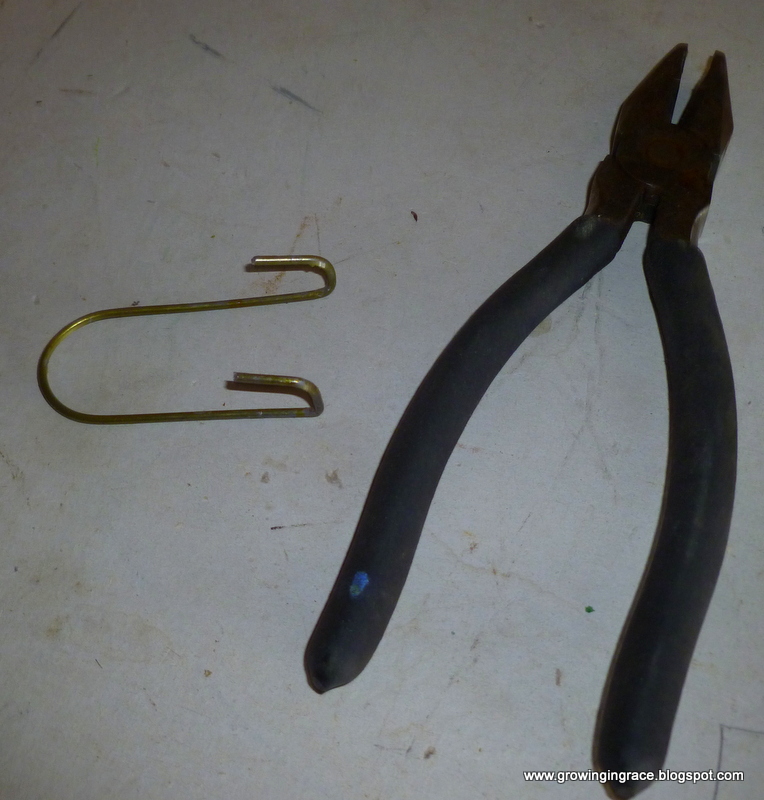 Bend it into a U-shape.  Insert the little U ends into the back of the eucalyptus, bending the tips upward to make it more secure and then use your glue gun to add glue to your hanger tips to secure it further.
Cut the flowers to approximately 16 inches in length. Add the flowers as pictured below, and hot glue them into place or attach them with wire.
Make a bow as follows here and add it to the middle of your swag.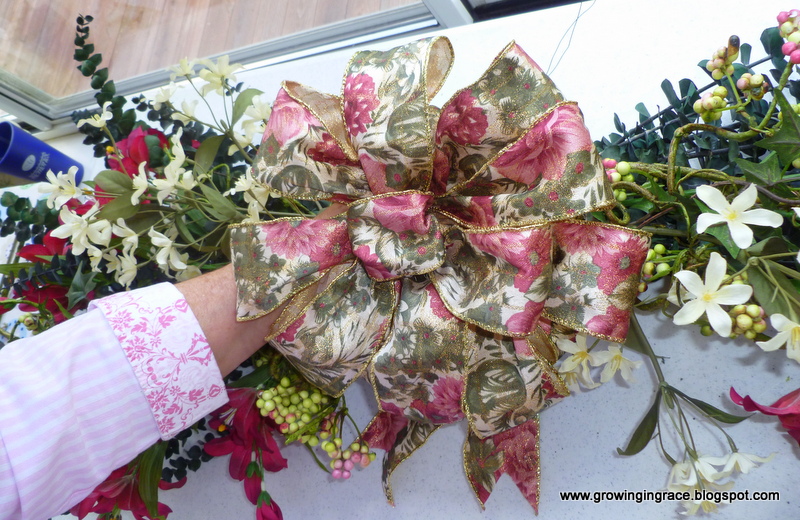 You have completed your  DIY Floral Swag.  You can display its beauty in any room in your home, proudly, because you made it yourself at a fraction of the cost.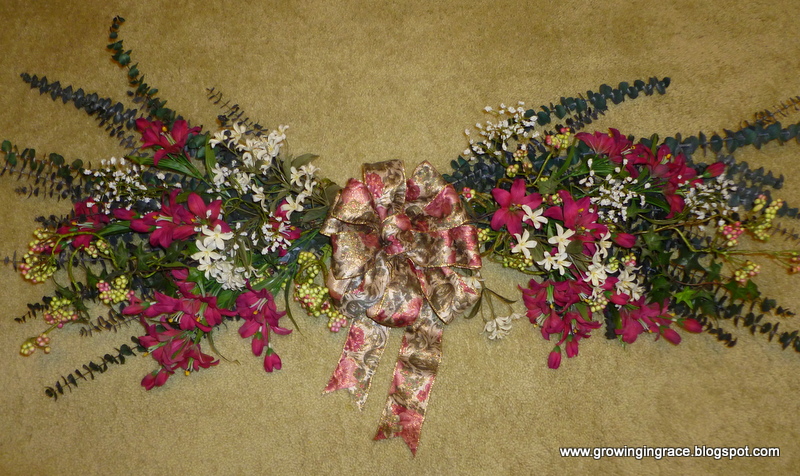 Jo-Ann is new to blogging, but she enjoys sharing with others what she has been learning from God's word, as well as, cake decorating tips, recipes, crafts, flower arranging, sewing, crocheting, quilting and especially gardening.
She invites you to visit her blog, Growing in Grace, her Facebook page, and her  Pinterest page. Why not hurry on over and see what she has been up to?
Then… check out more fun Craft Projects below…