I may get
paid
for ads or purchases made through links in this post.
Is that squeaky door hinge driving you bananas? Then it's time to try some of these simple tips for How to Fix a Squeaking Door!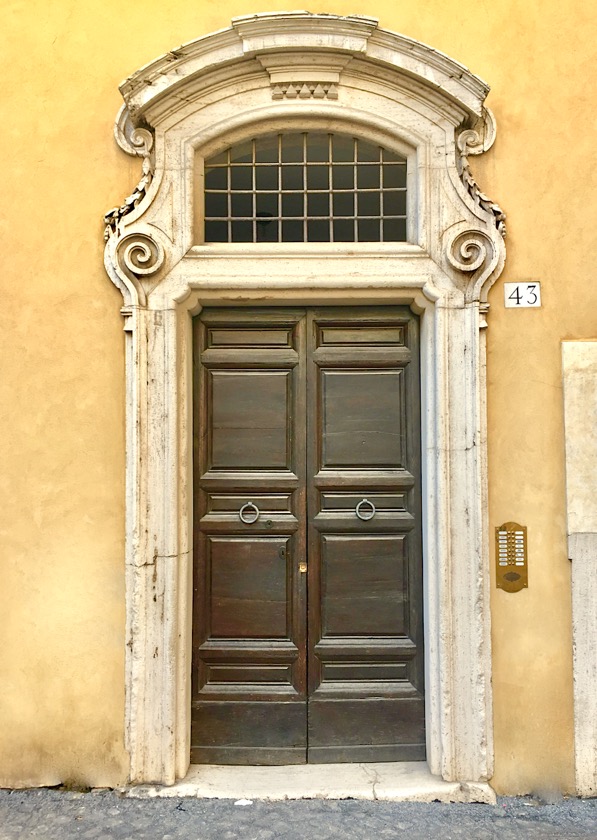 Did you know… fixing those squeaking door creaks when opening is easier than you might think? Save your sanity and put a stop to those squeaks and creaks with these simple tricks that work like a charm! When you know How to Fix a Squeaky Door, you can enjoy whisper quiet doors again in no time.
From quick fixes to creative lubricant ideas, these are the tips you need for How to Fix a Squeaking Door fast! So what are you waiting for?
Here's what you need to stop the squeaking fast…
Related:
How to Fix a Squeaking Door
Now before you apply any lubricant to a squeaky hinge, take a moment to clean up any dark colored debris caused from lubricants, dust and very fine metal shavings. You don't want your door hinge lubricant to mistakenly spray this grimy debris all over your beautiful door!
How To Clean Up Door Hinges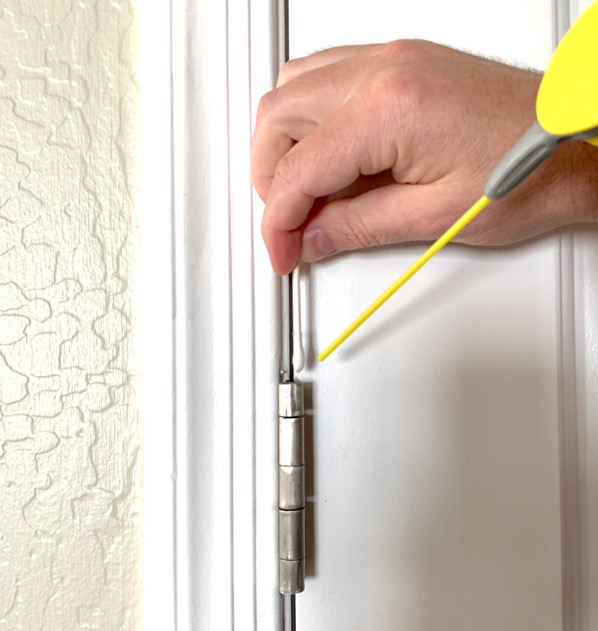 To clean the hinge and the area around the hinge, try using a mild cleaning solution or warm soapy water with a clean rag or paper towel. If the door hinge appears fairly dirty, it may be a good idea to remove the pin from the hinge, and to also clean both the inside of the hinge and the pin. When cleaning the pin and the inside of the door hinge, I recommend using a spray lubricant and up to 2 – 3 cotton swabs per hinge.
Best Spray For Door Hinges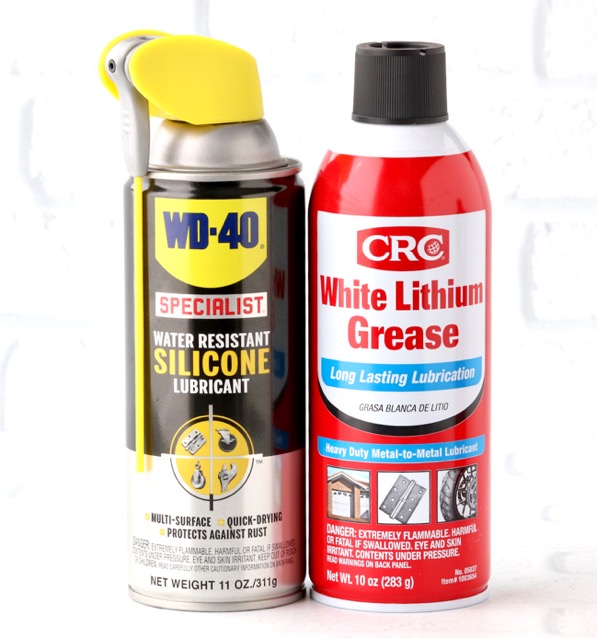 The easiest way to lubricate your door hinges is with a spray lubricant. So after you have cleaned up your metal door hinges, try to lubricate your door using either a Silicone Spray or a White Lithium Grease Spray.
The Silicone Spray will go on much easier, but the White Lithium Grease Spray will likely last much longer.
Apply your lubricant to the top, bottom and joints of the hinge. You'll likely have some drips from excess lubricant, so make sure to have a paper towel or rag handy for cleanup.
If that crazy squeak returns fairly soon after using one of these lubricants, you may need to remove the pin from the door hinge, so you can directly lubricate both the pin and the inside of the hinge.
Note: If you have plastic hinges, I suggest only using Silicone lubricant. Most other lubricants will not work well with plastic hinges.
How To Remove Door Hinge Pins with Nail or Screwdriver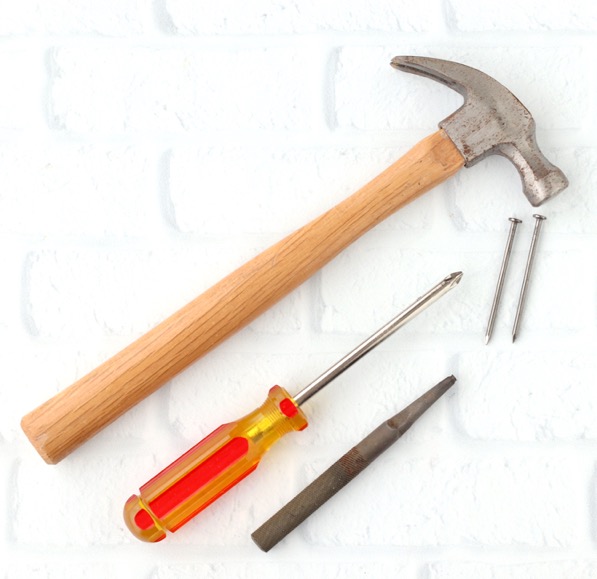 To remove the pin from your door hinge, all you'll need are a few common items you probably have out in the garage. A hammer and a Nail Punch. If you don't have a Nail Punch, you can use either a Phillips screwdriver or a 2 1/2″ 8D nail.
If the hinge has a bottom cap, you will also need to use a pair of pliers to carefully remove this cap before you can remove the door hinge pin. You can remove the pin by grabbing both sides of the cap with your pliers. Then twist back and forth, while gently pulling down.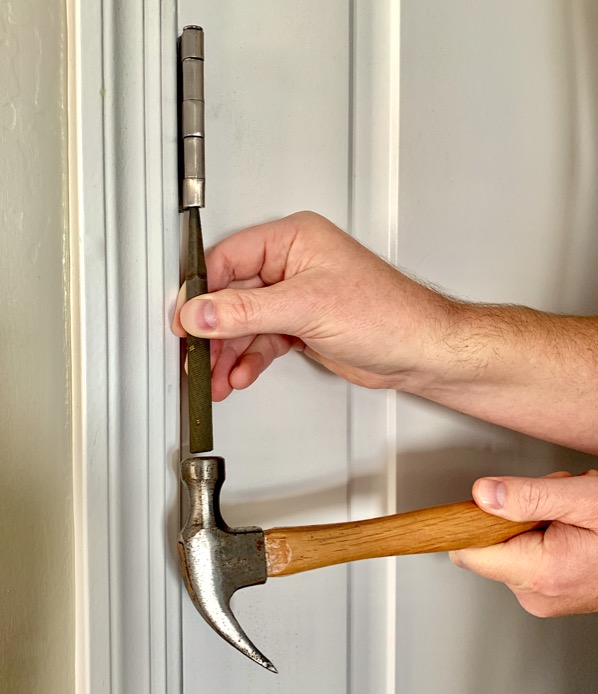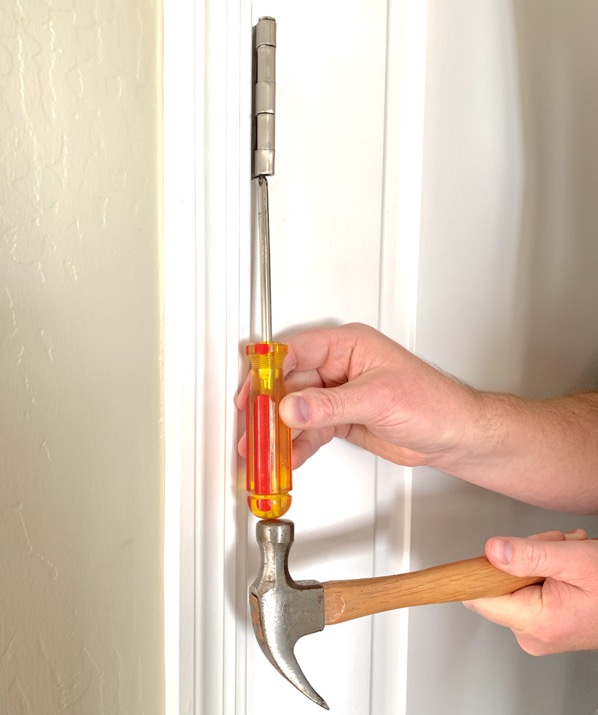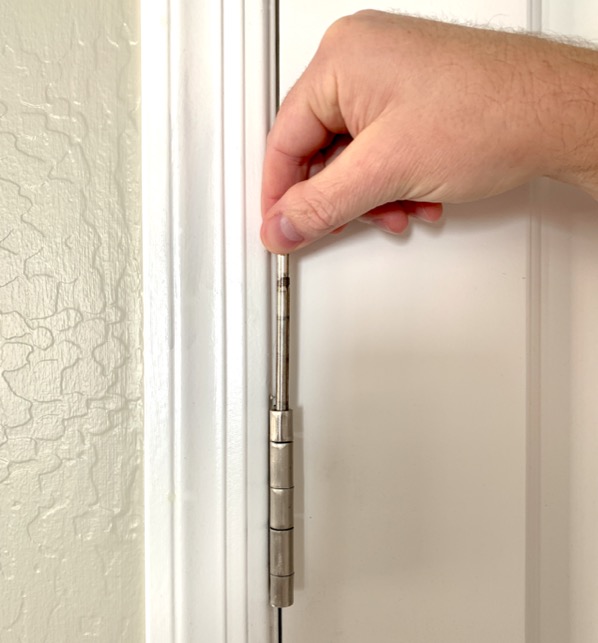 To remove the hinge pin, start by making sure the door is fully closed. This will prevent the door from falling on you, which we can all agree would be a little awkward!
Then place the tip of your Nail Punch or Screwdriver up against the bottom of the pin, and lightly tap the end of the Nail Punch or Screwdriver handle with your hammer. If you are using a screwdriver and the tip of your Phillips screwdriver is too large to reach the pin inside the hinge, try using an 8D nail instead.
Pro Tip: If the pin does not want to come loose easily, check to see if any paint is on the hinge. Paint on the hinge can be cut away with a razor blade. Then try applying some spray lubricant to the hinge before trying again.
Best Lubricant For Door Hinges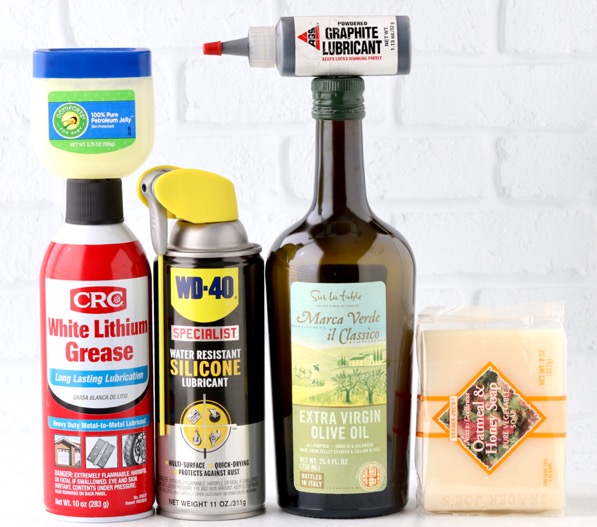 So what should you use to lubricate your door hinges? Here are a list of lubricants you can apply with the door pin removed…
White Lithium Grease
Silicone Paste or Spray
Dry Graphite Powder
Olive Oil
Bar Soap
Petroleum Jelly
Plumbers Grease
With many of these lubricants, cotton swabs can be used as a handy applicator. Just make sure to thoroughly coat all surfaces of the pin as well as the inside of the hinge.
I bet you had no idea just how versatile olive oil or a bar of soap could be?
More Squeaky Door Fixes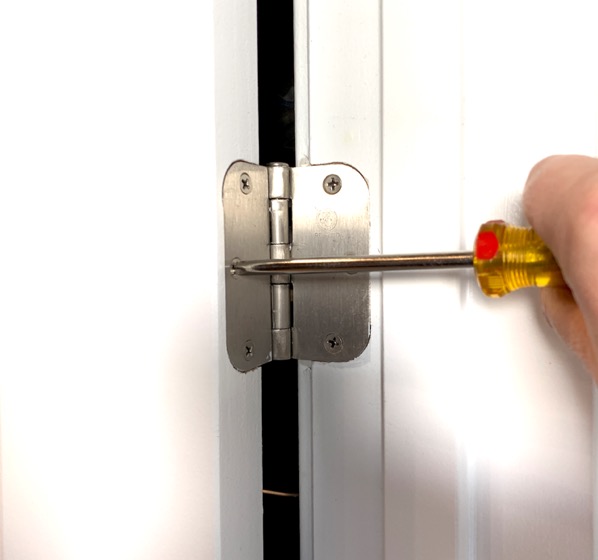 Now if your door hinge is STILL squeaky after applying lubricant directly to the pin and the inside of the hinge, you may need to take a closer look at the alignment of your door hinge.
First, the super easy fix. Simply make sure that the hinge screws are tightened properly.
Next, check to see if the gaps between your hinge knuckles (the cylinder part of hinge) are even. Uneven gaps can be a common cause of squeaky door hinges. Don't worry though, these uneven gaps can easily be adjusted a variety of ways. The method you will need to use will just depend on the design and finish of your door hinge.
Now that wasn't so hard, was it? It really only takes a few minutes to quiet down those squeaking doors around your home! Go give it a try, and let me know how it goes!
Speaking of DIY's… you can never have enough creative ideas and quick-fix solutions for your home, right?  So be sure to also check out these handy DIY Tips and Homemade Cleaners Recipes.
These tips will help you save both time and money all around your home…
Do you have a Hard-to-Turn Faucet that could use a little fixing?  This little trick comes straight from a Handyman, and works like a charm!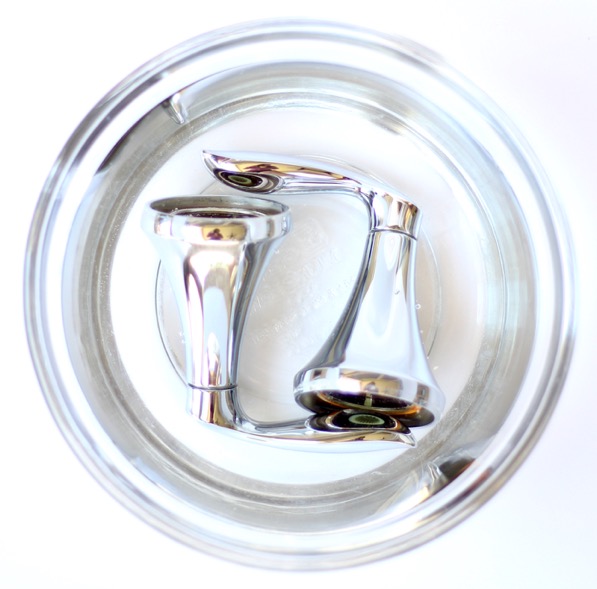 Get those drains working again with this easy Drain Cleaner Baking Soda Vinegar Trick!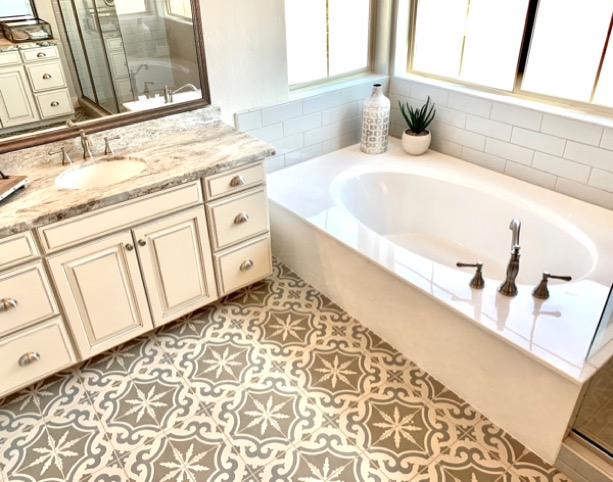 Looking for an Easy DIY Nail Hole Filler trick? You'll love this fast 10 second fix!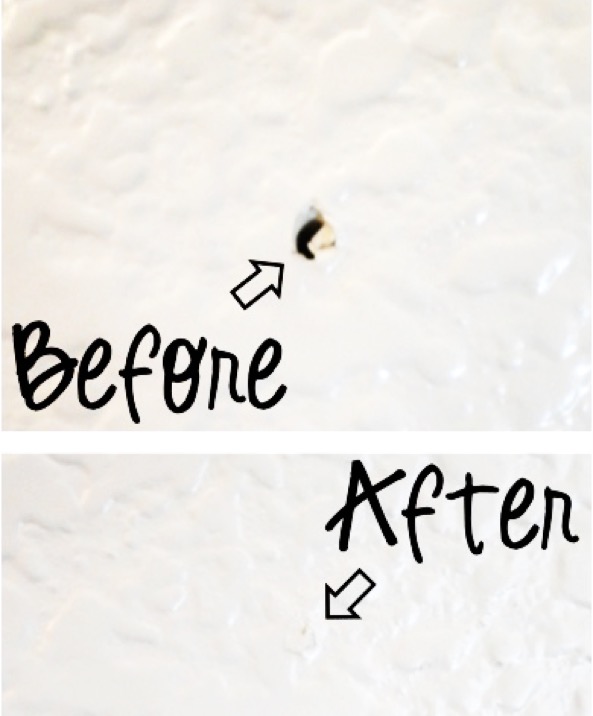 Learn how to Remove Soap Scum from Shower Doors with this easy tip!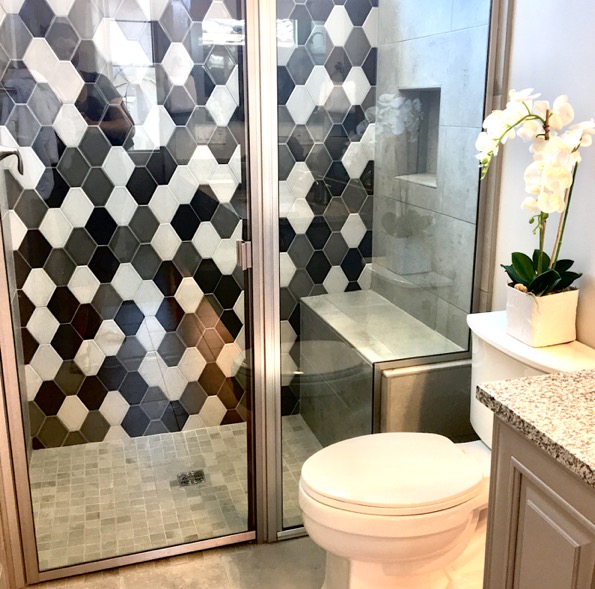 If you're like me and live in an area with hard water, then you know the agony of trying to remove hard water spots from your home's windows or car windshields and windows.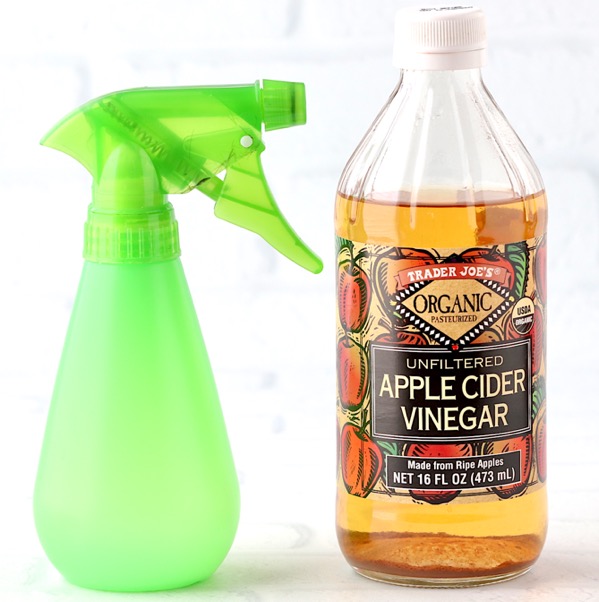 Could you use some tips for How to Prevent Water Spots on Shower Doors?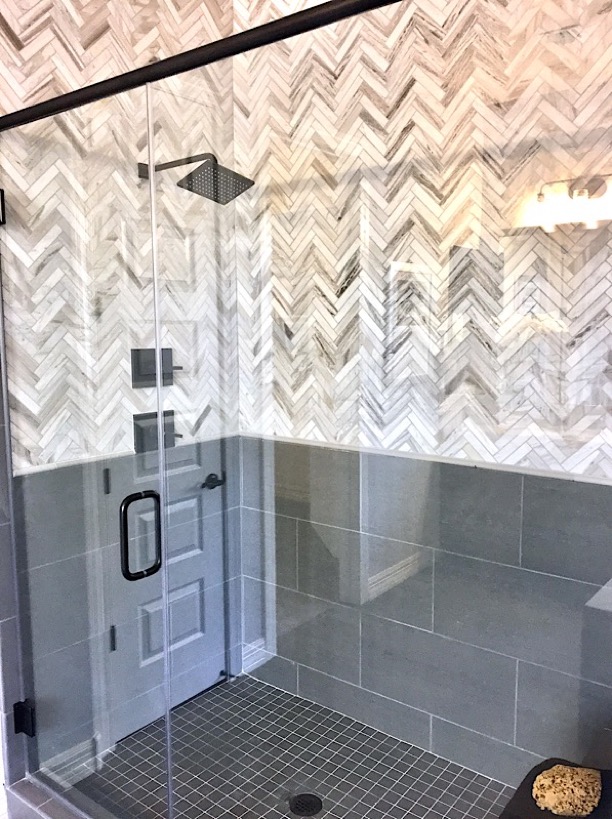 Next time you need to clean a carpet stain, try this tip for the easiest way to clean carpet stains!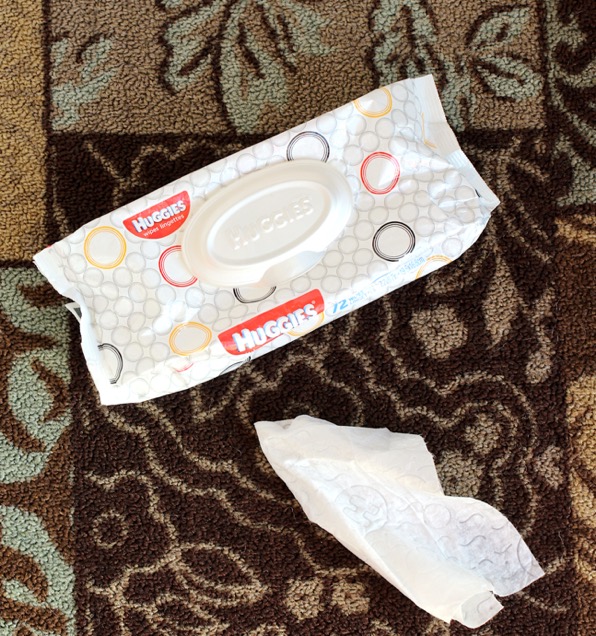 Use these Spring Cleaning tips and tricks to save you time and money… you'll have your house looking fabulous in no time!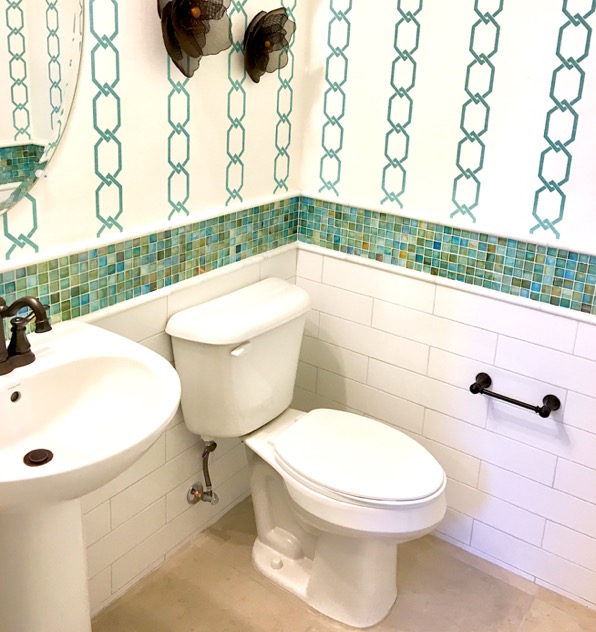 Get ready for some serious savings with these simple DIY Homemade Cleaners Recipes and Tips!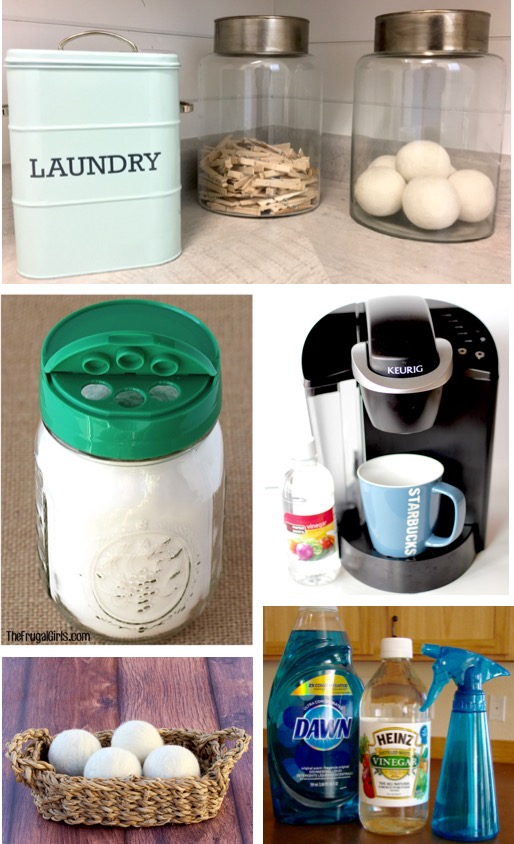 Brace yourself… saving money is about to get really fun.  It's time to LOVE your house and save BIG all at the same time!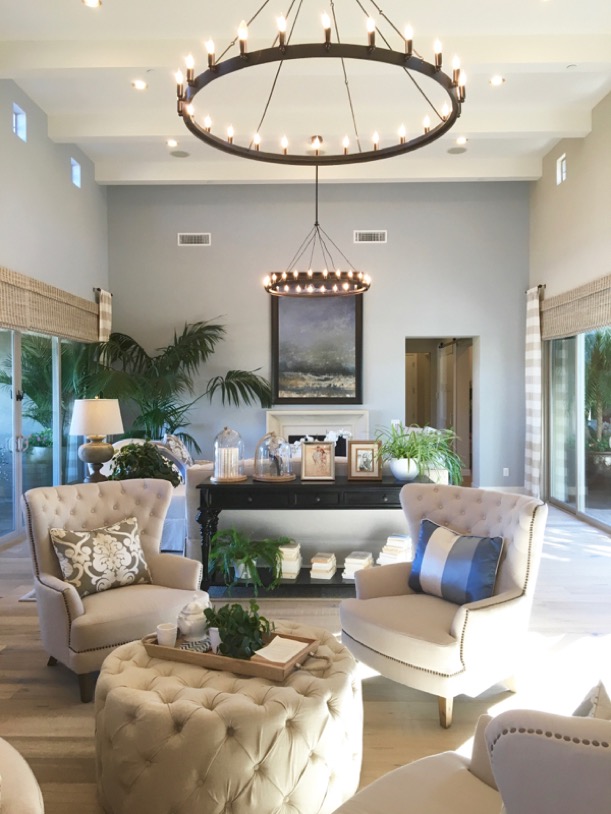 Are you wondering how to Save Money Fast?  It's easy when you start slashing expenses and adding these extra streams of income to your finances!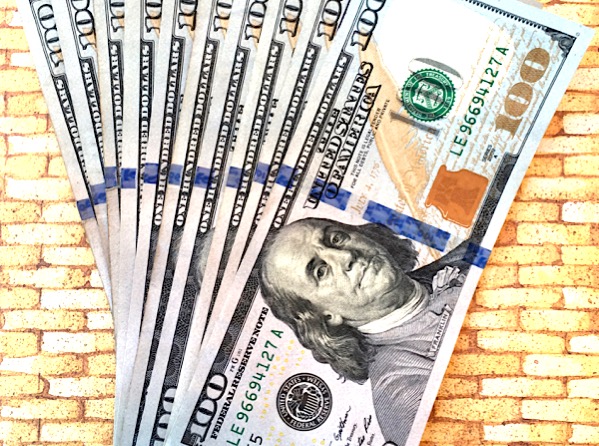 Don't miss out!  Get all the latest fun new Frugal Girls Tips, Recipes + more right here…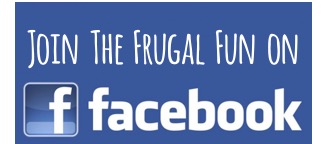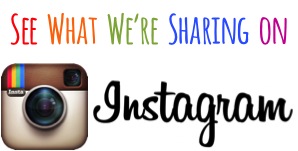 So have you tried any of these tips for How to Fix a Squeaking Door?
Leave a comment and share…