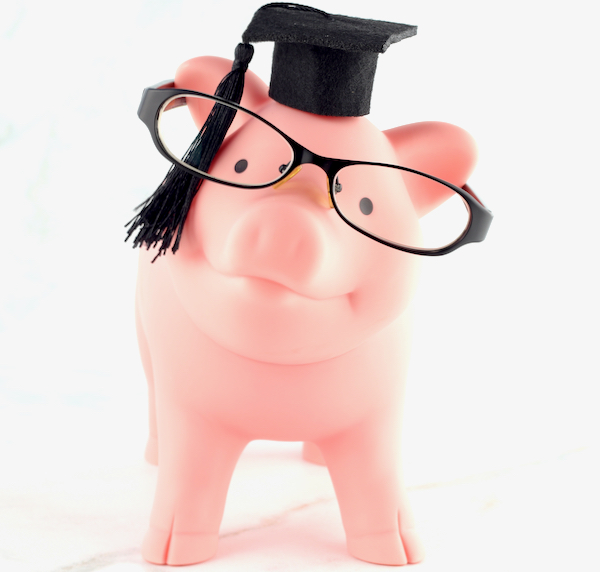 A BIG Thank You to CreditRepair.com for sponsoring today's post: How To Tackle Your Student Loan Debt!

Are you wondering how to deal with Student Loans? Or maybe you even feel a little bit like you're drowning in student loan debt? It can be overwhelming, but don't worry… these 10 easy tips for how to pay off student loan debt can help get you back on track in no time!
It's time to learn How To Tackle Your Student Loan Debt and get rid of your debt once and for all! These creative ways to cut costs will give you more money to throw at those student loans and crush that debt for good!
The goal will be to pay off your student loans as fast as possible. That means it's time to seriously slash your spending, take control of your budget, and start making more money. So are you ready? Let's do this!
Here's how to get started…
How To Tackle Your Student Loan Debt
#1: Slash Your Rent
Your rent or mortgage payment is likely your single biggest monthly expense. But if you're renting, finding a less expensive place to rent can be a brilliant way to cut your monthly bills fast. And all that savings can be applied towards paying down your student loans even faster!!
I've put together some tips for how to rent your first apartment you can use when shopping around to find a place with cheaper rent. It just may be worth it to make a move!
#2: Drive A Cheaper Car
When you are in serious cost cutting mode, it's time to look at everything… even your car. For starters, you'll want to avoid buying a new car that will lose value quickly. You'll save so much money by simply driving a reliable older car instead.
Also, be flexible on what make and models of cars you consider. Now is not the time to treat yourself with every bell and whistle out there… that time will come, but now we need to get a little drastic. Start by looking for the most reliable used cars at the best price and go from there.
Use my 12 Ways to Save Money on Your Next Car Purchase to help find your next affordable and reliable car.
#3: Keep Wearing Your Favorite Jeans
Another easy way to free up money in your budget to pay off your debt is to have a no-spend challenge. For example, maybe it's time to simply stop buying new clothes for awhile.
What?!? I know, I know… we all love cute new clothes, but you can save BIG just by taking a break. It's really so easy to spend too much on clothes. So challenge yourself to skip the mall for as long as you can and save that money instead. You can even make a game out of how long you can avoid clothes shopping. Then treat yourself with a fun coffee or at-home spa day each time you make it a certain number of months.
Then, when it's time to pick up the few clothing items you really need, use these Frugal Fashionista tips to save as much money as possible!
#4: Sell Stuff You Don't Need
We all have a way of collecting things we don't need, right? Well… how about selling some of it? Whether it's a kitchen appliance you don't use, clothes that no longer fit, or old books you'll never read again… you'll be amazed at how many things you can come up with!
Simply go through your home room by room and take everything you no longer need or want and put it in a box. Then, decide how you'd like to sell each item! Maybe you'd like to post some on Ebay, Craigslist, or local Facebook groups… or maybe you'd like to drop some things off at your local consignment shop.
Whatever rout you go, you'll be amazed at how quickly a nice little stash of cash can build up, just by letting go of those things you no longer use. It really is a win-win. You'll have a cleaner home with less clutter, and you'll have more money to pay down those student loans!
For more tips, learn How to Make Extra Money Consigning Clothes.
#5: Go Camping
Vacations can make your savings disappear fast. So skip those expensive vacations for now, and find fun and frugal ways you can spend your vacation time instead. This really is such an easy way to free up cash you can use to pay down your student loans faster!
You won't be paying off student loans forever, so it's okay to change up how you vacation for the next few years. In fact, some of my very favorite vacation memories are camping trips and staycations!
Living in Phoenix, a trip to a local resort in the summer can be really affordable. Local hotels and resorts drastically slash their rates in the heat of the summer. That makes enjoying a day on a lazy river really frugal. It's one of my very favorite things to do in Phoenix!
I've also found that one of the very best ways to relax and unwind is to spend some time in the woods. So I literally drive with my family down a dirt road to the middle of nowhere and park. We pull out some chairs and grill some burgers on the tailgate. We also love to make a small fire to roast marshmallows and make campfire treats. What an amazing way to recharge… on a budget!
Has it been awhile since you last went camping, or are you new to camping? Check out these 201 creative Camping Tips and Tricks. You'll have so much fun and your budget will thank you!
#6: Hot Glue Your Budget To Your Wallet
No, not literally, but you really do want to create a lean budget and stick to it. The more you can save towards paying down debt, the faster you'll be done! Now that will be a good day!
And once you have your budget all set up, you'll want to check out these simple tips for How to Save Money on a Tight Budget!
#7: Snowball Your Debt
Have you racked up other types of debt in addition to your student loan debt? It can be so easy to find yourself in deep debt, can't it? Well don't worry, use my 5 easy tips for How to Snowball Your Debt. It's time to kick that debt to the curb once and for all!
#8: Throw ALL Your Extra Money At Your Student Debt
Now this is where things get fun. It's time to throw everything we've got towards that student loan debt. Are you ready? For example, when you get a large tax return, you'll want to apply the entire amount towards paying down your student loans. You'll love the feeling of slashing such a large part of your debt all at once!
Will you get a raise at work this year? You're already living on what you currently earn. So take the entire amount of your raise from each paycheck and apply it towards paying down your student loans.
Also, if you receive a small inheritance or a large cash gift for your birthday or Christmas… make sure you apply it all towards your student loans.
Just make sure that your extra payments are actually applied towards your loan balance. You may need to contact the servicer of your student loan to make sure the extra payments are being applied towards your loan balance. Not simply to the next month's payment. Then watch that amount of debt just shrink down faster and faster. What a good feeling that is!
#9: Take On A Side Job
Once you've done everything you can do to cut your expenses… it's time to just make some more money! You're already paying your bills with your primary job, right? So everything you earn with your second job can be applied towards paying down your student loans.
Even if you have kids at home, there are still plenty of creative ways to make extra money. Check out these Stay At Home Mom Side Job Ideas for some inspiration!
#10: Stay On Top Of Your Credit
Did you know that your student loans can actually impact your credit score? So while you are working to pay off your student loans and other debt, make sure to keep a close eye on your credit. You'll want to keep your credit in tip-top shape, so it will be ready when you need it. You know, like when you're ready to buy your first home!
Working to keep your credit in great shape can also save you money. Better credit may even allow you to refinance your student loans to get a better rate. Scoring better interest rates on your loans can save you a lot of money. Especially if you have a really big student loan.
So to check up on your credit and see how it looks, start by requesting a free copy of your credit report from AnnualCreditReport.com. When reviewing your credit report, check for any errors in your credit history or personal information. Also check to see if there are any negative items being reported. Did you find any problems or incorrect information on your credit report? Don't worry, this is common and there are some really helpful tools available from CreditRepair.com to help clean up your credit!
They will help make sure items in your credit report are substantiated, relevant, accurate and reported fairly. If items in your credit history are incorrect, they will work hard with you to get them corrected and to defend your financial reputation! To learn more, go check out CreditRepair.com.
Even though that student loan debt can seem daunting, these 10 easy steps can really help you start tackling it with gusto. So get ready!! Watching your student loan debt shrink is going to be so much fun!
Now if you still have questions about how to tackle your student loan debt, it's always a great idea to give your licensed financial advisor or your accountant a call.
Whatever you do, when you're wondering how to tackle your student loan debt, the most important thing to do is stay positive and never give up!  Paying off your student loan debt will allow you to dream bigger than ever before. You can do this!